I met one of the most amazing people I know 22 years ago. The moment I shook his hand I knew my world would be forever different. I'm here to tell you about him and share a little #BlackMenLove.
He's a Missourian and like me, raised in St. Louis. Over the time I've gotten to know him, I've grown to love him tremendously. It's interesting because just as he has encouraged my growth, perhaps unknowingly, for 22 years, he's grown tremendously himself. I'm so proud to say that I know him. In many ways, I look up to him and wish I could be more like him. Hands down he's one of the most hilarious people I know. I can think of several instances over these years that he's made me laugh until I had tears in my eyes.
He's faced and overcame much diversity to become the man he is today, and seeing that motivates me to be better everyday. He comes from a broken home like me (his father having divorced his mother when he was a teen), but not broken love. He's always been someone who was able to set goals for himself and chase after them until he succeeded in achieving them, and continues to do that to this day.
One of the things I love most about him is the way he treats his mother. He makes her laugh, helps her, is always there for her, and most importantly, makes her proud. He's a shining example of how a man should not only treat his mother, but other women in his life.
He by no means has gotten life perfect. But lets be honest, who has? I know I haven't. I can, however, say that he always comes back for more. He fights everyday to get to where he desires to be, and I so look up to him because of that.
The man I'm talking about is my little brother. Today he turns 22 years old.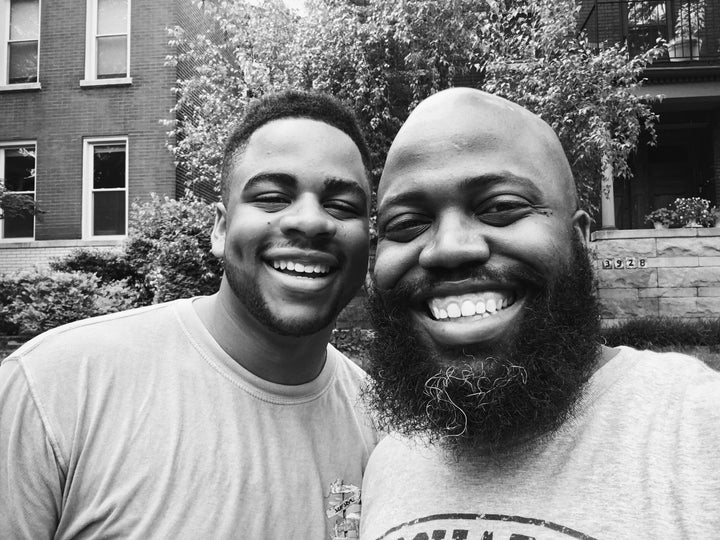 I love you with everything I have to give. If you could put all of the things that make an awesome brother into a bucket, shake it up, and pour it out, you'd come tumbling out with that big goofy laugh that I love. You make me SO proud to call you my brother. You've always made me want to be a better man.
I want you to remember a few things:
1. You. Can. Do. Anything. You have the power to manifest whatever you want for your life, Vernon. Don't let life, or anyone in it ever tell you any differently. You are so smart and full of life, and people gravitate towards you. You are a sun in a universe of planets, always shining your love and light on others.
2. You are loved. I love you so much, Little Bro. I wouldn't be who I am if it weren't for how I love you. Our mother adores you. I see it in the way she looks at you, even when you're getting on her nerves. For all of his flaws, your father loves you. For all of his flaws, MY father loves you. Our other siblings Bianca, Jordan, and Chris love you. You are so surrounded and engulfed in love, and we are all so blessed that you're a part of our lives.
3. Your blackness matters. It makes me so happy to see you discovering yourself. Part of that self-discovery for you (I think) has been exploring your blackness, and what exactly it means. I know sometimes those lessons are hard, but you learn them and take them in stride. Know that no one defines your blackness but you. And no one can take your blackness away from you. You have the power of Malcolm and Medgar and Martin and Frederick and Benjamin and W.E.B. and every other ancestor that has come before us and is to come.
4. You are enough. Who you are is perfectly sufficient. You don't have to be anything other than you, because you are who I have loved since March 1, 1995 at 9:49 am.
God chose me to be your big brother, and I couldn't be more thankful for that. Without a doubt, I truly do believe I have the most amazing, intelligent, wonderful little brother walking this green earth. I'm looking forward to continuing to watch you grow into a beautiful young black man. Know that I'm here for you, always. I'm glad you're here, always.
REAL LIFE. REAL NEWS. REAL VOICES.
Help us tell more of the stories that matter from voices that too often remain unheard.