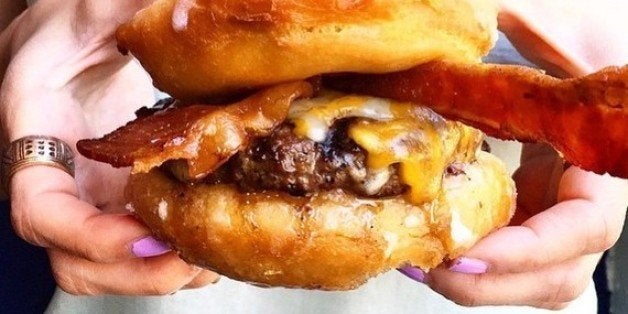 It's National Burger Month and Eat Drink Lucky has curated the ten best burgers in honor of the occasion. We looked for a certain bravado, an audacity of flavor and a gung ho approach to this most humble of dishes. Here is the list for you, get ready to be hungry.
EAT DRINK LUCKY'S MOST AUDACIOUS BURGER LIST
#1 The Greene Burger at Stanton and Greene, Washington DC
This bacon studded badboy from Stanton and Greene has two 6 oz. bacon infused beef patties with smoked gouda and MORE BACON: bacon aioli and crispy bacon. Then add onion rings and put all this deliciousness on a pretzel bun.
#2 Terlingua at Hopdoddy Burger Bar, Austin, TX
Head to Hopdoddy Burger Bar for the Terlingua in honor of National Burger Month. Angus beef, chile con carne, Fritos (but of course, we must have Fritos), Tillamook cheddar and some of that Sassy Sauce.
#3 The 420 at Boston Burger Co, Boston, MA
The 420 Burger at Boston Burger Co.'s has got a lot going on. For one thing, it's got noodles, and we all love noodles. The 420's decked out with American cheese, bacon, golden BBQ sauce, mozzarella sticks, onion rings, french fries AND mac & cheese bites. Oof.
#4 The Dipster at Park and Co., Denver, CO
Everyone secretly (or even openly, we know you bring it to every potluck party) loves French onion dip. At Park & Co. they've come up with The Dipster, featuring a Harris Ranch beef patty or Rock River Ranch buffalo patty, with French onion dip, bacon, and of course, potato chips. Cause you can't have French onion dip without potato chips.
#5 Apocalypse Now at Nosh Kitchen Bar, Portland, ME
It's the apocalypse. In a burger. Nosh's Apocalypse Now burger is topped with American cheese; crispy pork belly; smoked bacon (yeah, we're with you so far) BUT THEN: foie gras paté, mayo and cherry jam. On a grilled brioche bun to add some class.
#6 Ramen Burger at Ramen Burger, New York, NY
This takes your dorm room staple to new heights. Ramen Burger's Ramen Burger is made with a USDA Prime ground beef chuck patty sandwiched between buns made from freshly cut ramen noodles. Add in a special shoyu glaze, and you've got yourself a tasty burger.
#7 Hawkins Special at Hawkins House of Burgers, Los Angeles, CA
The Hawkins Special at Hawkins House of Burgers is a challenge we're ready to take on. They make that baby with three patties, three eggs, bacon, hot link, chili AND pastrami. Yup, all that plus a side of fries (large, what else) and a drink, and we're set for the day.
#8 Ringmaster at Straw, San Francisco, CO
"Why can't you have a burger on a donut?" That's a common refrain in Eat Drink Lucky's offices. Well, thanks to The Ringmaster at Straw you can have your burger, and donut, and eat it too. Don't just stop with The Ringmaster though (organic ground beef, melted cheddar and jack cheese on a house-made glazed donut bun) add maple-glazed bacon, a fried egg and avocado FTW. And get hand-cut fries too.
#9 Hot N Smoky at Burger Bar, Chicago, IL
We like it hot and smoky. Fortunately, at Burger Bar, you can get it just like that with the Hot N Smoky. It's a BBQ beef burger with smoked pulled pork, a grilled hot link, Tillamook cheddar, smoked habanero BBQ glaze and cucumber onion slaw.
#10 The Trotter at Lil' Woody's, Seattle, WA
The Trotter concludes our Audacious Burger List with its to-die-for combination of caramelized onions, apple, chopped Hills bacon and horseradish sauce for a kick.

Comment below and share your favorite burgers with us -- and if you live near one of these audacious burgers and haven't had one yet, go for it, and tell 'em Eat Drink Lucky sent you!