I'd like to tell a story about the Sheikh Zayed Grand Mosque in Abu Dhabi and how our paths crossed through the years.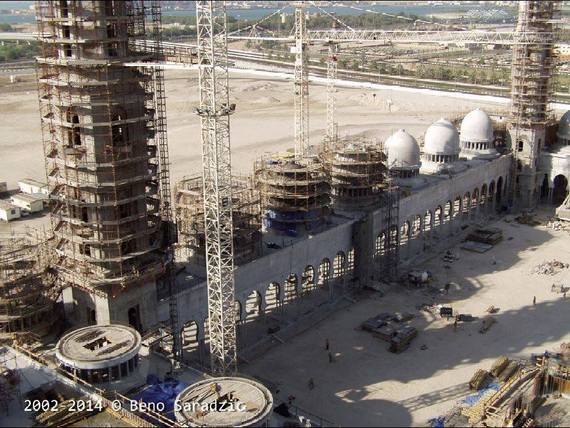 I've lived and worked in the United Arab Emirates for the past 24 years. During the 90s, I worked as a freelancer artist and my field of specialty was architectural illustration and a 3D computer generated imagery. I produced photo-real renderings and 3D animated films of buildings and interiors, using the architectural drawings and sketches I received from the architects or interior designers.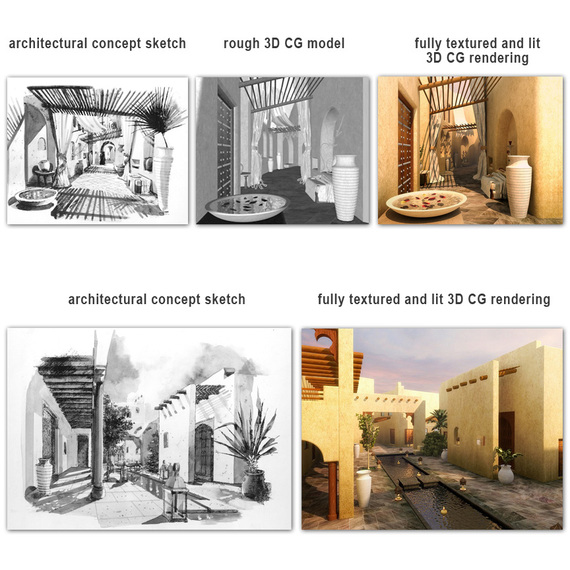 The UAE, like the rest of the Gulf countries, was undergoing an incredible transformation during the 90s. Thousands of towers suddenly sprawled into modern cities like Dubai and Abu Dhabi. But there was one particular construction site which caught everyone's attention. It was immense. The structure they were building stood taller and bigger than any other in the city. It looked like a mosque but many thought it couldn't have been. It was simply too big to be one. As it turned out, a mosque was being built and it was going to be unlike any mosque anyone's ever seen.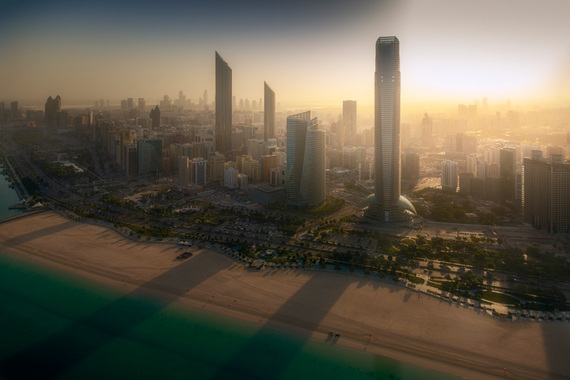 That was in 2001, the first time I ever heard of the Sheikh Zayed Grand Mosque. Everyone in Abu Dhabi was talking about that colossal concrete structure at the entrance of the city. It was in the summer of that year when I got approached by the mosque's design team. They needed computer generated visuals of the mosque to help them, and their client, to better visualize the second phase of the project. This phase would transform the massive concrete structure into the most lavishly finished mosque in the world. It was an incredibly exciting period to be in my line of business!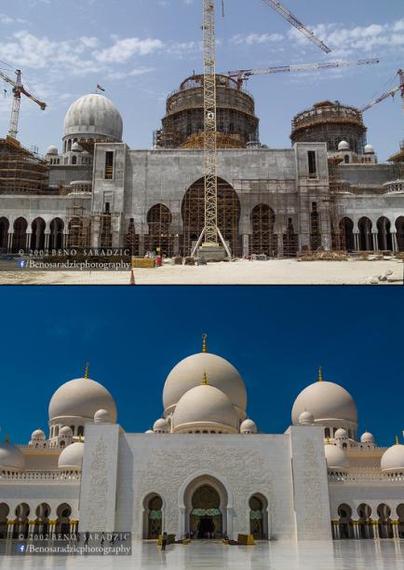 After signing the contract with the construction company to create 50, highly detailed interior and exterior renderings of the mosque which would feature the proposed interior and exterior finishes and fittings, I headed to the construction site to take some reference shots. I was smitten by the project. It had literally taken my breath away because I've never seen such a large concrete structure before and I had seen many during my architectural visualization career.
I spent almost half a day walking in and around the mosque, snapping hundreds of shots from every imaginable angle. I was building an extensive library of reference shots which were very helpful later on when we needed to build the mosque inside our computers with an accurate 3D representation. At that time, I wasn't a photographer by any stretch of the imagination. I was just a regular Sunday snapper and my camera was never set in any other mode but 'P'. Photographers are probably laughing right now.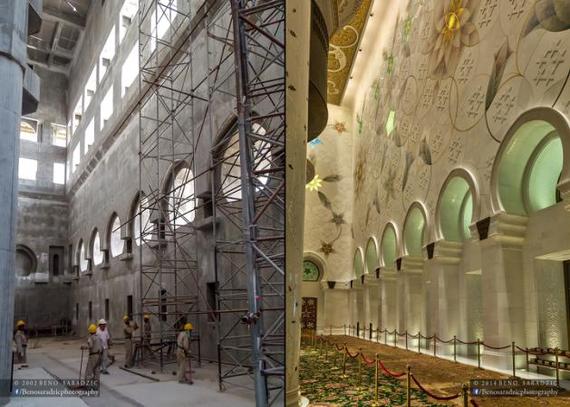 I was, however, always very good at archiving my work. I still have my digital files from nearly 2 decades ago. Hundreds of photographs of the mosque under construction were backed up on CD-ROMs which I kept in the vault. I had no idea how happy I would be one day to rediscover them.
At first, photography was just my hobby but soon after, I was taking up to 10,000 photos a month. I was hooked, and then I wanted to learn even more. By 2011, I started dabbling with time-lapse photography which became popular when a few time lapses went viral on the internet. Time-lapses were the talk of the web. They were hypnotic and utterly spellbinding. I knew I had to make one too, although I had no idea where to start. After some research and a few failed attempts, I created my first time-lapse film, titled 'ABU DHABI 2011'. It featured Abu Dhabi from high vantage points, shot mostly at night. It turned a lot of heads but nobody was more impressed than me.
Time lapses are so incredibly mesmerizing. They reveal the hidden world right in front of our noses. Observed in a time lapse, seemingly motionless clouds look like a stormy, foaming sea. Time lapse photography allows us to see how the plants grow. They reveal the mystery of the starry sky at night and dance of the shadows as they move across the land. Just like computer graphics, time lapses are quite magical.
But let's go back to the Sheikh Zayed Grand Mosque. After 11 long years of construction, the mosque finally opened its majestic portals to the worshippers and tourists. Almost instantly, the mosque became a lot more than a place of worship. It became one of the most visited and photographed destinations in the country and in the world. The management of Sheikh Zayed Grand Mosque quickly realized its potential, so they decided to start their own photography contest called 'Spaces of Light Photography Award' in which they invited all photographers to submit their best photos of the mosque. This competition became popular very quickly and most UAE camera owners gave it a shot. I decided to participate too. In 2015, the 'Spaces of Light Photography Award' introduced a new category; Time-Lapse cinematography! That was my cue.
I had shot many disjointed time-lapse sequences of the mosque in the past but for some reason, I never edited them into a film but now, I had no excuse. Armed with my newly learned skills, I took my gear to the mosque and spent several days in and around its perimeter, photographing it from every imaginable angle.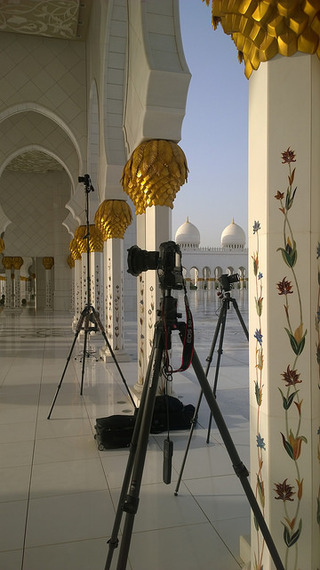 The mosque looked more beautiful than I ever could have imagined. The symmetry of the architecture, the almost infinite number of columns, domes, reflections and marble ornaments make this place otherworldly and incredibly photogenic. I took over 20,000 time lapse stills. I selected 4000 of the best ones and edited them into a 2.5 minutes long time lapse film which I titled 'THE VOYAGE'. To my great the film won 1st prize at this year's 'Spaces of Light Photography Award'. It felt like I've come a full circle and a lot of things suddenly made sense to me.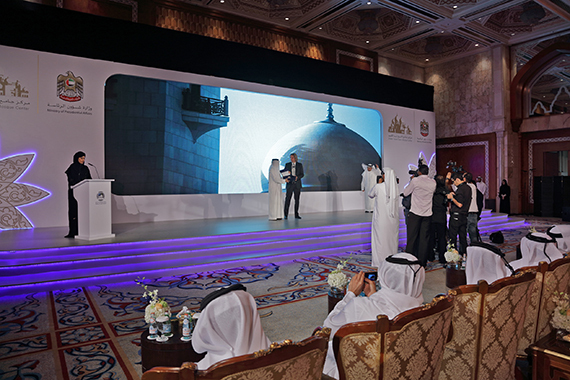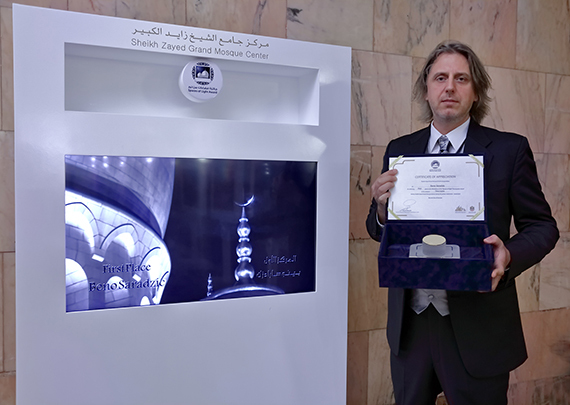 My life had been intertwined with this mosque for over 15 years and I feel that 'The Voyage' summarizes my personal journey in the most perfect way. Life will surprise you at every turn so you better learn to enjoy the ride and be prepared for what it may bring.
I hope that you'll enjoy watching the film as much as I loved making it. If you find yourself in Abu Dhabi one day, do pass by and visit this wonderful mosque. Its beauty may touch your life too.
To learn more about the making of my time lapse film, please read the caption on my Vimeo channel.
REAL LIFE. REAL NEWS. REAL VOICES.
Help us tell more of the stories that matter from voices that too often remain unheard.