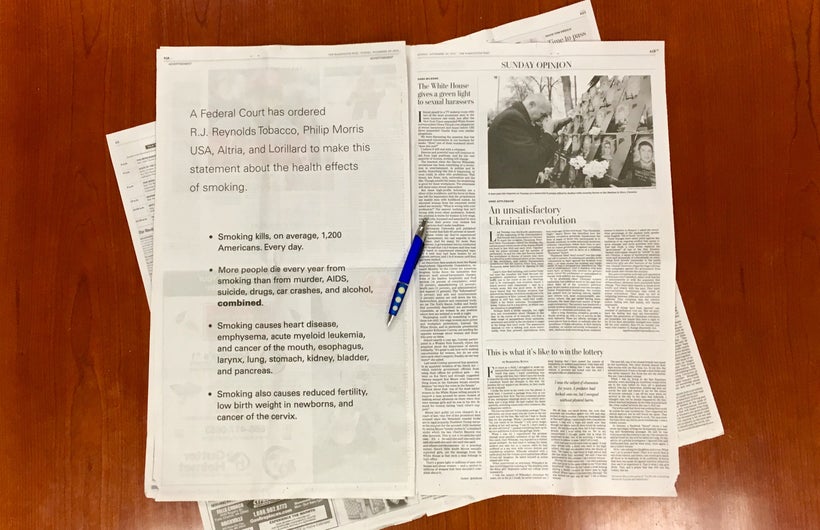 Here is the truth: Cigarette companies' "corrective statements" are not a history lesson. They have changed nothing about their core business.
Starting November 26th, America's tobacco companies began running "corrective statements" on various media platforms, finally admitting publicly facts that the rest of us have known for years. This action is, of course, involuntary, the result of one of the longest civil litigations in history. Now that the tobacco industry has confessed to their dastardly deeds and the horrific health results, their main strategy going forward is to frame this as ancient history, a tactic they have employed since the Master Settlement Agreement in 1998 revealed many "smoking guns" in the form of millions of pages of internal documents.
But has the tobacco industry changed? Certainly, the results of their business have not improved – tobacco causes 1/5 of all U.S. deaths, hundreds of billions of dollars in healthcare costs, and leaves millions of addicts trying but unable to quit. These health impacts are the direct result of the intentions and actions of the tobacco industry. A few of the corrective statements address these acts:
Cigarette companies intentionally designed cigarettes with enough nicotine to create and sustain addiction.
Altria, R.J. Reynolds Tobacco, Lorillard, and Philip Morris USA intentionally designed cigarettes to make them more addictive.
Cigarette companies control the impact and delivery of nicotine in many ways, including designing filters and selecting cigarette paper to maximize the ingestion of nicotine, adding ammonia to make the cigarette taste less harsh, and controlling the physical and chemical make-up of the tobacco blend.
This is the core of the tobacco industry business plan. In fact, "tobacco industry" is a misnomer; according to internal documents, cigarette companies have known for years that they are in the "nicotine delivery" business. All of the research and design cited in the corrective statements resulted in a staggeringly potent addiction device. And these are the devices – cigarettes – that remain on the market today. As a recent US Surgeon General report pointed out, cigarettes today are far more dangerous than their counterparts in the early 1960s, due to enhanced addiction.
Don't be fooled by tobacco industry claims that they have changed. The industry still makes hundreds of billions by intentionally addicting over a billion people to products they know will kill most of them. That's why we are working to hold tobacco executives and corporations criminally liable for the harm their products cause. It may seem like a long shot, but charges have already been filed in the Netherlands with more to follow soon.
Written in collaboration with ASH Deputy Director for Policy Chris Bostic.
Calling all HuffPost superfans!
Sign up for membership to become a founding member and help shape HuffPost's next chapter
This post was published on the now-closed HuffPost Contributor platform. Contributors control their own work and posted freely to our site. If you need to flag this entry as abusive,
send us an email
.