 Be careful next time you go to change the channel on a hotel TV. A new study shows that hotel room remotes are among the most heavily bacteria-contaminated surfaces in hotel rooms.
The study, released Sunday, was conducted by researchers from the University of Houston, with participation from Purdue University and the University of South Carolina.
"The current validation method for hotel room cleanliness is a visual assessment, which has been shown to be ineffective in measuring levels of sanitation," said Katie Kirsch, an undergraduate student at the University of Houston who worked on the study, in a press release.
The researchers tested multiple surfaces in hotel rooms in Texas, Indiana and South Carolina, looking for levels of total aerobic bacteria and coliform (fecal) bacteria.
Obviously the toilet and bathroom sink registered high levels of contamination, but the remote control and bedside lamp switch also ranked high on the list. However, some of highest levels of bacterial contamination were found on items from the housekeepers' carts like sponges and mops. That can lead to cross-contamination among rooms.
Kirsch pointed out that housekeepers work eight-hour shifts, during which they clean 14-15 rooms, spending about 30 minutes per room. Identifying which areas are germ hot spots would allow housekeepers to "strategically design cleaning practices and allocate time to efficiently reduce the potential health risks posed by microbial contamination."
Researchers note that this is only a preliminary study, as only a small sample of rooms was tested.
At least one hotel brand is attempting to get out in front of the problem. Best Western hotels recently announced a new "I Care Clean" program that borrows hospital-grade cleaning techniques like the use of UV light sterilization wands. The brand also addresses the germy TV remote problem with a "clean remote" that's specially designed to be easily disinfected between guest stays. Best Western says more than 700 hotels are currently using the program; another 1,400 properties in North America will be using it by the end of 2012.
Photos courtesy of Best Western.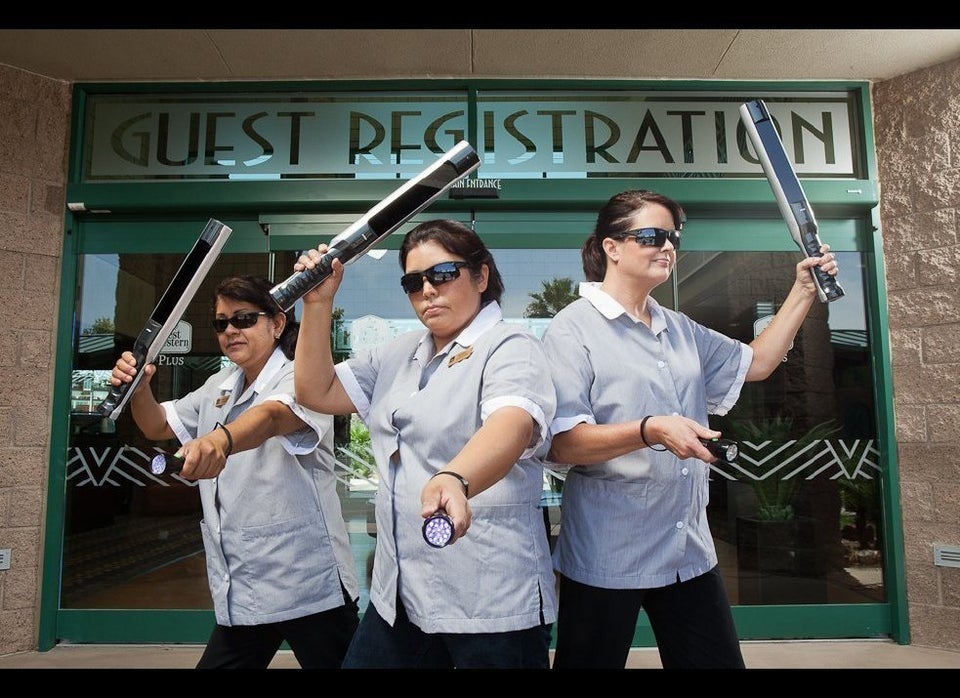 Best Western's New "I Care Clean" Program