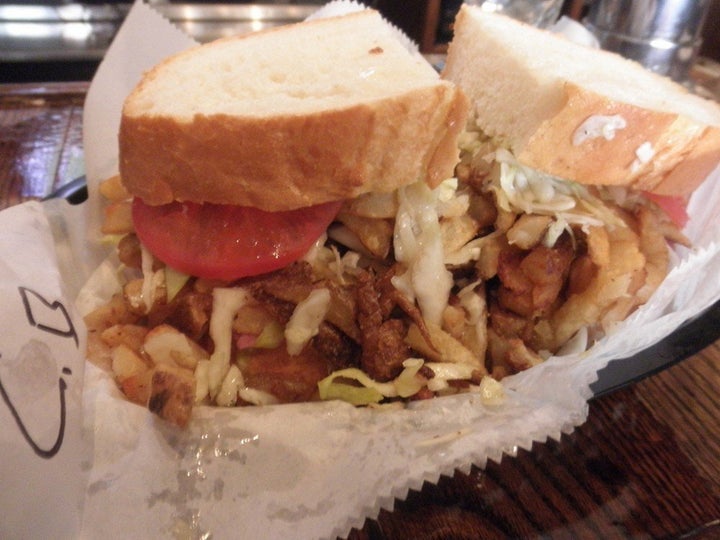 Do you have what some might call a "bottomless" stomach? Do you aspire to live like Adam Richman from the Travel Channel's "Man V. Food?" Then take on these crazy food challenges from local Chicago's restaurants.
The Bacon Bomb Challenge: The infamous "Bacon Bomb" at Paddy Long's is comprised of five pounds of ground sausage, beef and pork, all spiced to perfection and wrapped in a delicate weave of brown sugar bacon. For the Bacon Bomb Challenge, you'll have to eat the whole bomb and a large side of fries in just 45 minutes. Winners get a T-shirt and a spot on the Wall of Fame, plus the Bacon Bomb is on the house. 1028 W. Diversey Pkwy.; 773-290-6988
XXX Hot Wings: Can you keep your cool while eating extra spicy foods? Then try the XXX Hot Wings challenge at Jack Melnick's Corner Tap. The wing sauce is made of the hottest know chili pepper in the world -- the Bhut Jolokia. If you're brave enough to order and finish these spicy wings, you'll get your face up on the restaurant's Wall of Flame. Even though these babies are served with cooling agents, you'll still have to sign a waiver before you start eating (we're not kidding). 41 E. Superior St.; 312-266-0400
Lucky's Sandwich Contest: At Lucky's, you get to personalize your menu when you enter their sandwich-eating contest. Choose three sandwiches from their contest menu, which includes roast beef, smoked turkey, pastrami, Cajun chicken and more. Then, attempt to eat all three sandwiches in their entirety in one hour or less. Winners get one sandwich free, a Lucky's T-shirt and their photo on their Wall of Fame, just like Richman did when he completed the challenge on season one of "Man V. Food." 3472 N. Clark St.; 773-549-0665
The Big Timmy Challenge: At Timothy O'Toole's Pub in Streeterville, any willing diner is welcome to order the Big Timmy Challenge. This monstrous burger is made of two half-pound patties covered with every topping imaginable: bacon, onion straws, BBQ sauce, lettuce, tomato, onion and four kinds of cheese. Plus, a hefty side of fries and onion rings are served along with it. Finish the whole thing and you get an O'Toole's T-shirt. 622 N. Fairbanks Ct.; 312-642-0700
Calling all HuffPost superfans!
Sign up for membership to become a founding member and help shape HuffPost's next chapter