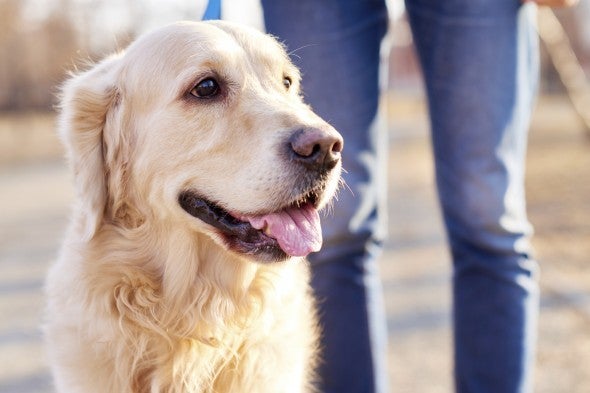 Think of how much you love your best friend. No, not that one - the other one. The one who slobbers, licks your face and begs for food. According to The Humane Society of the United States, nearly 43.3 million households own at least one dog and about 70% of those dog owners consider their dogs to be family members. Most owners want nothing but the best for their four-legged companions, which hopefully means including them on various family outings. So SmartAsset analyzed data on metrics ranging from dog parks to weather in order to find the most dog-friendly cities in America.
Key Findings
West Side = Best Side. Seven of the ten most dog-friendly cities are located in the western United States. The overwhelming representation of cities in this region provides dog-owners with plenty of options. So don't get stressed, just head west.
Not many wagging tails in the South. All Southern cities rank towards the bottom of our list. Aside from Tampa, FL, they scored particularly low in dog accessibility metrics.
California Dreaming. Three of the ten most dog-friendly cities in America are located in The Golden State. While California is not the most economical choice for homeowners, it does provide various dog accessible, walkable and weather-friendly options.
Data & Methodology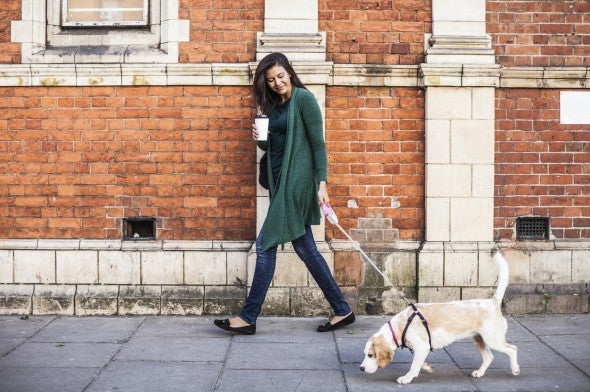 To quantify dog-friendliness, SmartAsset collected data on 100 major cities across the United States. For each city, we looked at the following six metrics categorized into two factors essential to determining dog-friendliness:
Dog accessibility. The availability of areas accessible to dogs is perhaps the single most important driver of dog-friendliness. Specifically, SmartAsset considered:
1. The number of dog parks per 100,000 residents.2. The number of dog-friendly shopping areas per city.3. The number of dog-friendly restaurants per city.
Quality of life. While it is important for a dog to have a variety of accessible locations, it is also necessary for an owner to maintain a high quality of life while caring for their pet. In order to calculate quality of life, SmartAsset considered:
4. Walkability. This is calculated on a 0-100 scale, 0 being car-dependent and 100 being a walker's paradise.5. Weather. This is calculated by the annual days of precipitation.6. Housing cost. This is calculated by the median sale price for homes in that city.
We ranked each city according to those six metrics, averaged the rankings using specific weights and finally created a combined rank based on that average. We gave 20% weight each to dog parks, dog-friendly shopping areas and dog-friendly restaurants. We gave 15% weight each to walkability and weather, while giving 10% weight to housing prices.
We calculated a 100-point index based on that weighted rank. The city with the best overall rank scored a perfect 100, with lower scores corresponding to lower rankings. The results, below, are the most dog-friendly cities in America.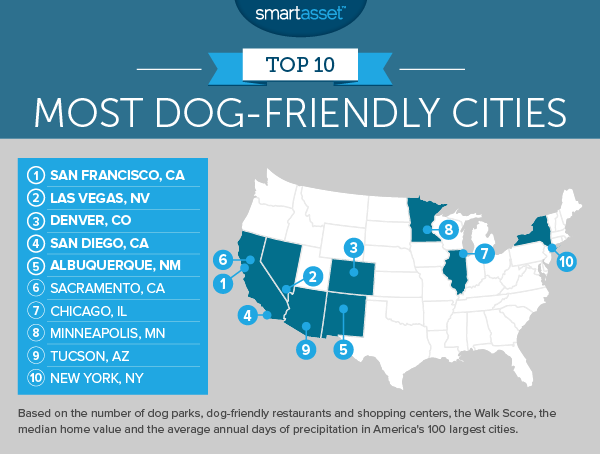 While San Francisco might stretch (or even break!) your housing budget, your pup will thank you for it. The City by the Bay has the seventh most dog parks per 100,000 residents and ranks second in walkability score. What really sets this city apart is the numerous dining options you and your four-legged friend can enjoy. San Fran boasts 174 dog-friendly restaurants. All you have to decide is what cuisine you are in the mood for and your dog can be there to watch you chow down!
The second spot on our list goes to Sin City. While you will have to leave your dog home when you hit the casino, you certainly will not be searching long for dog parks. Vegas ranks fifth in the number of dog parks in our study. The best thing about that? There are less than 15 days of precipitation per year, landing Las Vegas tied as the city with the second best ranking for that factor. This means on most days you can forget about the umbrella, rain boots and the smell of wet dog!
You might want to come for the skiing, but your dog probably won't mind it either. Denver held steady across all six categories we looked at. It may be cold, but Denver has an above average weather score. So, feel free to take a walk and check out those dog parks, such as Railyard Dog Park – a fenced, off-leash dog park with separate areas for high-energy and low-energy dogs.
You thought San Francisco had a lot of dog-friendly restaurants? San Diego actually comes in at number one for that metric, offering 187 restaurants where you and your dog can get some grub. While it ranks in the middle of the road for dog parks, walkability and housing price, San Diego does offer seven dog-friendly shopping areas so you and your pet can rock the latest trends.
You definitely won't be disappointed with the number of outdoor activities in Albuquerque, and neither will your dog. New Mexico's largest city ranks 11th overall in dog parks and has an above average number of both dog-friendly restaurants and shops. Plus, it only has 28 days of precipitation a year.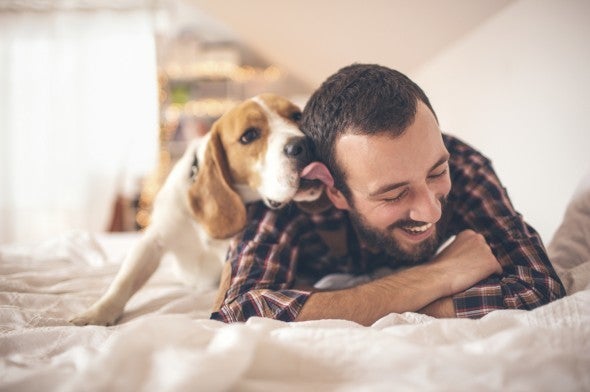 While in Sacramento, your hardest decision will likely be which of the many activities to do with your dog. This city has a little bit of everything to offer both you and your furry friend. There are many averagely-priced homes, numerous dog parks and a handful of dog-friendly restaurants. Be sure to check out The Shack, a family-friendly sandwich, breakfast and brunch spot offering a dog-friendly patio.
The weather may leave much to be desired, but Chicago ranks above average in most other categories. Chi-town ranked fifth best in dog-friendly shopping places and dog-friendly restaurants. It also scored well in the walkability metric. So although you might need to bundle up, your dog will likely love taking lengthy walks in this city.
Dog lovers, this Midwestern city may just be for you! That is, if you are looking for numerous dog-friendly shops and parks. Also this city boasts a high walkability score and even comes in below average for housing prices. But we do advise buying both yourself and your pup a winter coat before exploring!
Tucson comes in the top 20 for lowest housing prices and, once you step out of your affordable abode, Tucson averages only 23 days of precipitation per year! You might even want to check out a dog-friendly hiking trail, such as Rillito River Park Trail. Plus, your dog will have numerous options for outings among the various dog parks and 43 dog-friendly restaurants.
Last but certainty not least, NYC! Some might be surprised that the city that never sleeps made it on to the top ten most dog-friendly cities in America, but it has to do with one thing: walkability. New York scores number one in walkability, providing dogs and their owners a good chance to explore.
One thing to remember when finding the perfect city for you and your pooch is that compromise is key. Dog owners shouldn't expect a perfect score in all categories. While these are the top ten most dog-friendly cities on our list, it's a good idea to consider which factors are most important to you before making a decision about where to live with your best friend.
Data on number of dog parks comes from parkscore.org. Information on dog-friendly shopping areas and restaurants comes from bringfido.com. Data on a city's walkability comes from walkscore.com. The city's weather information comes from currentresults.com. Median sale price for homes comes from trulia.com.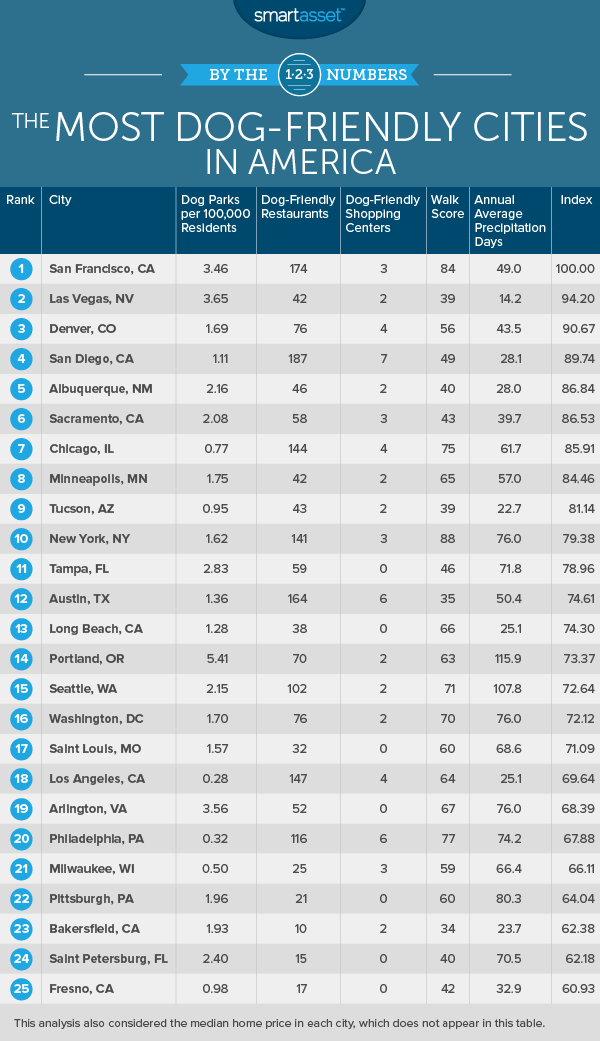 Questions about our study? Contact us at blog@smartasset.com.
Related
Popular in the Community