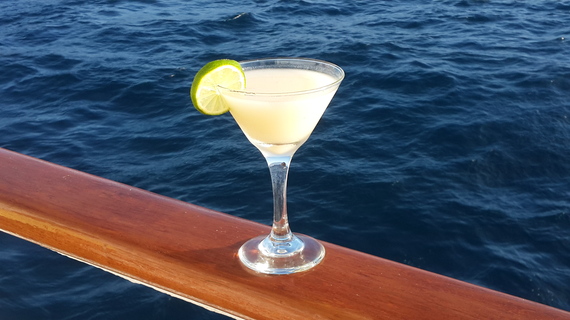 The San Cristobal cocktail, made with with fresh Galápagos guanabana juice.
One of the finest ways to immerse yourself in local cultures while traveling is through dining and drinking -- sampling regional fare and wine and mixing and eating with locals. In Galápagos, where wilderness reigns, there are still plenty of ways to discover regional flavors. In the verdant highlands of Santa Cruz island, guests on most Lindblad-National Geographic Galápagos expeditions choose to visit a farm where organic sugarcane lines the road and coffee grows in the shade of the property's towering trees. There are sugarcane candies for kids, and farm-made cane juice liquor for adults. And now, the Galápagos cocktail list aboard National Geographic Endeavour and National Geographic Islander includes tastes of the islands, too. The San Cristobal cocktail is finished with fresh Galápagos guanabana juice; and the Fernandina cocktail is blended with tamarind, a pod-like fruit found in abundance on the cocktail's namesake island.
So, what's the most exotic cocktail you've ever tried?