By Kristin Ciccone Gole and Jeanine Grimaldi
An espresso then a cigar. That's how Francois, known as the Tree Man, starts his days in December selling Christmas trees to New Yorkers on the corner of West 102nd Street and Broadway. For the past nine years, Francois has ridden his van - nicknamed Elvis - from his hometown of Quebec to the Upper West Side to sell anywhere from 400-600 Fraser fir trees during the Christmas season.
His tree stand is part of a syndicate of tree farm stands across the city that have their trees delivered from North Carolina. "Some people say I have the best trees," he says, crediting this to the way he cuts and trims the trees after receiving the nightly delivery.
Francois has been selling trees in the same location for almost a decade. He says it is an unwritten rule that tree stands do not need a permit to sell in a certain location- as long as he has permission from the owner of the store he is blocking. He brings in considerable traffic to the corner, from his many consistent clients that come back each year.
Although he as a steady clientele, he has seen the market change over the years.
"I used to sell more trees cheaper, now I sell less trees more expensive," he says.
During the off- season, he works as a handyman and contractor. He starts preparing for the holiday season in September, making sure his contracts with his off-season clients are all in order and prepping his van for the trip to New York. Once he gets to New York, electricians and contractors come to set up the lights and tree stands that will occupy West 102nd and Broadway for the next five weeks.
Francois has become a staple for how many of the families on the Upper West Side celebrate the holiday season.
"It's a quick and honest friendship that we've had for years, but it's always for a short time."
His impact on the community inspired two filmmakers Brad Rothschild and Jon Reiner to create a documentary on Francois, called Tree Man, recently profiled in the New York Times.
"We selected Francois as Jon has been buying his Christmas tree from him for years. What we discovered is that Francois is a bright, articulate, energetic family man who has turned out to be a perfect subject for a documentary film about the people who come to NYC to sell Christmas trees every year," said Rothschild.
Each winter Francois leaves his wife and four kids in Quebec to sell trees for the season. He keeps in touch with them through Skype. Francois' passion is selling trees. He has created his own family of local New Yorkers that work with him while he is here on the Upper West Side.
"That has been the most amazing part is the staff," he says.
The first year he sold trees in New York, he brought someone from Quebec to work with him. He quickly learned that having locals would be best for his business. Luckily, there was a young boy, Jason Dominguez - a Manhattan native, eager to work with Francois. Jason has worked alongside Francois since he was in middle school and is now his right-hand man. Jason also brought along two other locals, Nelson and Angel. When not working with Francois, they return to other jobs. Jason works in production, Angel in digital printing and Nelson sells books. But they all look forward to the beginning of the holiday season when Francois (and Elvis!) drive to Broadway to start building their stand.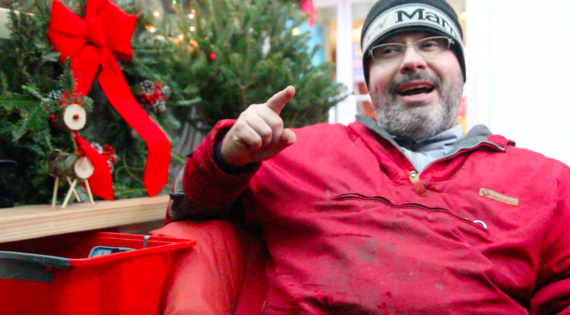 REAL LIFE. REAL NEWS. REAL VOICES.
Help us tell more of the stories that matter from voices that too often remain unheard.