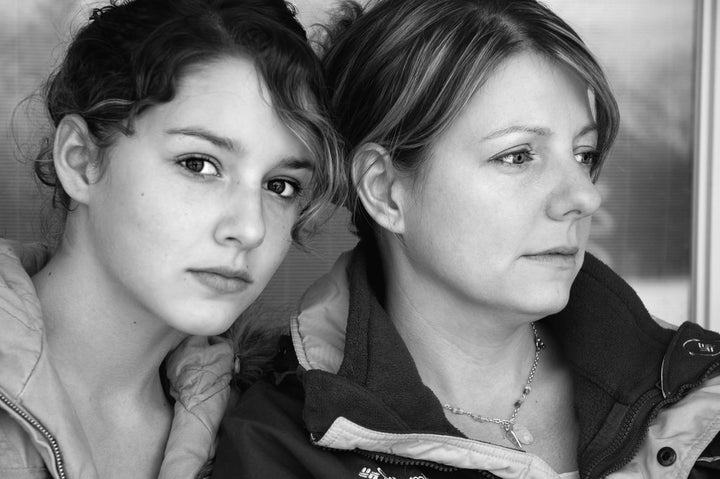 I was driving my son home from school last month when he grabbed my phone to Google something and announced:
"Neil de Grasse Tyson says it's too late to solve [recover from] climate change."
"What?" I said with a mix of incredulity and anxiety. "That's ridiculous."
"It's Neil de Grasse Tyson," my 13-year-old responded matter-of-factly.
Point taken: I'm not a world-famous astrophysicist, bestselling author, and popular TV host.
But I am a mother. And as a mother, I know that messages like these, absent a larger context, are not good for our children—especially given the frighteningly fierce hurricanes we've witnessed over the past several months and the catastrophic wildfires raging here in northern California.
So how do we talk with children about climate change now that the evidence of it is too dramatic to miss? Here are five things I've found helpful to keep in mind.
"Can we stop or solve climate change?" is not a helpful question. We know it's happening, and we know it's likely to get worse. It's a moot point. Worse, it's a dispiriting one.
Stephen Colbert expressed this in a conversation with Al Gore this summer when he said: "I know a lot of young people who are feeling somewhat hopeless about this. They read articles in magazines or see interviews on TV and hear it is too late."
So instead of discussing whether we can solve climate change, consider reframing this question to: "What can we do to offset climate change?"
This question prompts real answers: divest from fossil fuel interests, put solar on your roof, save energy, cut down on your meat consumption, support a price on carbon, vote people out of office who turn a blind eye to climate change, protest the Administration's championing of the fossil fuel companies that have created this crisis.
2. Provide positive examples.
If you or your children rely only on the news, especially in this year of bad news, you will miss out on all the good work being done to address climate change.
Consider, for example, the leadership being shown by the nation's mayors, businesses, foundations, scientists, churches and synagogues, and communities that are working both to accelerate the transition to clean energy and develop resilience in anticipation of sea level rise and other impacts of climate change.
Children need to know this. They need to know that, whatever is happening in Washington, there are countless other people working tirelessly to reduce the impact of climate change. They need to know that people are putting money into this, and they are putting heart into this. They are offering their creativity, innovation, and hard work to make things better.
The reality of the state of the world today is tough for parents to grapple with. But it's more than tough for kids—it's wrong.
Our kids deserve to be fiercely hopeful about their future. They deserve to be inspired about the boundless creativity of innovators and problem-solvers. They deserve to be supported in the flowering of their own brilliance. And they deserve to be excited about good things ahead — things in the works, and things not yet considered.
As Mary Robinson said in a TEDWomen interview last month: "When we think about innovation, we usually focus on technology…Perhaps we should be more focused on innovation in terms of global governance."
For example, she suggested, what if we represented the interests of future generations in decision-making? On a national level, Wales and Hungary have already led the way in this. Imagine if more followed.
4. Remember that doing something is the best medicine.
It is easy to feel dwarfed by climate change and think that there is nothing we can do that is truly up to the challenge at hand. Yet this too leads nowhere good.
We need to remind ourselves that taking any action is better than no action—practically, morally, and psychologically. So if you want to encourage your children to keep moving in a positive direction, encourage them to join you in doing something to help.
5. Model the qualities your children need.
The reality is that there are people in positions of great power today who unconscionably appear to think less about the future well being of our children and grandchildren (not to mention their own) than they do about money and power.
We must be the counter to these wholly inadequate models for our children. Equally importantly, we must show our children a better way to be in the world by demonstrating courage, compassion, and resilience.
To be fair, I think Neil de Grasse Tyson would agree with all this. And his comment on CNN did appear to come in response to an understandable frustration with politicians who disregard science and block the progress we need to be making on this issue.
There are, after all, realistic solutions to the climate problem, as Justin Gillis wrote in an excellent recent primer in The New York Times. But we need to act on them—yes, urgently.
So, no, my son, it's not too late. It's never too late to make things better.