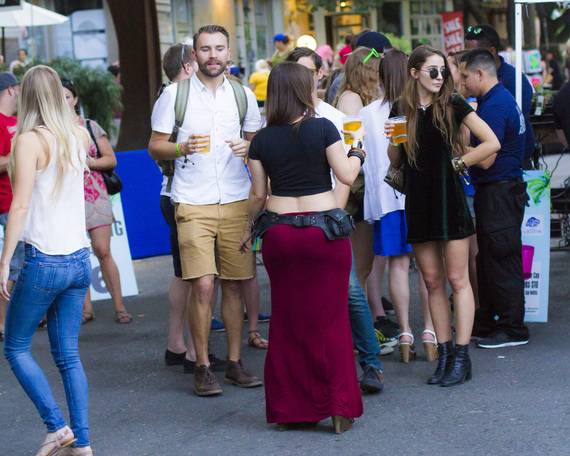 Credit: Flickr/micadew
So what now? Well, we're going back to telling you where they live. But this time in Europe! We identified the one neighborhood in each EU country (not every European country, in case you're about to start screaming "Where's Switzerland???") with the healthiest mix of top knots and tattoos, flea markets and fusion shops.
Austria
Mariahilf, Vienna
This district is tiny but dense with trendy boutiques, cafes, and hip bike shops (Ciclopia, anyone?). The southern border is the Naschmarkt area -- one of Vienna's best-known markets, where over 120 vendors peddle local and exotic produce/spices to foodies eager to jazz up their schnitzels and burenwursts. Opt for the Naschmarkt flea market on Saturdays to find some truly bizarre, possibly fantastic treasures.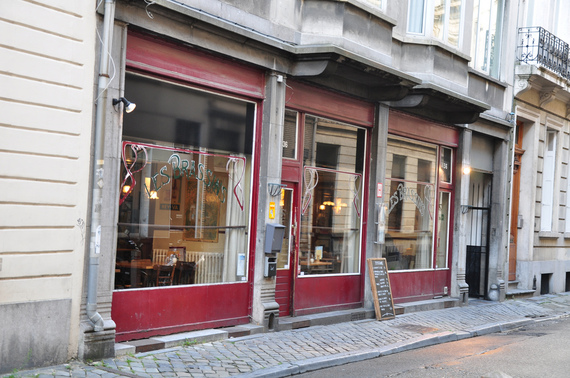 Credit: Flickr/Francisco Antunes
Belgium
Ixelles, Brussels
While Downtown Brussels has all of the off-beat things a self-consciously cool traveler needs -- ale brewed by monks, shops full of lace, tagged abandoned buildings -- it's also full of tourists. Thanks to the two universities in its neighborhood, Ixelles ditches touristy trinkets for student-pleasing moves, like the killer indie vinyl record store (Veals & Geeks) and the glorious rabbit stews at Les Brassins.

Bulgaria
Sredets, Sofia
Hidden behind a nondescript wooden door down a dark alley in this Sofia neighborhood is Hambara, a cozy bar and hangout of artists/intellectuals that's lit by hundreds of candles. It used to be a secret refuge during the Communist regime for choice individuals who knew the password. Does one hipster bar make an entire neighborhood? Of course not, which is why you should also check out A:part:mental (punctuation mandatory) -- a cozy (and again, signless) cultural center on the second floor of a century-old building where folks play piano, watch movies, and do their freelance art.

Croatia
Trg Bana Jelačića, Zagreb
Martićeva St in Zagreb is enough to make all your hipster dreams come true with counter-culture bookstores, wine bars, and specialty meat shops selling all of the charcuterie-board fixings. Booksa is Zagreb's first bookstore/coffeehouse where all intellectuals come together to talk about smart things and use swear words, and only the truly hip and informed know to ditch the bigger, more touristy Dolac Market for the Kvatrić version.

Cyprus
Old Nicosia, Nicosia
Kala Kathoumena coffee shop serves the hipsters of Cyprus who bring freshly rolled cigarettes to this quaint, vine-covered café. As far as nightlife goes, New Division boasts graffiti-covered walls, repossessed furniture, and the dinginess of a run-down building, so you best believe this is where they head post-cafe to stare indifferently at each other while partaking in obscure music and decently priced drinks. For a little Zen action, Utopia Shop offers tea and treats, as well as activist lectures and yoga.

Czech Republic
Holesovice, Prague
First stop, Holešovická Tržnice. It's a giant indoor and outdoor market with an eclectic variety of stalls and plenty of pho (the energy source of the hip). Also find art galleries, café-bookstore Ouky Douky (where beatnik original Alan Ginsberg used to perform readings), coffee you can only pay for with Bitcoin at Bitcoin Coffee (and no, we're not making this stuff up), and fantastic food and cheap/good beer at the microbrewery Pivovar Marina.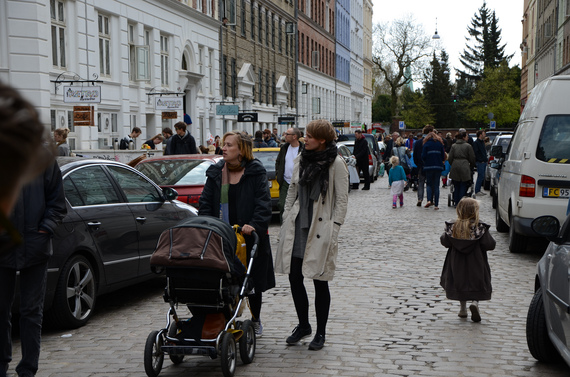 Credit: Flickr/Miss Copenhagen
Denmark
Nørrebro, Copenhagen
Jægersborggade St in Nørrebro is practically infused with the smell of roasted coffee beans -- luring those wearing beanies like moths to flames -- the product of specialty coffee roasters arriving in the area a few years ago. In this once-shabby district, sample more than 40 varieties of beer, meet eco-conscious locals, and shop in boutiques full of handcrafted wool and organic goods. This stop's weird mix: The Laundromat Café. Make laundry fun(ish) with coffee, cake, and Wi-Fi. Actually, hipsters might be onto something here...

Estonia
Kalamaja, Tallinn
Once the seedy part of town (so essentially the natural hipster launching grounds), Kalamaja's wooden houses, Russian flea market, and soothing sounds from the seaside make for a quaint historic district populated by artists and other young Tallinners. Most shops and eateries are as cozy as your grandmother's living room -- though maybe in a slightly more ironic fashion. And in case there was any doubt, the bike shop, JOOKS Bike Studio, has a café inside.

Finland
Kallio, Helsinki
Brunch strikes again! Most are buffets (because they like big brunch and they cannot lie); some are themed, such as vegetarian or raw, sushi, jazz, yoga, or flea market (because those are types of brunches in Helsinki); and almost all serve Finnish homegrown delicacies. When they're not eating all the brunch, the working-class neighborhood full of young entrepreneurs also offers cheap beer, vinyl record stores, secondhand shops, and pop-up restaurants.

France
Canal Saint-Martin, Paris
Along the Canal (built by Napoleon using a tax on wine, which couldn't have made him popular), you'll spot bohemian musicians strumming their guitars, shabby-chic bars, picnicking couples, and trendy bistros. Point Éphémère -- a former Art Deco warehouse that later became art-squatter heaven -- is the hippest attraction. This multidisciplinary art zone covered in graffiti is home to exhibitions and concerts put on by independent pop, rock, electro, and hip-hop artists.

Credit: Flickr/Florian Lehmuth
Germany
Kreuzberg, Berlin
A West Berlin neighborhood best seen by bike and best experienced through brunch, Kreuzberg is hip with hubbub. Following the fall of the Berlin Wall, area artists treated deconstructed concrete like canvas and East Side Gallery was born. With the largest Turkish population outside of that country, you can find crazy good menemen at La Femme, or just go take down a couple of Club-Mate ICE-tea KRAFTSTOFFs (iced maté tea) at the Tempelhofer Freiheit park, made from an old airfield. Also, in case you need clothes, check out hip-central boutique, Voo Store. Some of its things are so cool you won't know how or if anyone actually wears them.

Greece
Exarcheia, Athens
Tourists avoid this area, likely because it's full of left-wing intellectuals who are swimming in that socialist lifestyle. We're talking welcomed squatters, co-op living spaces, a free health clinic, independent bookstores reprinting revolutionary works, and an appropriated parking lot serving as a community vegetable garden. Activists are at home, with graffiti tags reading "We Hate the Police." Welcome, anarchist hipster, to your paradise.

Hungary
District VII, Budapest
No surprise here, right, especially considering "ruin pub" is a phrase that needed to be coined because so many abandoned buildings have been turned into bars. These bars feature live music and adorn their walls with art exhibits, incorporating computer parts and digital graphics, and film projections. They are also populated by mostly 20-somethings looking for $1 glasses of wine (and that's realistic!). On top of that, Budapest hosts Sziget Festival, known to be the European version of Burning Man. Go ahead with your bad selves, free spirits.

Ireland
'The Hipster Triangle,' Dublin
Yes, this is really a thing. And yes, as you might imagine, you'll never be too far from an organic/vegan/locally cultivated dish -- or a Mason jar beverage. Everything in this area is home-grown and carefully crafted, but above all, kitschy as hell. Head to Designist for practical housewares with flair or Irish Design Shop, where seriously hip couples can embrace their internal need to DIY and learn how to make their own wedding rings. Your move, Williamsburg.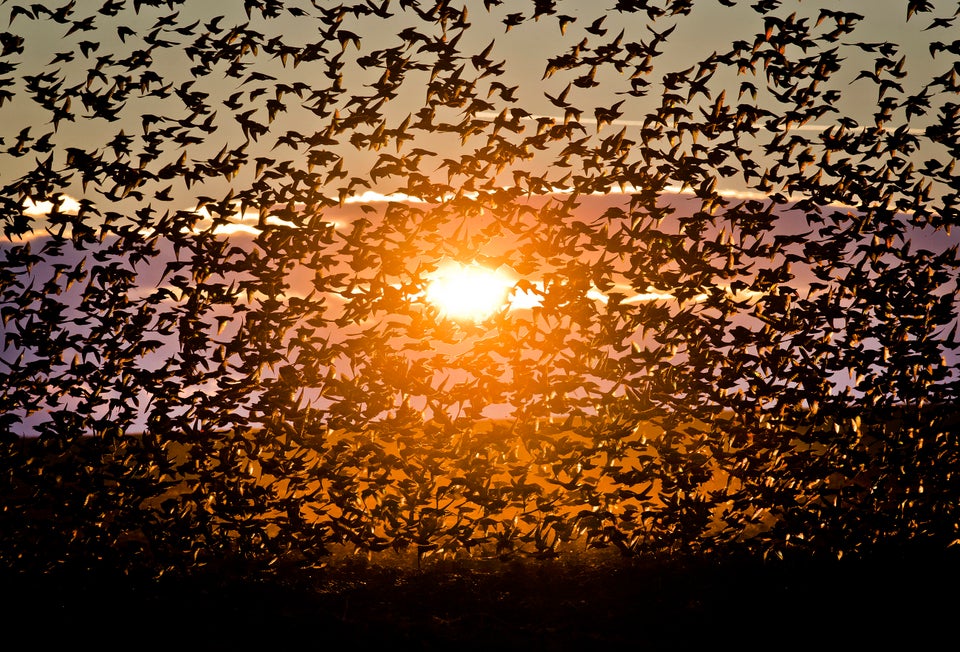 Stunning Images From Around The World