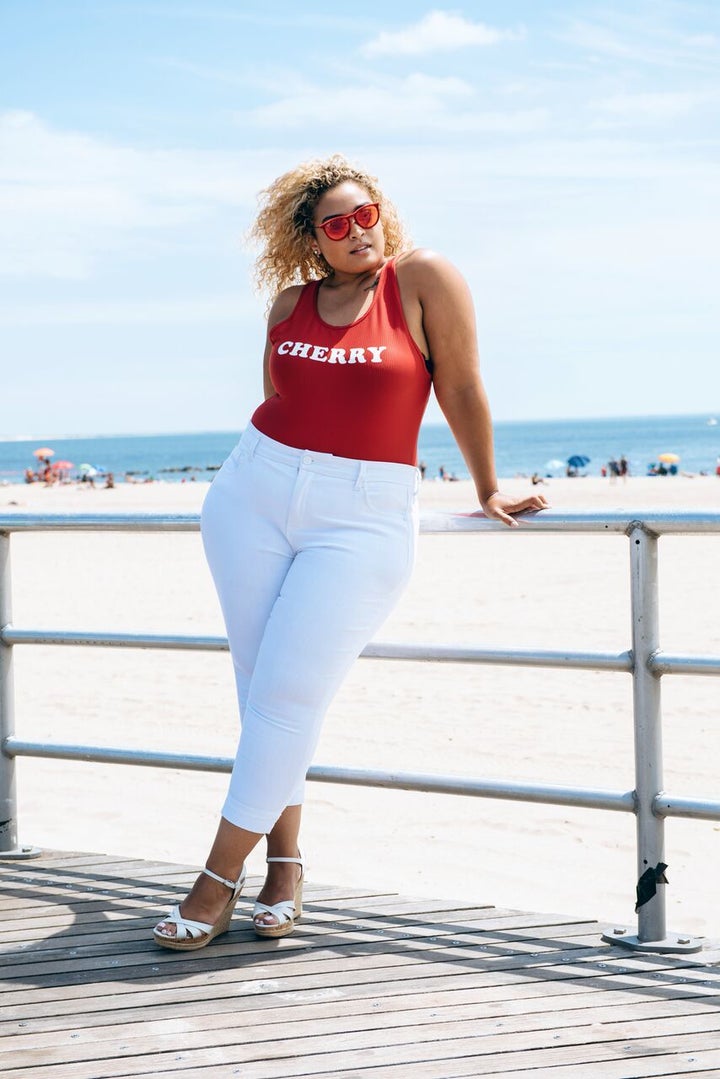 I'd just like to begin by saying we fucked up.
Probably no more than any other well-intentioned media company dedicated to serving young, ambitious women, but there it is, a fuck-up all the same.
Today, Refinery29 — the site I helped to co-found as editor back in 2005 — is launching The 67% Project, a week-long initiative to spotlight the 67% of women in the United States who identify as "plus-size" (defined as a size 14 and up). To be clear, that is most women in this country. And yet, despite their ubiquity, these women are only reflected in 1 or 2% of the images we see in the media.
As a leader in this space, one that has cultivated a reputation for honest conversations, we missed the mark. Maybe we even ignored the mark, because these statistics are no secret. They've been available to all of us for some time, which is why it's important to acknowledge that as a global media brand committed to recognizing and celebrating diversity of every kind, we've failed, like so many of our programming peers, to accurately acknowledge that plus-size women are not a niche, but the norm; not just a lone column in a magazine, website, or community — they are very much the community itself.
It is hard to process how such a vast population of women has managed to remain invisible to most industries — but especially fashion, beauty, and entertainment, which drive so much media coverage. Though Refinery29 has long championed body positivity and inclusivity, the fact is, when we sat down to examine the images on our own site, we were surprised (and frankly embarrassed) that only about 5% of the images we publish regularly represent plus-size women.
We've all witnessed firsthand the corrosive, even explosive, effects that come from marginalizing a community; how the legacy of invisibility casts a persistent and painful shadow over not just those relegated to the negative space, but also the rest of us who experience the privilege of being seen.
The 67% Project is an opportunity to acknowledge the problem (and our role in the problem), and begin to close the gap. It is our pledge to try harder, to make more meaningful and effective efforts to portray the world as it really is.
To that end, you'll see the results of these efforts all over Refinery29 this week, on our newsletters, on Snapchat and Instagram. At least 67% of the beautiful women who appear on Refinery29 will more honestly reflect your community. Though we are proud of our early efforts at casting more diverse women in our shoots — including non-sample size women — we know we have more work to do. Thanks to some incredible in-house artists, we've commissioned custom artwork to fill out our illustration archive to portray more of the 67%. We're producing more in-house fashion shoots in sizes 14 and up to use in our shopping roundups, an effort we will continue quarterly. And we've reshot (and will continue to reshoot) many of the stock photos that illustrate our posts to better reflect plus-size women. Also worth noting: We've partnered with Getty Images to make our 67% collection available to the public as of today. The hope is that our media colleagues, and even our competitors, will learn from our mistakes and benefit from them.
I'd be remiss if I didn't state the obvious: Inclusivity isn't just imperative from a cultural and societal perspective, but also makes for smart business. All women deserve to look and feel awesome, and there is an astonishing demand for fashion and elevated style within this glaringly underserved, long-neglected community.
The 67% Project is the start of some institutional changes we're making at Refinery29 to better express our values. And because you — all the millions of you who count yourselves members of our growing brigade of change agents — are joining us on this mission, we believe our collective will help nudge the rest of the world forward with us. (How could it not?)
One last thing: I was recently sitting in the front row at Tome, one of my favorite shows of New York Fashion Week. While there's been a slow but steady acknowledgement of the alarming lack of diversity in luxury campaigns and on runways, something interesting happened. The first six models who emerged were Black; later, another model in her 60s. And later still, a "curvy" woman — "curvy" being an industry euphemism for bigger. There they were, without fanfare or special attention. Visible and present.
Seeing so-called diverse women on runways classically reserved for traditional "models" — the term is so loaded, isn't it? — is hardly new. In fact, designer Christian Siriano turned most of his runway over to plus-size women this season, as well. But, he was adamant about not wanting gratitude for it, and neither do we. At our core, we are a brand devoted to upending the long-held perception that only women who are white, conventionally pretty, and thin deserve to be seen. The world is so much bigger than this. There is room for everyone.
Our goal is to ensure that when you slide open your phone in the morning and click on a link into our world, that you see yourself reflected back. And not just the physical "ideal" that's been a systemic part of the female experience since the beginning of time, but true, authentic, and accessible likenesses of your own experiences.
I believe all women wrestle with societal expectations, but I think it's fair to say that the plus-size community has borne the brunt of those expectations. And so I want my friends, family, and colleagues for whom this is a deeply personal issue to know that I hear you, I see you, and I am with you.
That sentiment remains my purest vision for Refinery29. Sometimes we nail it, and sometimes we've got to try harder. But that effort begins today. #Seethe67