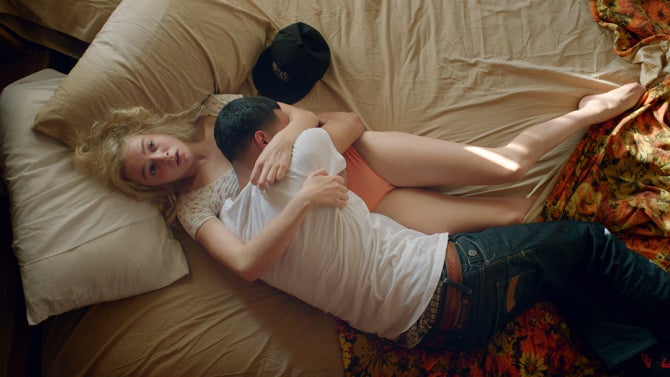 2016 has not been a very good year for mainstream American film. Passengers and Collateral Beauty are the two latest star-powered vehicles to open to underwhelming reviews. But in other ways, there have been some encouraging signs. Underrepresented voices, especially female voices, have been more noticeable. A number of first-time filmmakers from all races and genders have given us worthwhile movies. Kelly Fremon Craig (The Edge of Seventeen), Anna Rose Holmer (The Fits), and Trey Edward Stults (Krisha) have all been honored for their feature debuts. I want to mention one other debut, perhaps the most important American movie of 2016. The movie is White Girl, made by another first-time director, Elizabeth Wood.
White Girl has a pedestrian 5.8 rating on IMDB and a good-but-not-great 70 percent on Rotten Tomatoes. It is rough in places, not as polished as some of the other movies mentioned above. Not as polished as other first timer gems like Chris Kelly's Other People or Clea DuVall's The Intervention. I'm not arguing that it is a better movie than any of these. I'm arguing that what it has say is more significant, and I'm not sure it is being recognized for what it accomplishes.
On its surface, White Girl is a rough and tumble coming of age story about Leah, a risk-taking college student who wants to spend a little time living on the wild side in Brooklyn. She and her girlfriend Katie rent a Summer apartment in a dodgy part of town. The kind of place where young Hispanic men openly deal drugs on the corner and gun shots and police sirens are never too far away. Leah will meet and fall in love with one of those dealers, the serious-minded Blue. Or maybe it's just a fling. You know when you're 19 and getting your first real glimpse of the world beyond your parent's yard, it can be hard to tell.
Leah and Blue will get into some trouble, they will get out of some trouble, and then they will get into some trouble again. And that in and out movement is where White Girl makes its profound statement about America in 2016.
When Blue first gets arrested for selling to an undercover cop, Leah goes to great lengths to get him out of jail. She turns to two men – two white men – for help. Kelly, the publisher of the magazine at which Leah has an internship, helps her sell some of Blue's drugs to his wealthy friends. With that money, she will be able to buy Blue proper legal representation in the person of George, an attorney with enough savvy and experience to do something for a guy like Blue.
I won't give away how it all plays out, but the key thing to understand is that neither Kelly or George is a particularly nice guy. They both take advantage of Leah's predicament to get what they want out of her. Neither is really portrayed as a pure evildoer – Wood is better than that. Both offer varying blends of decent and slimy intentions.
And they are also criminals. At least Kelly is. George may be simply unethical. However you define it, they both make very bad decisions at key points in the movie. As does Leah. As does Blue.
So why am I making such great claims for White Girl's importance? Because it dramatizes in very compelling fashion exactly how white men are allowed to make bad decisions, allowed to act unethically, allowed to commit crimes even, and walk away with no consequences. Men of color, like Blue, are afforded no such luxury. This is especially vital when considering the current political situation in 2016, when America has elected a president who once declared losses of close to one billion dollars in a bankruptcy proceeding. Yet he got another chance. More than one in fact. 2016, when white sexual criminals like Brock Turner and Owen Labrie were afforded preferential treatment from legal and law enforcement authorities based on their race. 2016, when African Americans are incarcerated in state prisons at more than five times the rate of whites.
White Girl, better than any other movie of 2016, illustrates the fact that the playing field continues to be unequal. As John Blake and Tawanda Scott Sambou recently argued in a discussion of the Trump phenomenon, America has a great historical capacity for "racial amnesia." (LINK) In addition to entertaining, film has a rare ability to dramatize societal problems. It is a difficult balance to strike. Ramin Bahrani did it brilliantly two years ago in 99 Homes, making the 2008 housing crisis palpable. Wood has now added another chapter to the socially conscious film universe.
The title of Wood's movie is vital. Leah, the "white girl" occupies a middle ground between the white men and the men of color in the story. Her inexperience, along with her gender, render her largely powerless to help Blue, but her race and familial safety net afford her some measure of comfort. She is ultimately safe but powerless. Morgan Saylor, as Leah, shows her vulnerability and bravery, her naivete and wisdom, all at once. It is an excellent performance. The denouement, which is perfectly realized, suggests that this all may have been a lark for her – one that taught her a tough lesson about the world, one that hurt. But one that she will ultimately walk away from into the next chapter of her life.
We are left to wonder what she might do in that next chapter, just as we are certain that Blue's next chapter will offer far fewer options. In a very real way, seeing a powerful movie like White Girl leaves us all the same position as Leah. We have been taught a hard lesson, but we are privileged enough to simply walk out of the theater onto our next chapter. Or perhaps we walk out of the theater and address the matter of the uneven playing field.
And that is why White Girl is the most important movie of 2016. Because by so effectively dramatizing the problem, it gives us each the opportunity to understand a real societal problem in human terms. And the opportunity to begin to solve it.
Popular in the Community