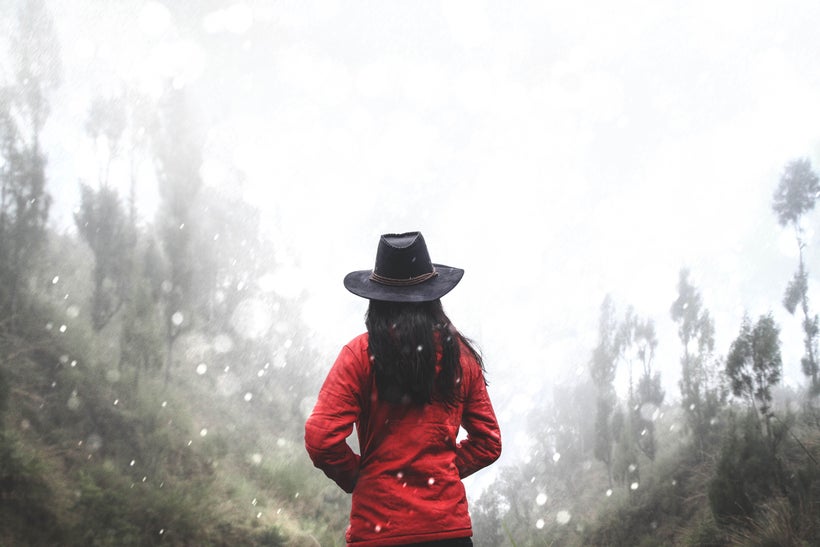 "Don't worry about unity from piece to piece—what unifies all of your work is that you made it"
I spent some time in December trying to figure out the most important business lesson I learned in 2017. And then I realized it was right in front of my face—the epiphany I had that forever changed my life. It was something I'd long theorized but didn't realize was actually true until I put it into action this year.
Here's how it happened: Early in 2017, I knew I wanted to amp up my career and so I decided I needed a business coach. I asked around and someone recommended a woman who did a free one-hour phone consultation. I signed up.
During that consultation, I told her about all the projects I was excited about: a new book I was writing, a course I was developing, coaching I had just started doing with clients and a few other things.
"My best advice for you," she said toward the end of our first (and last) conversation, "is slow down. You are doing too much. You'll never be successful if you spread yourself that thin."
Do You Have to Concentrate on Only One Thing?
I hung up the phone, discouraged. I thrive when I have too much to do. Give me one thing—even one thing I really love—and I grow bored. It's the ability to bounce between projects that gets me fired up. I've always gotten distracted easily—the proverbial bright, shiny thing always looks especially bright and especially shiny to me.
I've heard several people repeat what my would-be couch said to me: you need to focus on one thing in order to be successful. I'm someone who believes things, even things she knows aren't true, if someone says it in an authoritative enough voice and the people who say things like this always seem to have authoritative voices.
And so I started to ask some of the most successful people I know, people who also seem to thrive when they have too many disparate projects to work on, if they agreed.
I expected to get a difference of opinions. I didn't. Universally, they all vehemently agreed with me…juggle as many things as possible because then your brain is constantly getting breaks from a project and then coming back refreshed to the other project. Plus, none of us can control the outcome of any of it. If you're juggling six balls, five will inevitably be on the ground.
I Used to Be a One-Track Woman
For years, I was just a writer. I don't mean the word "just" pejoratively. Being a writer isn't easy, particularly if you want to make a living at it. But I was satisfied with writing as my sole vocation. I've always gotten off on words and being a full-time writer allowed me to get off, well, full-time.
Speaking of getting off, I then accidentally stumbled into a career as a sex and relationship expert (more on that in another post). Suddenly, I was spending a large part of my time appearing on The Today Show, The Talk and The CBS Morning Show doling out advice. When I got a job as the official sex and dating expert on a show called Attack of the Show, on-air TV became even more of my vocation. And when I also started talking about addiction and recovery on TV, the commitment to this line of work only expanded.
I found that I liked it but didn't love it. When the co-hosts of Attack of the Show, Olivia Munn and Kevin Pereira, would go on vacation, Chris Hardwick and I would fill in for them. During those weeks, I'd spent full days on the set doing, well, a lot of nothing.
And I realized something surprising: I knew that many people dreamed of being a talk show host but I actually missed spending time in front of my computer, coming up with the perfect words to express myself.
That's when I realized I liked combinations—that many things were always going to be better than one.
Then the Writing Game Changed
The writing hustle grew inarguably challenging after the crash of 2009. There were no more $2-a-word magazine story assignments and my book advances shrank from solid to nearly non-existent. That coincided with Attack of the Show getting cancelled. In order to just be able to pay rent, I had to double my output and after writing six books and more articles than I could count in just a few years, it started to wear on me.
I was spending countless hours alone in a room with only a computer and cats for company and financially, that still wasn't cutting it.
I realized I didn't have any real skills beyond writing. What the f was I going to do? I figured people like me went into advertising and so I started asking around about how to get into that.
When I met someone who was putting together a website about addiction and recovery and was looking for an editor, I jumped at the chance to work there. I'd been writing about my recovery for years and was happy to switch from penning the pieces to conceiving of and editing them.
After years of editing—at that first site and then at the site I started and sold and continued to run for three years—I grew tired of that as well.
I wanted to do more. But what?
My Late-to-the-Game Epiphany
I was years late to the realization that there was a whole world happening on-line where people could develop their own audiences and make products directly for them.
Through Garland, I interviewed a succession of other people in this world and after taking his course, Create Awesome Online Courses, I was a convert: I wanted to create an awesome online course, too! (His course is, indeed, awesome for anyone interested in creating courses; check it out here.)
Developing courses required more studying, most of it in the form of trying and failing. I considered it my first year of grad school: I obsessively followed the recommendations of Garland as well as online marketing goddess Amy Porterfield—coming up with ideas for courses, writing them, recording audio for them, creating Power Point presentations for them, syncing the audio with those PowerPoint presentations, making bonuses…and then coming to the depressing conclusion that the courses weren't that great and besides, I didn't have nearly enough of an audience to sell courses anyway.
I reminded myself that this was grad school and that I'd put far less money and work into this side hustle than I would have had I pursued an MFA. I shelved my first and second courses and devoted myself to building my audience, through any means necessary.
That's when I learned that it was all about marketing and that what's more, marketing wasn't something reserved for cheesy used car salesman. I was lucky enough this year to connect and become good friends with marketing king Joe Polish, someone who arguably understands that business better than anyone in the world. As he explains in his "Is Selling Evil" viral video, selling is getting someone intellectually and emotionally engaged in a future result and marketing is the storytelling that gets them to that point.
Talk about getting off on words full time.
Marketing = Writing + Juggling
For me, marketing encompasses everything that always interested me about writing: psychology and words. It also means juggling. Because why would you market one thing when you can market many? Once you've figured how to market, you can actually then offer...well, everything you've got.
This means that when I finally figured out and developed the courses I was meant to create, I knew I couldn't wait for people to find it.
I had to go out and find them.
So I made what would have been my dream when I was starting out: a course for writers that teaches how to write book proposals through videos and worksheets. Then, after getting some advice from another brilliant marketer, Dan Martell, I thought: what if I also made that course into a six-month coaching program for 10 students at a time and added accountability partners, monthly webinars and a private Facebook group? I then managed to talk to my agent into meeting with the one of the 10 that finished the group with the most promising proposal at the end.
I knew I had a pretty bad ass product.
But how could I find the people who wanted it? It didn't make sense to dig through a decade's worth of emails and reach out to every stranger who'd ever asked me for advice.
I Had to Think Like a Marketer
I tried every way I could find—building up my Facebook and Instagram, hosting webinars I created using Amy Porterfield's Webinars That Convert course, running Facebook ads, promoting the program on my podcast and working with affiliates, among many other things.
Together, after a lot of trial and error (mostly error), these methods worked and now I'm running my second and third versions of the coaching program simultaneously with a fourth launch tentatively scheduled for March of 2018.
Every day, I grow more excited about the different ways I can think of to find my audience on Facebook and Instagram and figure out what will make them see that what I offer will be right for them. That's right, I'm a Gen X-er who spends a lot of time on the sites where most millennials live—and I love it.
I obsess over making the people who've purchased my products feel like it's the best money they've ever spent. That usually involves spending even more time on Facebook, answering their questions, doing Facebook Lives and reading what they've posted in our private group.
Failure Is Part of Success
It all sounds exciting—and it is—but the paragraph above doesn't mention the stumbles and failures I've had over the past few years before getting to this point.
It doesn't mention getting hired to write a book proposal, being told after two drafts that it wasn't good enough, saying I couldn't do any better and then having to give back what I'd been paid (including the agency fees, so I actually lost money after months of work).
It doesn't mention the fact that when I first decided I wanted to publish books and set up a company to do that, I pitched a life coach on writing and publishing his book for free just so I'd have an example to show people and he didn't even write me back.
It doesn't mention accepting a job as the Editor-in-Chief of a magazine and being fired after two months (it turned out they were running the magazine out of a prison and I got fired for not agreeing to write a forward for the the owner's prison pal's self-published book, but still).
In other words, maybe there are some people who are successful with every venture they set out on but I'm certainly not one of them.
And Then It All Comes Together
I'm sorry, my would-be life coach, but you were wrong. Doing a lot of things, if they're a lot of things that get you fired up, can count as one thing if you have a single unifying premise.
Everything I do is designed around helping people share their stories and remain accountable to their commitment to do that. There are almost as many ways to tell stories as there are stories to tell and I'm so excited to have found a way to help people do that.
If I'd listened to the coach who told me that I had to slow down and focus, I'd only have one of these projects and I'm willing to bet it wouldn't be as far along as it is now.
So if anyone's told you that you'll never be successful unless you focus on one thing, or any other career advice that doesn't align with what you feel to be true, feel free to call bullshit.
It may just give you the career of your dreams.
Want to Join My Accountability Group?
It's a group where I share specifics about these many lessons I've learned and provide writing assignments and worksheets, conduct webinars and more. It's also where we support one another toward meeting our goals. Click here for info and to sign up.
REAL LIFE. REAL NEWS. REAL VOICES.
Help us tell more of the stories that matter from voices that too often remain unheard.
This post was published on the now-closed HuffPost Contributor platform. Contributors control their own work and posted freely to our site. If you need to flag this entry as abusive,
send us an email
.