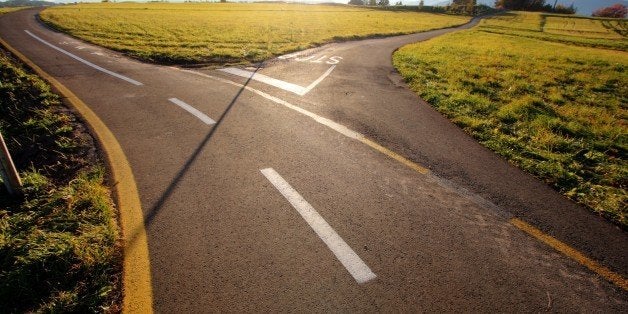 If you're at a career crossroads and considering whether to leave your job this year, your fulfillment rests on one decision.
What is that crucial decision?
Which path will you follow?
The "should" path? Or the "want to" path?
Choose carefully. Which path you traverse really matters.
The "Should" Path

The "should" path presents you with career options that make logical sense. You choose your career direction primarily based on what the market needs.
When you follow the "should" path, you first look outside yourself to see where your skills, talents, and abilities can be used and pursue those. The hallmark of the "should" path is that you let the guidance of your brain lead the way. You tell yourself, "I should do this because..." and then you rationalize your choice, based on the money, the prestige, the contacts you'll make...or some set of forces outside yourself. To some extent, even subtly, you have to push yourself in this direction.
The "Want To" Path

The "want to" path opens up career choices that align with your heart's desire. You choose your career direction primarily on your curiosity, your passion, and your desire for personal growth.
When you follow the "want to" path, you first search inside yourself to sense what would feel fulfilling, and you follow your heart and gut. The hallmark of the "want to" path is that you allow the wisdom within -- particular from your heart and gut -- to guide you. You tell yourself, "I want to do this because..." and you let your passions and interests energize you -- and pull you to interesting opportunities.
Which one of these paths will you choose?

I've followed both. And I believe that people are happier when they follow the "want to" path.
My journey from "should" to "want to"

Before attending business school, I was a product manager for a small 100-person training company. After two years of releasing a string of successful products, my manager told me, "If you want to move up in business, you should either get a law degree or an MBA."
I took his word, "should," as gospel. I took the LSAT (Law School Admissions Test) and bombed. And then took the GMAT (Graduate Management Admissions Test) and scored in the top 5 percent. I thought that meant I "should" apply to MBA programs. I was accepted at UC Berkeley's Haas School of Business, which inspired me to change the face of Human Resources, to make it more strategic, better aligned with business issues.
But the "should" path called. A bunch management consulting firms wooed and courted me. I repeatedly heard, "With your analytical skills and presentation abilities, you should join our management consulting firm."
At first, I wasn't so interested. But then I thought, "I should do this. This is the logical follow up to an MBA. I should do this because I'll get to work with super smart people. I should do this because I'll make a ton of money. I should do this because this job will open doors."
So in the mid 1990s, I became a management consultant. And while I was very capable, I was also miserable. I wanted to talk to people about their personal lives. I didn't want to use Excel and PowerPoint to craft corporate strategies. My heart wasn't in it.
I kept telling myself, "You should be happy! You make so much money. You get to work on strategic, industry-shaping projects."
Ultimately, my heart was broken. I'd been feeding only the incessant, head-strong voice of my ego. I'd ignored my heart and gut. After five years, I was physically and mentally burned out.
So when I chose my next career direction, I intentionally followed my heart's passion for learning and creativity. I parlayed my talents into a job as a marketing director for an online learning company. I adored the work, admired my colleagues, and had fun interacting with our clients. I saw our positive impact on education.
Unfortunately, in 2001, the dot-com boom turned bust. As did my company. I couldn't have predicted that. Once again, I stood at a career crossroads. Some people told me I should get a marketing job at a Fortune 500. Others said I should go back to management consulting.
But my heart kept calling to me, "You always wanted to study psychology!" Deep down, I wanted to go back to school. But my head said, "You should get a practical job."
Fortunately, I did the wisest thing for my career, ever.

I decided to put my head in the service of my heart.

Most people do just the opposite, and wind up unfulfilled.
I used my keen analytical mind to figure out how to finance a new career direction. I earned my PhD at a school that I attended once a month for a long weekend, so I had time to work nearly full time. And I took a job counseling MBA students on their careers. My heart was in it, because I learned about counseling and coaching.
While I had the background to be successful at many things, this path felt really, really good. I wanted to be on it.
As I followed my "want to" path, one thing lead to another. MBA students asked me if I could coach their friends and spouses. Over time, I went solo and hung out my own shingle as a career + leadership coach for fast trackers. I hosted my own radio show on career issues. I lead career reinvention workshops at Esalen. And I started teaching conflict resolution and stress reduction workshops for professionals,
I've continually been able to follow my interests, which keeps me engaged in reading industry publications, reaching out to colleagues, taking continuing education, and innovating. Now, I coach individuals and groups within companies full time. My heart is fully in my work. I let my head organize and manage what my heart desires.
Which path will you take?

You may be thinking: The "want to" path is idealistic. You might imagine that you'll never make any money following that path. You might (incorrectly) assume that the "want to" path is dangerous, because you're not looking at market forces.
If you follow the "should" path over the "want to" path, you are gambling that the job you choose will make you feel good. A "should" decision might bring you money. But if your heart isn't in the work, it's eventually going to take a toll on your psychological and physical well-being.
If you follow the "want to" path, you'll be fueled by an energy. You'll be jazzed to wake up in the morning and do your work. You'll feel vibrant when you're around other like-minded people whose ideas spark more of your own. You'll feel proud of what you accomplish.
So, which path will you take in your career move?
And, if you've already taken a path, which one? Why?
Your story matters. We learn from each other. I'd love to hear how you chose your path, and what you've discovered.
Related
Popular in the Community