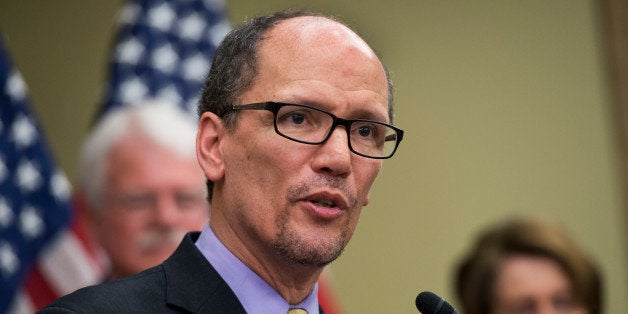 On the first Friday of every month, the Labor Department announces new employment numbers that help set the tone for the conversation about our economy and where it's headed.
But that's not the only set of data on my mind. My older daughter, who will leave for college in a few months, just played her last high school varsity lacrosse game, and I kept the team statistics this season (Amalia had 15 goals and 14 assists, in case you were wondering).
Involvement in my kids' sports teams is something I have made time for over the years. I've also been able to coach all three of them in baseball and basketball, something that has strengthened our bonds and given me indescribable joy. I wouldn't trade it for anything. I lost my own father when I was 12, and I am the same age today that he was when he died suddenly of a heart attack. So when it comes to family time, I have a strong sense of the fierce urgency of now.
But I'm lucky. I've had jobs that allow me the flexibility to achieve work-life balance, to be there when one of the kids sinks a jump shot or for the parent-teacher meetings. I can move tasks around. If I don't get something done at the office at 4:30 in the afternoon, I can go back to it at 10:00 in the evening.
But if you work in retail or in hospitality or at a call center, or if you need to take a second job at night to make ends meet, you probably don't have that option, and you can't be there for your kids. Often, it's not just about missing a game. It means you can't help with homework. It means you can't be involved enough to know when your kids are in trouble at school. Or it means if they get sick in the middle of the day, you have no way to pick them up.
I think our families deserve better. They shouldn't have to choose between the family they love and the job they need. And it's not just about being able to put food on the dinner table -- it's about being able to actually be at the dinner table as well. The most important family value of all is time with your family.
That's why we're convening the Summit on Working Families -- to tackle issues like childcare, paid leave and equal pay that speak to the anxieties that keep people awake at night. These issues go to the heart of middle-class economic security. Addressing them is part of fully restoring America's basic bargain -- that if you work hard and take responsibility, you will have a chance to succeed.
We are way behind the rest of the world when it comes to progress on this front. Everything has changed in recent decades -- the economy, technology, cultural attitudes, the demographics of the workforce, the role of women in society and the structure of the American family. It's about time our laws caught up. We watch Modern Family on television, but we're still living by Leave It To Beaver rules.
I'm proud to be Secretary of Labor. But I'm even prouder of two more important titles: dad and husband. I've been able to be all three. I want all working people, no matter what their jobs are, to be able to meet their obligations both at work and at home.
This post is part of a series produced by The White House in conjunction with its Working Families Summit, the goal of which is to help "create 21st-century workplaces that work for all Americans." Today's regional summit in San Francisco is part of a series of events across the country leading up to the main event on June 23, 2014, in Washington, D.C. Read here to learn more about the effort.
Calling all HuffPost superfans!
Sign up for membership to become a founding member and help shape HuffPost's next chapter