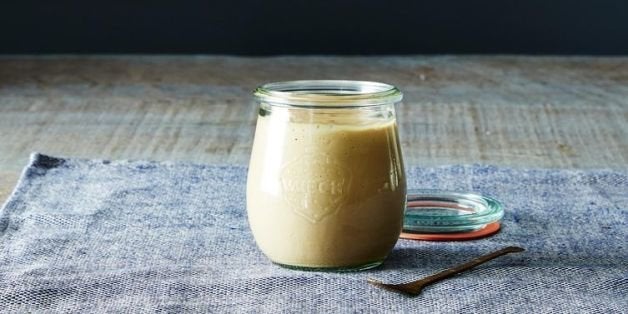 As a defiant response to Sad Desk Lunches, the Food52 team works to keep our midday meals both interesting and pretty. Each week, we'll be sharing our happiest desk lunches -- and we want to see yours, too.
Today: You deserve better than bottled dressing. Make your own at home, and let it save your lunches all week.
The most important jar in your office fridge isn't the Nutella you reach for after an arduous day of spreadsheets, or the industrial-sized salsa that shows up at every last-minute staff birthday party you throw together. No, the most important jar to have on hand at work is an unassuming bit of dressing, something that took you five minutes and less than five dollars to shake together in preparation of the week ahead.
More: Another make-ahead lunch staple? A big pot of white beans.
Dressing is the duct tape that holds together even the most meager-sounding lunches: a little lettuce and a cup or so of quinoa, or some sticks of carrots that are primed for dipping. It will weave together leftovers -- roast chicken and rice, say -- into a whole much greater than the sum of its parts. And a simple green salad feels like a relief next to heftier leftovers that need eating (pizza, I'm looking at you).
Remember: You're better than bottled dressing. Here are our favorite homemade versions to keep on hand at all times:
Tahini-based dressings are just the thing when you want something more substantial, without veering into mayonnaise's creamy territory. Pair them with sturdier vegetables and grains.
When you do want something creamy, shake up a jar of buttermilk ranch or blue cheese dressing. Few lunches are easier than a hacked-off head of iceberg lettuce, drizzled with blue cheese dressing, crumbled with this morning's leftover bacon.
Vinaigrette is your most traditional option, but don't take that to imply boring. The tangy slap in the face from a bright, acidic dressing will wake you up like a good cup of coffee, without the risk of heart palpitations. Here's how to make it your own, without a recipe.
Yes, aioli counts as salad dressing. Especially when you use it for dipping fresh spring vegetables -- raw, or lightly blanched -- like asparagus, radishes, and the world's tiniest artichokes. Add in whatever flavors you like; it will also make run-of-the mill sandwiches feel special, and it will sex up potato salad.
Tell us: What dressing do you keep on hand at the office?
Food52 is a community for people who love food and cooking. Follow them at Food52.com -- and check out their new kitchen and home shop, Provisions.