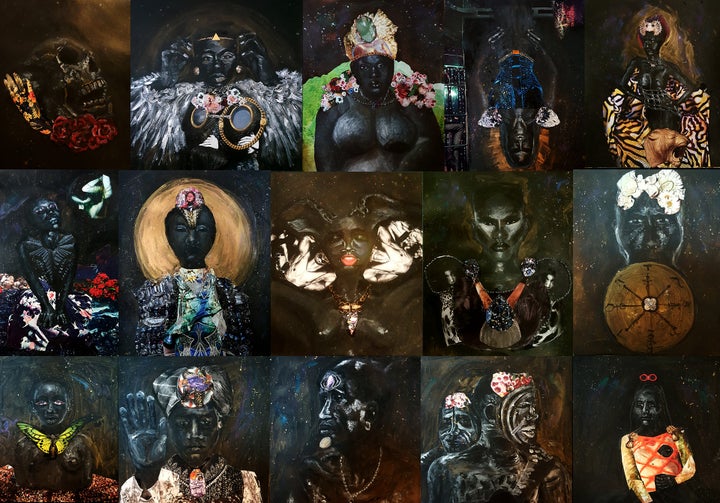 Courtney Alexander's Dust II Onyx Tarot Deck is an incredibly important piece of art, not only for the Tarot community, but for the entire world.
Works of art, media, and writing can so often only reflect the experience of a select group of people. This is especially true in Tarot - where most figures illustrated in card decks are lithe, white, and conventionally beautiful.
Not only is Alexander's work groundbreaking, revolutionary, and important - but the artwork is absolutely stunning. I have backed this deck on Kickstarter and I can't wait to get my hands on it. Read on to learn more about the artist, the inspiration behind this deck, and her creative process.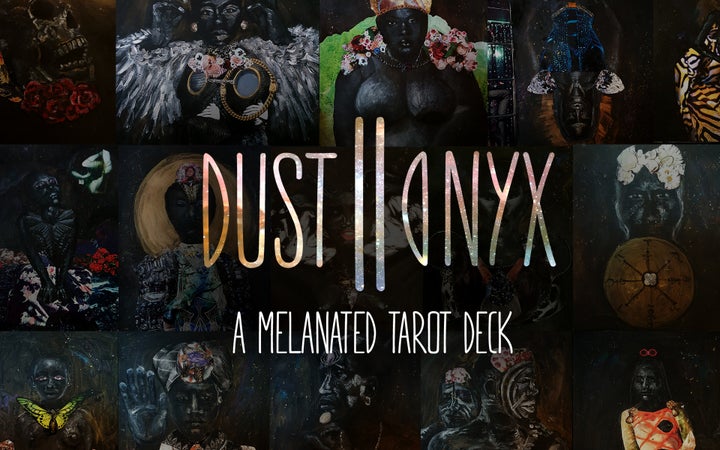 Tell us about yourself & why you started this project
I'm an artist, through and through. I've always been a creator and what I've been interested in creating has evolved over time. I explored a lot when I was younger, playing instruments, drawing, writing and just being an awkward little girl. Then I moved into graphic design and more entrepreneurial endeavors. I was always inventing things in my head, or coming up with some business venture I fantasized about. I also spent a lot of time teaching myself graphic design. For awhile it had my attention and I looked to becoming a well respected designer in the industry. Then life happened, and I found myself relocating from my hometown of West Palm Beach to attend the University of South Florida in Tampa, FL. Long story short, I took some drawing classes and began experimenting. From there I decided to enroll into the USF College of Fine Arts to pursue my degree in Studio Art. Throughout that process I entrenched myself in art and pushed my own methods of creating. I realized that I had something to say and that art for me was a way to challenge the world and myself. I explored every intersection of my identity being black/fat/queer/woman and how I've had to navigate the world. Now, my work has evolved into the Dust II Onyx tarot deck. It feels quite natural. I've moved from using my own form to challenge stereotypes about who I am, to making my work about the human collective. When I first thought to create a deck, I knew I wanted to have a deck that represented melanated and non-conforming people. However I had no idea they would be what they are now.
The imagery of the black portraits came to me in a dream.
They were these stunning portraits painted black-on-black with vibrant rich clothing. Even still, I was not prepared for what the work would be. Now I understand it as a powerful tool of inner work. I also see it opening the world of tarot to so many who haven't felt there was a place for them in it. The reality is that many metaphysical spaces never felt like they were truly for me. So my desire is to see Dust II Onyx bridge that gap by drawing new enthusiasts into the community knowing they finally have a product that they connect with.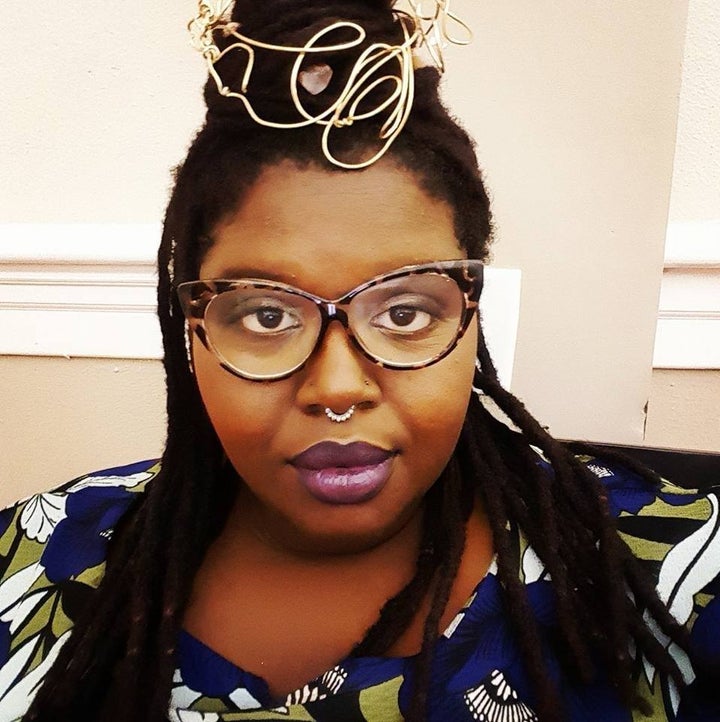 What does it mean for you to create a deck that you've always dreamed of?
It's so surreal to be honest. I used to be afraid of tarot. I grew up in a traditional Christian home. I was taught to fear anything that was unlike doctrine and religion. So to see myself just a couple years later creating a deck feels amazing and astonishing to me. Who would have thought that part of my legacy here in this lifetime would be to offer Dust II Onyx to the world? I wouldn't have believed you if you told me I'd be here just a few years ago. But I am now and for the first time I feel like my purpose and path has been lit. The road still has it's challenges as it always has, but now the universe has lit my path even brighter. I was running a slow marathon in the dark, but as my path grows brighter I find myself charging full speed now.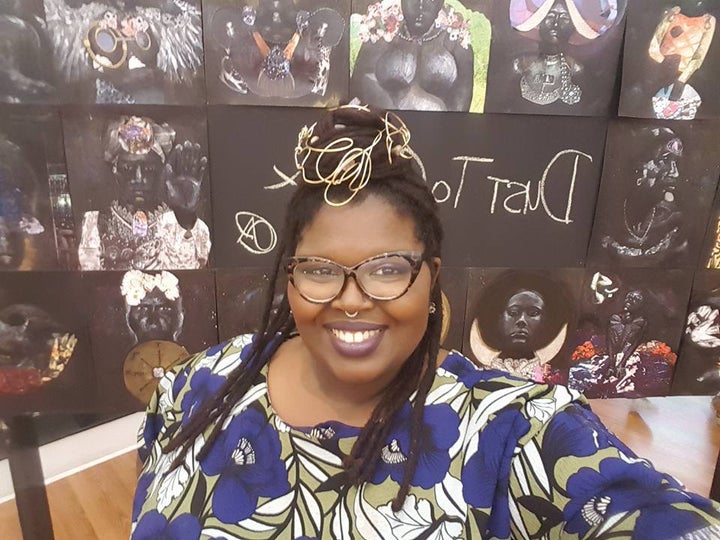 What is the biggest lesson you've learned so far about creating a deck & launching it on Kickstarter?
It. Takes. Work. I have to be honest, I do not have it all together. I have not "arrived". I'm still in the trenches. At this time I'm still working a new full time job, being mom to a beautiful Tabby/Siamese fe-lion, running the Kickstarter and finding a way to balance it with the production of this deck. Thankfully there have been people who have dropped into my life and offered the gems I needed at the right time.
This has all been a lesson in surrender. Yet, it isn't the type of surrender that goes without action. It's more-so the kind of surrender that it takes to leap knowing that you are supported.
There have been fateful connections, and lessons in the value of timing. It is also a big responsibility because I surrender Dust II Onyx to the public for scrutiny. Those who support the Kickstarter surrender funds to me trusting that they will get the product they deserve. Having a strong sense of duty and accountability is of the utmost importance. Thankfully I have had the pleasure of speaking with several backers who had unsavory experiences, which has helped me be very mindful of what is at stake for them too. My funding goal is set at $25,000. I believe in this deck and its impact to come. It HAS to be in the world so its a project I won't give up or slack on. The funds I'm asking for would cover the cost of printing and any surprise costs that may come up during the production. The last thing I wanted to do was set my goal too low and find myself without enough funds to fulfill orders. That is irresponsible. For me it is all or nothing. I take people's hard earned money as a very serious responsibility. So it is very scary and nerve-wrecking to use such a platform where I could essentially receive nothing. But it also gives me peace of mind knowing that making this funding goal means that I will have what is needed to fulfill all costs that go into such a large project. No matter what may come I always operate in integrity and transparency. I will never project myself to be anyone's fantasy or more than I really am. I'm in this journey with everyone else. I will inevitably evolve through this project. So you are all witness to my own journey and maturation through this. You are all also a part of a beautiful tribe of people that I'm now able to build around me. I may be doing a lot on my own but I'm not alone in this and I'm eternally grateful for the support I've had thus far.
What is your creative process?
The first thing I do is look for reference imagery. I've looked through photos from all sorts of eras and communities from the African continent. It all inspires me. There is so much diversity in the diaspora that I did not want to be chained to a certain type of image that only depicted the status quo. Once I found an image that had the same energy of the card I was creating I got to work. It wasn't about duplicating the same image. Despite the reference, each image evolved to be what it wanted to be. The most obvious reference to most is Grace Jones. She was a huge inspiration since she embodies so much grace, power and authenticity. I've also referenced Willow Smith, the Mursi, Egungun, and fashion models form different regions. I have a huge stack of V Magazines I use to clip textures to be used in the collage. It's very intuitive and I enjoy seeing the image take a unique shape from anything I could ever plan.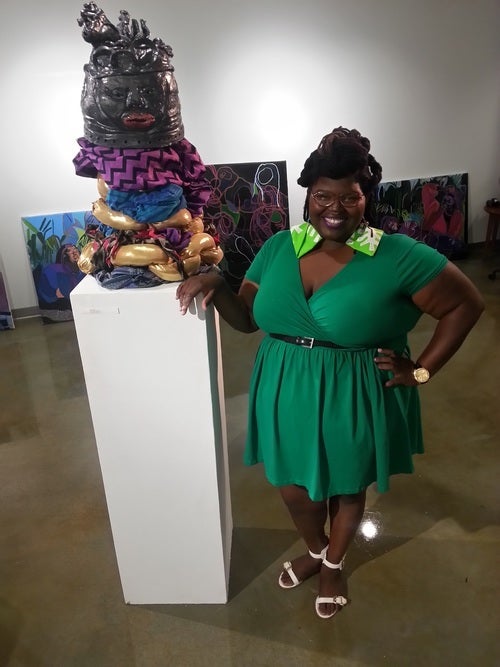 What inspires you?
I'm inspired by humanity in general. I still believe in the beauty of our world. I still believe in the wonder of our soul journey. I sincerely love humanity even when we are at our worst, and I have an optimistic outlook in regards to our future. We are waking up, and going into a new era of enlightenment and freedom that I look forward to. As a planet we go through the same cycles of life on a collective level that we do individually. It's such a huge web.I am also inspired by my journey at the different intersections of my identity and how far I've come in my own maturation. I've constantly challenged myself to be the best and most authentic version of myself. Now just turning 30, I finally have given myself that pat on the back. I still have a long way to go but I needed to take time to honor how far I've come. I want to use my art to help others honor their own journey. Art has given me a platform to show that every journey matters and deserves respect. My privileges don't make my life worth more than any other.
It takes us all to make the world go 'round.
How do you use tarot in your daily life?
Tarot has been a great tool of guidance. I tend to be very intuitive and a very cryptic dreamer. I use tarot to help bring clarity to the different messages I receive. I'm a classic Virgo with a lot of mental energy, so it can be difficult to just be still and listen. Trusting my inner voice was such a challenge because of my need to dissect everything. But tarot helps bring focus so that I can see clearly what energies I need to concentrate on at the moment. Especially when I find myself having a repeating set of cards in my life. My tarot practice keeps me from becoming stagnant in regards to my self-introspection. Plus it is a lot of fun to learn and experience so many different decks and ways of reading.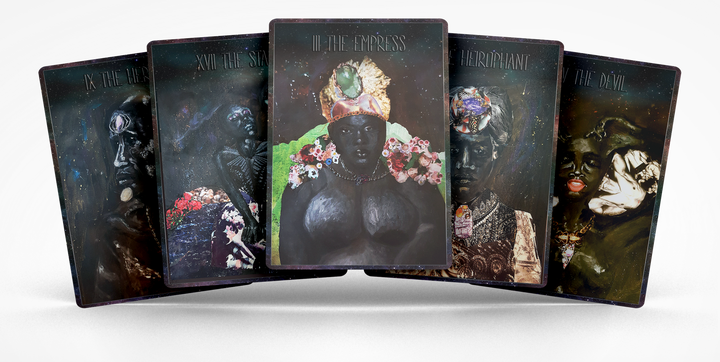 What are your future plans?
Of course my most immediate plan is to see Dust II Onyx being unboxed across the web, from homes around the world. I can't wait to see the internet full of spreads and other people's insight into the cards. I also still desire to go to grad school and get my Master of Fine Arts. I love contemporary art and working in exhibition spaces. I have a project stirring in me that I know will bring so much love and healing. I want to see art spaces be for more than just the elite. I also just love being a part of the larger community, sharing ideas, speaking and teaching through the wisdom that has been given to me. Sharing and teaching is how I've learned so much myself.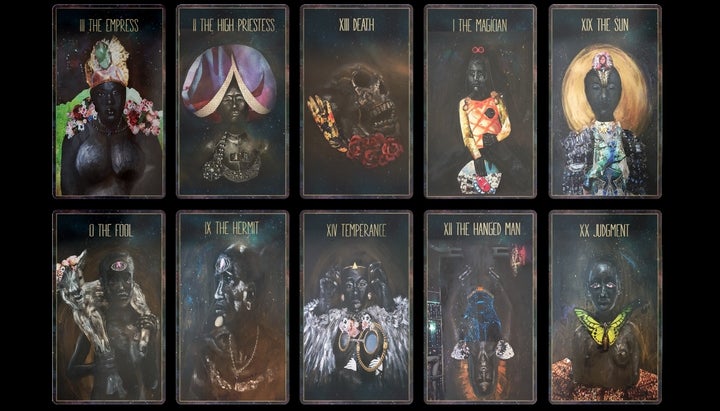 How can we support your deck?
Definitely preorder a deck or prints through the Kickstarter. Funds will not come out of your account until funding is met at the end of the campaign on October 17. You can also sign up for email updates on the www.dust2onyx.com. Share in your communities. Connect. Be present in this with me. I can't do it alone.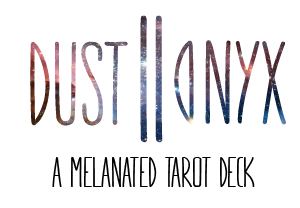 Anything else you'd like my readers to know?
I know many have asked about the minors. I can't wait to put out the images for them this week once I add in some finishing touches. They will be illustrated scenes and not pips so no worries. Continue to stay up-to-date on the Kickstarter, Facebook, and Instagram. You can also view my other work on my professional artist page. I love you all!
For those who want to see who I am they can view the video below:
This post also appeared on http://mollybeane.com/blog.
Related
Popular in the Community