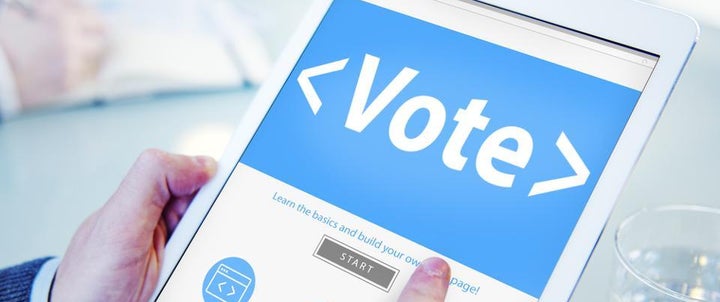 Former US CTO Aneesh Chopra inspired me to become a public sector tech entrepreneur — to help improve governments. The government tech market is a booming industry. Dustin Haisler, eRepublic chief innovation officer, in his "GovTech Market Snapshot" highlighted the scope of the government technology market, which is an estimated $175 billion. To dissect the aforementioned, State and local IT spending is $96 billion and Federal IT spending is $79 billion. Evidently, government tech is a fiscally viable industry, which will grow due to the incessant need for cybersecurity protections. In his talk at Harvard Business School Public Sector for the Future, Mitch Weiss — Mayor Menino's Former Chief of Staff — alluded to the fact that it is a great time to become a public entrepreneur, however, governments must realize that many government tech startups don't have the marketing spend needed to reach them. To me, this means that some great startups , who have developed great tech, may never capture the attention of government stakeholders, which, in turn, affects growth and scalability.
In a world where startups Uber, Zenefits, Airbnb, Pokemon Go are getting great attention, I thought it best to bring attention to the tech startups hard at work to transform government. In my opinion, here are the 7 hottest and most innovative government tech startups that are doing awesome work, including some we may have never heard about before:
Website: http://voatz.com Twitter: @voatz
Co-founders: Nimit S. Sawhney
Description: Voatz enables citizens to vote in all kinds of elections or verified voting events via a secured smartphone. Past attempts at internet based voting have failed or not gone mainstream due to fundamental concerns around security, audit-ability, and voter anonymity. With Voatz, using multi-source real-time ID verification along with biometrics for security and the Blockchain for irrefutability, they are able to tackle all these challenges and significantly streamline the process of voting, bring more transparency and virtually eliminate fraud from the electoral voting process. Voatz is planning pilots in Boston and Delhi.
Website: http://navahq.com/ Twitter: @nava_pbc
Co-founders: Loren Yu, Sha Hwang, Kalvin Wang, Rohan Bhobe
Description: In the winter of 2013, a team of engineers, designers, and product builders were brought in to help fix HealthCare.gov. Subsequently, Nava PBC was formed. Since then, they have have been working with the government to improve the services HealthCare.gov provides. The new HealthCare.gov new application process that Nava designed and built is now used by millions each year to sign up for health insurance, and has helped America reach its lowest uninsured rate ever. Their user-focused perspective, reduced the number of steps by 80% and increasing the number of sign-ups by 50% on HealthCare.gov. The previous was a great effort that required collaboration with the Centers for Medicare and Medicaid Services. Nava engineer Brendan Neutra was named a 2016 FCW Rising Star for successfully load testing Nava's systems on HealthCare.gov with a billion users. Nava's success was recognized with a 2015 Code for America Technology Award. Code for America touted Nava's work as "a great example of doing things differently in federal government."
Website: https://www.quorum.us/ Twitter: @QuorumAnalytics
Co-founders: Alex Wirth and Jonathan Marks
Description: Founded by two Harvard grads, Quorum enables anyone to influence the legislative process with modern tracking, targeting, and outreach tools. The online platform tracks legislation and dialogue in Washington and all 50 states, leverages quantitative analytics to help users identify potential champions, and enables advocates to easily contact legislators and their staff. Quorum has been featured in TechCrunch, Bloomberg, New York Times, and The Washington Post. They also won the Harvard Innovation Challenge.
Website: https://smartprocure.us/ Twitter: @smartprocureus
Co-founders: Jeff Rubenstein
Description: SmartProcure is revolutionizing government procurement. They have built a tool that brings hundreds of millions of purchase orders into one searchable database. SmartProcure's goal is "to save the government millions of dollars and help government contractors become more profitable and efficient." They provide the most comprehensive, high-quality government purchasing data; powerful, easy-to-use analytic and reporting tools; and a nationwide information sharing platform to enable easier and more efficient government procurement. They connect thousands of local, state and federal agencies to government contractors to determine market opportunities, see product trends, and improve competitive intelligence. Fox Business News profiled their innovative technology, and they were recently one of only five companies chosen by Code for America 2013. SmartProcure is used by thousands of government agencies, which have added more than 85 million government purchase orders into their system.
Website: http:/dobt.co Twitter: @dobtco
Co-founders: Adam Becker, Clay Johnson
Description: The Department of Better Technology (DOBT) was started by two former Presidential Innovation Fellows. DOBT works with government organizations to build and maintain custom applications, or to support open source applications that already exist. Through working closely with organizations like Code for America, they're able to find, integrate, and support web and information technology projects well below standard market prices. In addition, - as technical advisers - they help local governments think through technical projects, provide technology advice on how to craft RFPs, and help get great local or national vendors to bid on them. DOBT's flagship product is Screendoor, which allows clients — including, HHS, NYU's Open Lab, Government of Switzerland, and USAID — to automate their manual processes. They are a GovTech 100 Company that recently raised some money from 500 Startups.
Website: http://fiscalnote.com Twitter: @FiscalNote
Co-founders: Timothy Hwang
Description: "FiscalNote leverages artificial intelligence to make government data more accessible and actionable across industries. FiscalNote is the first government strategy platform to offer a mobile application, allowing users to access and analyze every bill at every stage from all fifty states, D.C. and Congress on their phones. These offerings tie to the company's objective – empowering organizations to take control of their government strategy. FiscalNote recently started its international expansion with its acceptance into Google for Entrepreneurs' Campus Seoul, a space for entrepreneurs to connect, learn, and go global. In 2016, FiscalNote CEO Timothy Hwang was named one of Forbes' 30 Under 30 in Law & Policy and the 30 Under 30.The company was also featured on Meet the Press with Luke Russert, C-SPAN, and The Economist. Launched in 2013, FiscaNote and raised over $30M in venture capital from NEA, Mark Cuban, Jerry Yang, and Steve Case."
Website: http://opengov.com/ Twitter: @OpenGovInc
Co-founders: Zac Bookman, Nate Levine, Joe Lonsdale and Mike Rosengarten
Description: OpenGov is the market leader in performance intelligence and financial transparency for government. The company has invented a cloud-based platform that enables government officials and citizens to analyze budgets. Their design is intuitive and the interface breaks finances down by government departments, and— With a few clicks, the user is able to drill down into expense categories for deeper analysis of revenues and expenditures. Since OpenGov was founded in 2012 it has raised $22 million to date and has more than 275 government clients across 37 states including New Haven, Orange County, and Minneapolis. Note: OpenGov is backed by famous investor Andreessen.
Disclaimer: Many of the above companies are led by friends or my friends have invested in them.
Popular in the Community