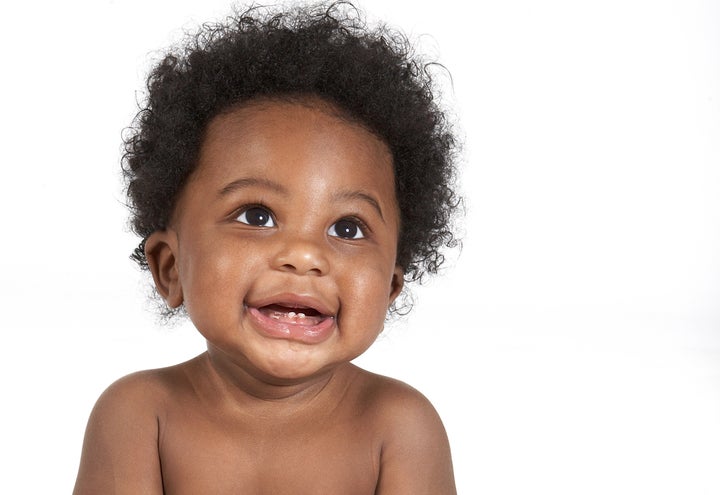 We've passed the halfway mark of 2017, which means it's time for Nameberry's list of the most popular baby names of the year ... so far.
The baby naming website creates the list by calculating which name pages received the most views in the first half of 2017. It's a way to identify current baby name trends and to gauge future name popularity.
This year, Asher has overtaken Ezra as the number one name on the top 100 names for boys list. Jasper and Theodore also rose up to the top 10, and a fifth of the top 100 boys' names are new: Charlie, Everett, Dante, Lucas, Kane, Rhett. Jonathan. Xander, Magnus, Emmett, Ian, Maverick, Winston, Augustus, Kian, Arlo, Cassian and Edward.
The five boys' names that rose the most from last year's top 100 list are Kai (+57), Cassius (+33), George (+33), Jude (+31) and Finn (+26).
With girls' names, the standings are relatively more sedate. Olivia maintains her reign as the number one girls' name among Nameberry's visitors, with Amelia and Charlotte holding steady in second and third place. The new names in the girls' top 10 are Evelyn, Penelope, and Eleanor.
Five girls' names made their debut on the Top 100 in the first half of this year. They are Celeste, Ines (à la Blake Lively and Ryan Reynolds' baby girl), Fiona, Saskia and Alexandra. The hottest girls' names ― those that climbed the most spots up the 2017 list compared with their standing among the Top 100 baby names for 2016 ― are Evelyn (+60), Amara (+42), Ada (+27), Phoebe (+22), Gemma (+21), Naomi (+20), Matilda (+19), Sienna (+19), Ophelia (+16) and Isabel (+16).
Without further ado, here are Nameberry's 100 most popular names for girls and boys for the first half of 2017.
Top 100 Names for Girls
1. Olivia

2. Amelia

3. Charlotte

4. Isla

5. Isabella

6. Ava

7. Aurora

8. Evelyn

9. Penelope

10. Eleanor

11. Arabella

12. Rose

13. Cora

14. Amara

15. Ophelia

16. Violet

17. Luna

18. Elizabeth

19. Hazel

20. Esme

21. Maeve

22. Adeline

23. Alice

24. Thea

25. Lucy

26. Audrey

27. Genevieve

28. Imogen

29. Emma

30. Nora

31. Claire

32. Sadie

33. Mia

34. Ivy

35. Scarlett

36. Aurelia

37. Jane

38. Eloise

39. Lydia

40. Iris

41. Emilia

42. Elise

43. Evangeline

44. Lila

45. Caroline

46. Stella

47. Julia

48. Anna

49. Chloe

50. Astrid

51. Isabel

52. Aria

53. Clara

54. Adelaide

55. Ada

56. Matilda

57. Sienna

58. Ella

59. Eliza

60. Josephine

61. Phoebe

62. Beatrice

63. Mae

64. Elodie

65. Mila

66. Hannah

67. Maisie

68. Zoe

69. Grace

70. Willow

71. Seraphina

72. Naomi

73. Celeste

74. Ellie

75. Poppy

76. Sophia

77. Gemma

78. Khaleesi

79. Emily

80. Freya

81. Jade

82. Madeline

83. Molly

84. Elsie

85. Maya

86. Margaret

87. Zara

88. Daisy

89. Rebecca

90. Willa

91. Eliana

92. Juliet

93. Ines

94. Evie

95. Abigail

96. Fiona

97. Saskia

98. Annabelle

99. Alexandra

100. Mabel

Top 100 Names for Boys
1. Asher

2. Atticus

3. Jack

4. Ezra

5. Theodore

6. Milo

7. Jasper

8. Oliver

9. Silas

10. Wyatt

11. Henry

12. Matthew

13. Leo

14. Declan

15. Oscar

16. Xavier

17. Finn

18. Levi

19. Thomas

20. Sebastian

21. Felix

22. Axel

23. Benjamin

24. Alexander

25. Kai

26. Caleb

27. William

28. Zachary

29. Miles

30. Ethan

31. Julian

32. Elijah

33. James

34. Andrew

35. Callum

36. Arthur

37. Liam

38. Bodhi

39. Charles

40. John

41. Aryan

42. Jude

43. Eli

44. Soren

45. Roman

46. Harrison

47. Charlie

48. Harry

49. Nathaniel

50. Ronan

51. Jacob

52. Tobias

53. Cassius

54. Isaac

55. Ryker

56. Everett

57. Archer

58. George

59. Samuel

60. Dante

61. Isaiah

62. Owen

63. Lachlan

64. Luke

65. Daniel

66. Lucas

67. Kane

68. Graham

69. Rhett

70. Hugo

71. Wesley

72. Jonathan

73. Gideon

74. Xander

75. Magnus

76. Emmett

77. Ian

78. Josiah

79. Lewis

80. Maverick

81. Joseph

82. Nolan

83. Beckett

84. Simon

85. Lucian

86. Louis

87. Winston

88. Gabriel

89. Connor

90. Augustus

91. David

92. Vincent

93. Nathan

94. Kian

95. Arlo

96. Cassian

97. Harvey

98. Griffin

99. Abel

100. Edward