Everyone loves a good list: the Forbes 400 ranks America's richest people,Ebony's Power 100 ranks the most powerful African Americans, andTime's Time 100 ranks the world's most influential people. Though members of the gay community can and do feature on these lists, we nevertheless like to compile our own from time to time.
On Oct. 23 Britain's Independent published its annual Pink List of prominent gay men and women. With the last of OUT Magazine's OUT 100 published around a year ago, it seems reasonable to assume another one can't be too far away. The problem with such lists is they are inevitably subjective. How do you really measure power or influence and rank people on that basis? Compounding this problem, Britain's Pink List has taken political correctness one step too far and now deliberately excludes the likes of George Michael, Elton John and Ian McKellen in favour of "unsung heroes." This seems to me to be the equivalent of the Time 100 omitting Barack Obama because the Leader of the Free World features too regularly for its liking.
Also, in our globalised world national boundaries seem increasingly irrelevant. Should Britain's Pink List exclude Chris Colfer simply because he's not British? More than 1.5 million people in the U.K. typically watch an episode of Glee. How can one possibly argue he and co-star Jane Lynch aren't influential there?
Fortunately there is way we can compile a list of influential LGBT people that transcends national boundaries: we can use Twitter. Unlike a panel of judges, it's democratic and allows easy comparison between individuals. While not a measure of wealth, it's certainly a measure of voice, and while certain LGBT celebrities don't have Twitter accounts, it could be argued they are less influential because of it.
Here then is a list I've compiled of whom I believe to be the world's 30 most powerful LGBT people, ranked by their number of Twitter followers at the time of writing.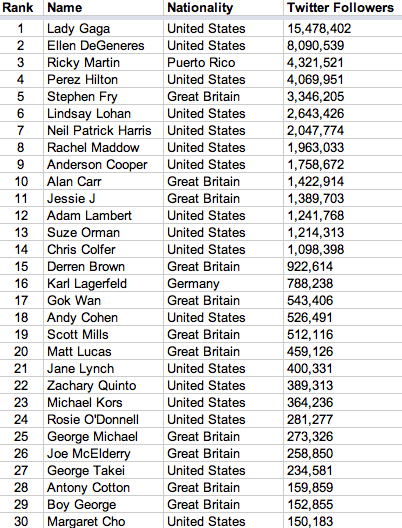 With entrants needing more than 150,000 followers to make the list, the likes of Rufus Wainwright, Russell Tovey and Jake Shears simply fail to make the cut. Also notable by their absence are LGBT politicians. At the time of writing Rep. Tammy Baldwin's Twitter account has just 2,062 followers, while it was unclear whether Rep. Barney Frank even has an official Twitter presence.
By my reckoning there are 14 LGBT twillionaires. Elton John is surely the biggest name missing from this list, although if the rumour that he doesn't have a personal cellphone is true, a Twitter account might be too much to hope for.
With the L, G and B counts stand at 5, 21 and 4, respectively, the demographic clearing missing is T. Chaz Bono, probably the world's most famous transgender person, almost made the list. He currently has 78,928 followers, boosted by his recent appearance on Dancing with the Stars.
How do those in the above list compare with our heterosexual brothers and sisters? Not surprisingly, Lady Gaga is the world's most followed tweeter, comfortably ahead of Justin Bieber (14,188,793), Katy Perry (11,785,246) and Barack Obama (10,972,234). Eminem (7,042,681) has fewer followers than Ellen DeGeneres.
Despite the media frenzy surrounding some of Sarah Palin's tweets, the former Alaskan Governor has just 687,975 followers, fewer than Derren Brown. Current frontrunners for the GOP presidential nomination, Mitt Romney and Herman Cain, have 157,043 and 156,496 followers, respectively, both comparable to Margaret Cho. Perhaps on that basis Margaret should consider running herself?
Popular in the Community