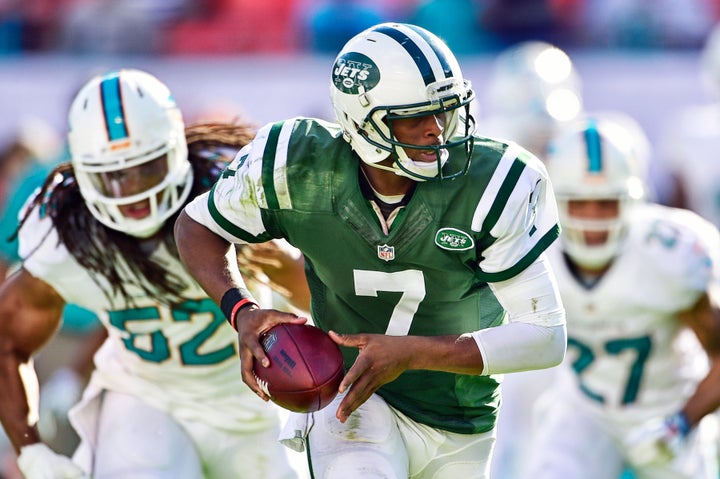 It's been a rough off-season in New York. In addition to Smith, the Giants will be without defensive end Jason Pierre-Paul for an unknown amount of time after he lost a finger in a fireworks accident during a July 4 celebration. Both Smith and Pierre-Paul's injuries will enter the annals of dumb, unfortunate injuries, but they aren't the only ones. Here are 10 more bizarre mishaps in football's recent history.
1. Quarterback Spikes Ball Into His Junk
Kerwin Bell, a former quarterback for the Canadian Football League's Toronto Argonauts, got a little too excited after rushing for a touchdown in 2000. When he spiked the ball, it bounced off the turf and hit him in the worst of spots. To add insult to injury, an opponent immediately shoved him to the ground, but it was Bell who got an unsportsmanlike conduct penalty for trying to talk smack.
2. Plaxico Burress Shoots Himself In The Leg
3. Punter Slices His Foot ... With An Ax
Pro Bowl punter Chris Hanson missed half a season in 2003 after nearly chopping his foot off with an ax. The worst part: it happened in the Jacksonville Jaguars' locker room. The ax was part of a prop based off then-head coach Jack Del Rio's motto to "Keep Chopping Wood," and Hanson, well, took a swing at it. The Jaguars moved the ax-and-tree stump prop out of the locker room shortly after Hanson's accident.
4. Stephen Tulloch Mocks Quarterback, Tears ACL
Sacking Pro Bowl quarterback Aaron Rodgers? Good. Mocking him with the celebration that became the centerpiece of State Farm commercials? Not so much. Tulloch, a Detroit Lions linebacker, shredded his knee after attempting Rodgers' signature move in a 2014 game. He returned to practice in May.
5. Gus Frerotte Bangs His Head Into A Wall
A simple spike wasn't enough for Frerotte when he scored a touchdown against the Giants in 1997, so the Washington Redskins quarterback decided to head-butt a wall too. Somewhat predictably, it led to a sprained neck and Frerotte sat out the second half.
6. Nate Burleson Breaks Arm Saving Pizza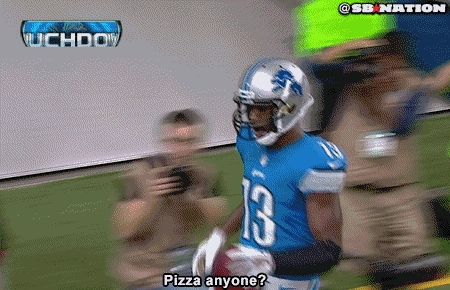 7. Brian Griese Trips Over Dog
Former Denver Broncos quarterback Griese missed a few days of practice in 2002 because he tripped over his dog and fell down the stairs. Earlier that season, Griese had knocked himself out after tripping while walking up a teammate's driveway. His teammates got a kick out of it all: "I'm not a very good storyteller, but I think I could have come up with a better one than that," tight end Shannon Sharpe said of the dog incident.
8. Bill Gramatica Kicks Game-Winning Field Goal, Destroys Knee In Celebration
After nailing a first quarter field goal to give his Arizona Cardinals a lead, kicker Gramatica leapt in the air to celebrate. Unfortunately, he landed awkwardly and tore his ACL -- and missed the rest of the 2001 season.
9. 'McDonald's Wrapper' Sends Brandon Marshall Through A TV
In 2009, then-Denver Broncos wide receiver Brandon Marshall severed tendons in his arm after it went through a TV at his house. Marshall explained the incident by saying he'd slipped on a rogue McDonald's wrapper that was on the floor. He later admitted to making up that part of the story; instead, he'd been wrestling with a family member. Either way, he busted up a TV... and his arm.
10. Joseph Fauria Sprains Ankle Trying To Keep Dog From Peeing
Pets and stairs don't mix well. Detroit Lions tight end Joseph Fauria suffered a sprained ankle during the 2014 season, explaining that he tripped at the bottom of the stairs while running to prevent his dog -- Lil' Rufio -- from peeing on the floor of his house.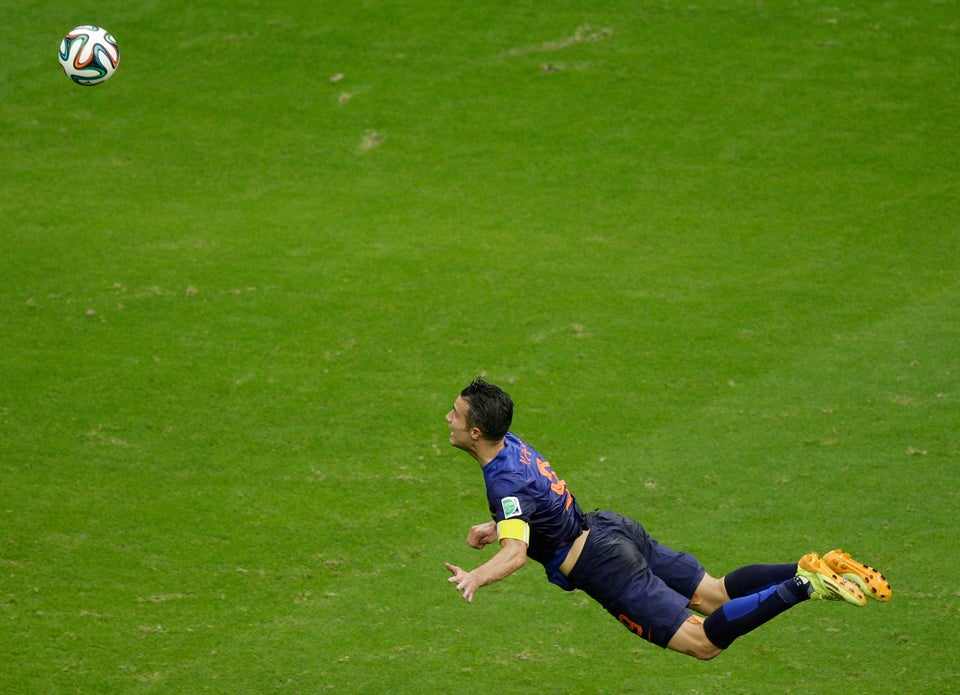 Amazing Sports Photos
Support HuffPost
The Stakes Have Never Been Higher
Related
Popular in the Community