At a certain point in every relationship, dollar pizza date nights just don't cut it anymore. You've got to step up your game, and what better way to do that than get the hell out of town? Weekend trips are great, but they can also be a hassle to plan. So to save you the pain of pouring over Fodor's and Expedia, we picked out a romantic rendezvous point in every state in America. We favored smaller towns and quiet lakes/mountains/beaches to make it seem more like a "getaway," and tried to steer clear of experiences that hinged too heavily on one really kick-ass resort. (Though we certainly dug into some hotel recs.) Enjoy your stay, and be sure to tip your B&B hosts well.
Alabama
Orange Beach
The Orange Beach area of 'Bama had activities for you and your your frat bros (Hangout Fest! Pristine beaches ripe for dumping your cooler of cheap lager!), but it also boasts plenty to do now that you're an adult and attempting to impress someone not wearing an airbrushed tank. You can ride the Ferris wheel on The Wharf, go mini-golfing on Adventure Island, take a glass-blowing class at the arts center, or, you know, lie on the beach. But anytime you have the opportunity to eat and drink on a boat while watching dolphins, you should always take it. So make that a priority.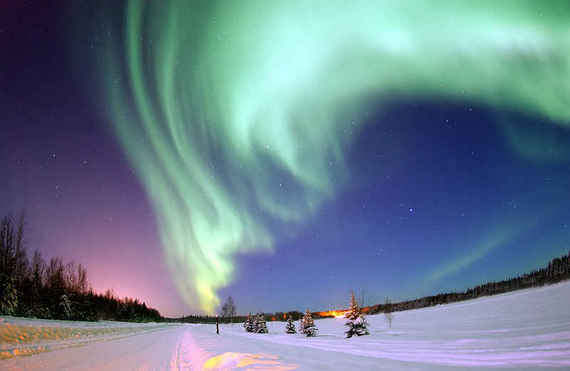 Credit: Flickr/Image Editor
Alaska
Fairbanks
While reenacting your favorite scenes from Balto is romantic in its own way, a couples retreat in AK isn't complete without some Northern Lights action. Your best bet is to head to Fairbanks. Make sure to book a place with aurora wake-up calls (many of them do this) and then decide whether you want to embark on a lights-themed van tour or dogsled adventure for the day. Keep in mind that the latter will fulfill those Balto fantasies.

Arizona
Sedona
You're going to Sedona to marvel at all the majestic red rocks, but it's your call whether you do this via pink Jeep tour or hot-air balloon. (But trust us: unless your date has Barbie Dream Car fantasies, there's really only one option here.) When you decide you need a break from staring at nature, head to one of the city's 20 art galleries to take in the fine Southwestern paintings and ceramics. Then head back outside to hike, kayak, ride ATVs, or maybe just drink wine in the fresh AZ air.

Arkansas
Eureka Springs
The very phrase "Victorian mountain village" should sell you on this AR escape, but in case you need more convincing, here it goes: Eureka Springs has outdoorsy activities (canoes, scooter tours, big cat refuges, etc.). Eureka Springs has small-town charm (chocolate shops, kaleidoscope-kite stores, dinner trolleys, etc.). But most importantly, it has mountain opera, which everyone knows is the best kind.

California
Napa
Napa Valley is the expected choice here, but you can mix it up by pretending to be Batman and enjoying your California wines in a legit cave. While there are many excellent, echo-y options out there, most of them are reserved for private parties (read: crazy expensive to book). But at Jarvis Estate, it's part of the tour! After you've finished your subterranean wining, there's plenty of excellent food, shopping, and river sports in Napa to fill the rest of your vacation. Also, lots more wine.

Colorado
Estes Park
You're probably thinking this should be a ski resort town, but why limit yourself to the slopes? At Estes Park, active couples can go whitewater rafting, fishing, horseback riding, hiking, climbing, zip-lining, and ropes-coursing all in one weekend. Once they finally wear themselves out, there are spas or booze centers (wineries, breweries, and distilleries!) where they can unwind. Or just recharge before hitting salsa night at Kelli's Lounge, which seems like the only thing to do after enjoying a booze center.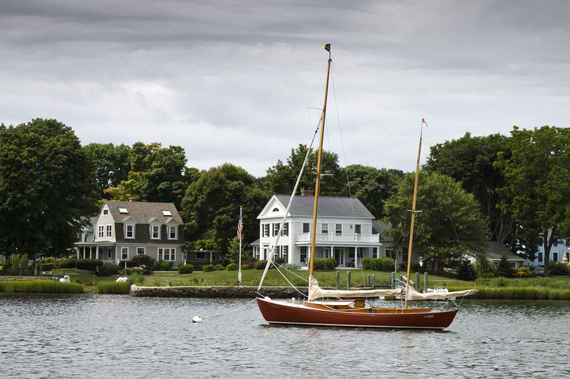 Credit: Flickr/Joan Sol
Connecticut
Mystic
After getting hitched, Humphrey Bogart and Lauren Bacall famously retreated to the seaside town of Mystic. Because you also want a town that is small, pretty, and full of coastal photo ops should the admiring paparazzi, who we are sure constantly totally follow you, want a picture of you with a good backdrop, you should head here, too. The main attraction in town is the Mystic Seaport, where you can see old restored ships and a tiny recreated 19th-century village. (You better believe they have a printing press.) There's also an aquarium, planetarium, and dining options outside that one famous pizza place. And if you're all about authenticity, you gotta book a stay at Bogie and Bacall's actual hotel, The Inn at Mystic.

Delaware
Montchanin (Brandywine Valley)
Montchanin is where the very lovely Inn at Montchanin Village is based, but you're not going there to explore that town specifically (it's an unincorporated community, anyway). You're going there to drop your bags, maybe do a quick spin around the hotel gardens, and head out to the larger Brandywine Valley area. While you won't be inundated with an incredibly boozy concoction everywhere you go, the region, which encompasses swaths of Delaware and Pennsylvania, does have several gorgeous manors and gardens there, including the Nemours Mansion and Winterthur, built by the Du Pont family. You can check out those, plus the Delaware Art Museum and, like, so many parks. But if your partner has a home shopping addiction, beware: the QVC studios are just over the state line.

Florida
Amelia Island
Florida may be worse than New Jersey, but it does have amazing beaches. And if you're in the Sunshine State with a boy/lady friend, you might as well find one where you're allowed to ride horses! Amelia Island itself is pretty quiet, so you'll get a more intimate experience than you would in Key West or Miami Beach. Plus it's named after a princess, so you know it's fancy. There's requisite scuba and parasailing action, but also a PARTY BOUNCE PLAY full of inflatable slides and bounce houses. It's technically for children, though they might be open to letting a nice-looking adult couple in.

Georgia
Savannah
OK, we know Savannah isn't some tucked-away little town -- it's one of the largest cities in the state. But we're willing to bend the rules a little here because it's so ridiculously pretty. A stroll through Forsyth Park (with its trademark fountain) is a must. So is browsing the vendors (and ships) along River St. You can see a lot of the historic district through a trolley tour, which is always fun. But if you're the type of couple that watches Poltergeist on Valentine's Day, you can opt for a ghost tour instead. Just be sure to wear your most romantic all-black outfits.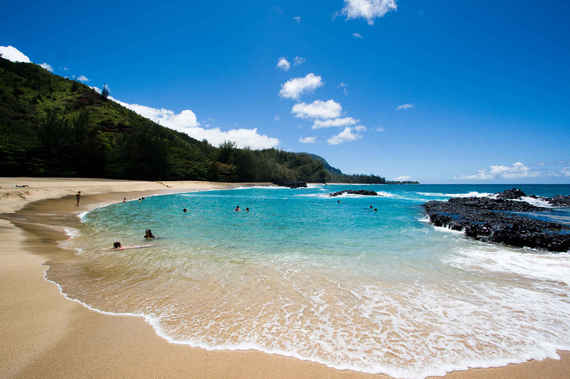 Credit: Flickr/Kanaka Menehune
Hawaii
Kauai
Look, you just can't lose with Hawaii. You could seek out the dumpiest motel and eat exclusively McDonald's, and your special friend would still be impressed. Not that you should do that. (Please don't do that.) But if we had to choose a particular island for your retreat, it would have to be Kauai. Why? Lumahai Beach, Hanalei Valley, and Waimea Canyon. Google them. Book your trip. Done.

Idaho
McCall
Whether you're looking to escape in June or January, McCall can cater to your vacation needs. In the winter, the resort town offers snowshoeing, snow tubing, and skiing off Brundage Mountain. (Also, hot springs in a ghost town. Seductive!) In the summer, you can use Payette Lake for all sorts of water sports. A Loch Ness-type figure named Sharlie is rumored to hang around, so if you wanna really make an impression and score a private patch of the lake, just shout his name.

Illinois
Galena
Yes, Galena has wine tours. Yes, Galena has carriage rides. Yes, Galena has antique stores. Yes, Galena has a 2,050ft alpine slide. But it also has the Ulysses S. Grant Home, and nothing's quite as sexy as dead presidents named Ulysses.

Indiana
Wabash
Wabash is home to many parks and an apple orchard, so you'll have no shortage of romantic strolling options, and the shops range from thrift stores to donut hubs, so all interests are accounted for. Most importantly, there's the 13-24 Drive In, so you can snuggle up under the stars to, uh, The Transporter Refueled.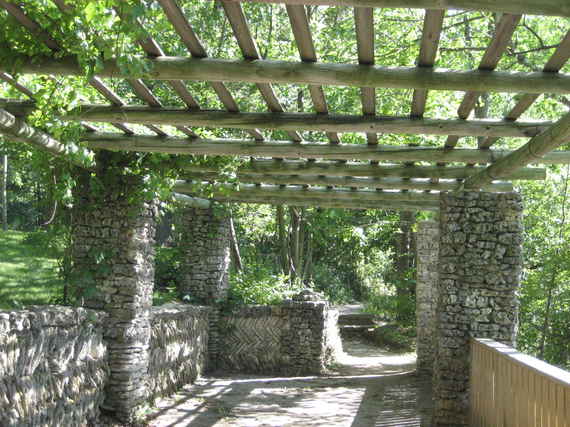 Credit: Flickr/Denise Krebs
Iowa
Decorah
Decorah gets name-dropped a lot in reference to The Hotel Winneshiek, a pretty hotel boasting a tap room, "opera house," and at least two fancy stone pillars. Obviously, you should stay there, but don't spend all weekend cooped up in the place. Get out to Malanaphy Springs and Phelps Park for your nature fix. Head to the speedway on Saturday, if you're into fast cars. Or go to the Wayside Skating Rink, if you're into slower-paced races.

Kansas
Abilene
Get excited, Dwight D. Eisenhower fanatics, 'cause Abilene is the proud site of his presidential library, museum, and boyhood home!! For those who don't like (or are merely ambivalent about) Ike, you'll still be pleased with the town's dinner trains and trolleys, as well as the Seelye Mansion and Brown Park Waterfall. If you aren't opposed to cowboy kitsch, there are staged gunfights and can-can dances at the Alamo Saloon in "old town." (Attention ghost hunters: it's also supposedly haunted.) Finally, pro tip: book the Victorian Inn. Jay and Adrian will take care of you.

Kentucky
Brownsville (Mammoth Cave National Park)
At 400 miles, Mammoth Cave is the longest cave system in the world. That's the kind of natural wonder that merits a weekend adventure, although you shouldn't sleep in the actual cave -- that's creepy! (And, we'd imagine, illegal.) Book a spot in nearby Brownsville instead. There's a B&B with a covered porch, where you can watch hummingbirds as you sip your coffee. And if you get all caved out, Brownsville is a 20-minute drive from Nolin Lake.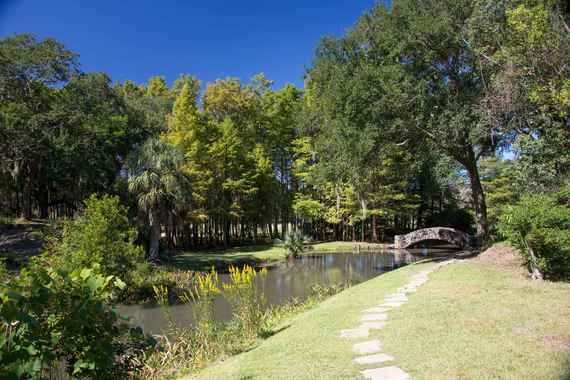 Credit: Flickr/Kent Kanouse
Louisiana
Avery Island
Nothing reignites a fiery romance quite like hot sauce (and the ensuing indigestion), so get yourself to Avery Island, home of Tabasco. After you've finished up your pancakes at a B&B in New Iberia (the isle doesn't have hotels), your first priority is Jungle Gardens, a 170-acre collection of azaleas, camellias, an old Buddha statue, and the rogue croc or deer. If you're a bird-watching couple (reign it in, you party animals!), there's a separate tour of "Bird City" as well. After you've taken in all the pretty flowers, it's time to tour the hella-romantic Tabasco factory. The hot sauce company has an additional restaurant and Cajun-inspired "food tour" on Avery Island, just in case your date isn't impressed with bottling operations.

Maine
Kennebunkport
At Kennebunkport, it's not a question of whether you're getting on a boat. It's what type. There are whale-watching boats, schooners, even "scenic lobster cruises." As far as landside activities go, you obviously have beaches and a lighthouse (off Cape Porpoise) at your disposal. But the place also boasts romantic fine-dining options like The White Barn Inn and a "tree spa" that's literally in the treetops.

Maryland
Smith Island
Ocean City is crowded and full of spring breakers, so assuming shotgunning college kids aren't what sets the mood, head to one of the Chesapeake Bay's tiny islands instead. While they all have their merits, only Smith Island has the state's official, multi-layer dessert: Smith Island Cake. (They really thought hard on that name.) Stuff it, and so many crab cakes, into your face while staring lovingly into your partner's eyes. Then rent some bikes or kayaks and lap the island. Don't be alarmed by the locals' weird accents -- the place is so remote, and they still have traces of English affectation.

Massachusetts
Nantucket
You like lighthouses? Nantucket has three. You like beaches? Nantucket has 10. You like whales? Well, you might have mixed feelings about the Whaling Museum, but it's there! There are also tons of shops and restaurants to hit during your preppy, picturesque New England weekend, so don't waste too much time posing for profile pictures on Brant Point.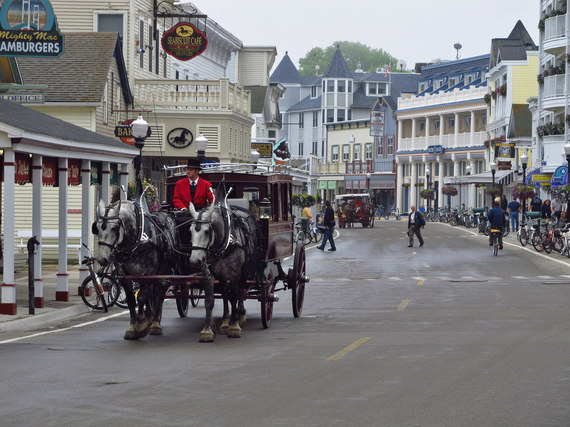 Credit: Flickr/Jasperdo
Michigan
Mackinac Island
There's a horse-drawn carriage in the place's logo, so you'd be stupid not to take one through the tiny, frozen-in-time island. But that's not all there is to do. You can kayak or parasail. You can reserve spots on a "sip 'n sail" tour (sophisticated booze cruise!). You can stuff your face with free samples of the island's famous fudge. And if you're a big fan of cheesy Christopher Reeve movies, you can stay at the gorgeous Grand Hotel, where they filmed Somewhere in Time.

Minnesota
Lutsen (North Shore)
The North Shore is a section of the Lake Superior coastline with all sorts of frameable scenery. If it's the summer, you can canoe or hit up a picnic site. If it's the winter, you can snowshoe or skate. And while you have many lodging options, you should probably go with the beloved Lutsen Resort, which boasts the Wine Spectator-approved Lakeside Dining Room.

Mississippi
Natchez
Natchez is located right on the riverbank, so you have all kinds of maritime activity options on the Mississippi River. On land, there are blues concerts happening basically every night, and gorgeous antebellum homes you can actually stay in. Don't forget the distillery and the winery. Or the carriage tours of historic Downtown.

Missouri
Branson
This lovely Ozark town boasts everything from scenic railway tours to butterfly palaces. The shopping and restaurant hub is at Branson Landing, which has a $7.5 million fountain production featuring fire cannons and 120ft geysers. Think the Bellagio meets... the Ozarks. It might sound terrifying, but it's amazing.