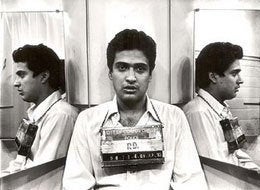 Some conversions take a lifetime.
For the Rev. Carroll "Bud" Pickett, it took 95.
Pickett, a Presbyterian minister, was the death house chaplain at the state penitentiary in Huntsville, Texas, where, from 1982 to 1995, he accompanied 95 inmates to their executions.
"Even to this day, I don't understand how I got where I am," Pickett says in the first moments "At the Death House Door," a feature-length documentary that premiered at the South By Southwest Film festival in Austin, Texas in March. "I never intended to do 95. In fact, I never intended to do one. But it happened."
"At the Death House Door," directed by Chicago filmmakers Steven James and Peter Gilbert (part of the team that made 1994's award-winning "Hoop Dreams"), tells Pickett's journey from staunch death-penalty supporter to passionate advocate against capital punishment.
The first major turning point in Pickett's spiritual evolution came in December 1989 when 27-year-old Carlos De Luna was put to death for the 1983 stabbing death of Wanda Lopez, a gas-station attendant in Corpus Christi, Texas. Pickett says he was disturbed by De Luna's execution at the time and that he believes the state of Texas killed an innocent man.
"At the Death House Door" also follows an investigation of the De Luna case by two Chicago Tribune reporters, Steve Mills and Maurice Possley (who is my husband.) In a June 2006 series, the Tribune concluded that a preponderance of new evidence indicated another man -- Carlos Hernandez -- murdered Lopez and that De Luna was innocent, a claim he maintained until his last breath.
The documentary is a nuanced tale about the ambivalence that often walks hand-in-hand with faith -- whether it is faith in a moral stance you are sure is right, faith in the guilt or innocence of a loved one, or faith in a system that means well but is irrevocably broken.
It is also a story of redemption and about hard-fought conversion, the kind that takes place gradually and isn't as exciting or as Hollywood as falling out during a come-to-Jesus tent revival.
That kind of conversion, the kind that Pickett is still in the process of going through more than a dozen years after he left his position as death house chaplain, isn't neat, pretty, easy to comprehend (or, for many, to believe.)
"It wasn't like a flash of lightning or like Paul on the road to Damascus," Pickett said.
In high school, he wanted to become an algebra teacher and a tennis coach. Later, when he was a student in seminary, he said he hoped to be a pastor in a small church in a small town and stay there until he retired. That all changed in 1974 when inmates took over the Huntsville penitentiary in an 11-day standoff. They had hostages. Two of them were members of Pickett's church.
The warden asked Pickett to come minister to the hostage's families. They were some of the most difficult days of his life. In the end, two female teachers at the prison, the two who were Pickett's congregants, were murdered. When he left the penitentiary the day the siege ended with the bloodshed of innocents, Pickett promised himself he'd never go back.
That, he says, wasn't God's plan. ("Never tell God what to do," he told me.) He returned in 1982, as the death house chaplain and stayed until it was clear to him the death penalty was spiritually reprehensible. That it is a sin. That it needs to be stopped.
"The killing of innocents, the mentally retarded kids, the snitch who gets eight years while the other person gets put to death," he told me. "That type of injustice -- those are the legal aspects. The spiritual aspect was that more and more I began to feel that these were God's children, too."
Pickett recalls the day he accompanied the man who had shot his congregant in the back five times during the 1974 prison standoff to the death chamber. After the man was executed (and in the film Pickett admits he wanted to bash the guy's head in himself) the daughter of the slain woman said his death hadn't brought her any solace.
"All you have," she said, "is two dead bodies."
"At the Death House Door" will air on the Independent Film Channel at 8 p.m. CST Thursday May 29. For information on screenings around the country, click HERE.