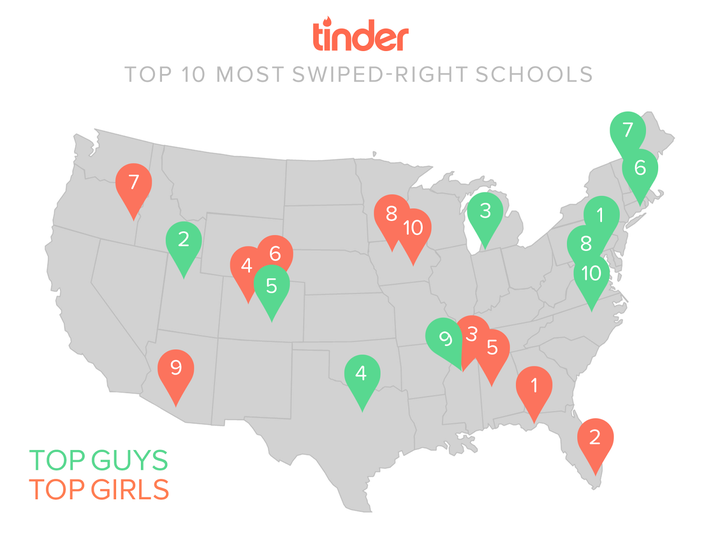 The dating app Tinder crunched the data on which campuses have the most men and women "swiped right" on, and found some interesting results.
Tinder lets users pick whether they like someone's profile by swiping right -- a swipe left means they are rejecting the person. If you were to swipe right on someone, and that person also swipes right on you, then it's a match and you can chat with them.
According to Tinder's analysis, published Wednesday on their blog, the campuses where men get the most swipe rights are religious, while public colleges are where women get more picks. Georgetown University and Brigham Young University came in first and second for most desired men on campus; Florida State University and the University of Miami host the most desired women. 
The ranking, Tinder said, is based on "the ratio of right swipes received by students attending each university, ages 18-23 in the spring of 2015."
There isn't a ton of crossover between the top 50. For instance, the University of Colorado at Boulder was No. 4 for most swiped right women, but was 47th for men.
The top 25 campuses where men and women are swiped right:
Campuses with Most Swiped Right Females
Florida State University
University of Miami
University of Mississippi
University of Colorado Boulder
University of Alabama
Colorado State University
Boise State University
Iowa State University
University of Arizona
University of Iowa
Kansas State University
Indiana University
Texas Christian University
San Diego State University
Virginia Tech
Miami University (Ohio)
Clemson University
Ohio University
University of Florida
University of Kentucky
Auburn University
Texas Tech University
Pennsylvania State University
West Virginia University
Southern Methodist University
Campuses with Most Swiped Right Males
Georgetown University
Brigham Young University
University of Notre Dame
Texas Christian University
Air Force Academy
Yale University
Dartmouth College
University of Virginia
University of Mississippi
University of North Carolina Chapel Hill
United States Naval Academy
Brown University
Rice University
Tulane University
University of Vermont
Wake Forest University
Cornell University
University of Tennessee
Ohio University
Loyola Marymount University
Miami University (Ohio)
United States Military Academy (West Point)
Mississippi State University
Clemson University
Boston College
Calling all HuffPost superfans!
Sign up for membership to become a founding member and help shape HuffPost's next chapter