This past weekend I headed to Springfield, Missouri to perform at the Greater Ozark Pride Festival. Springfield is a small city nestled in the Ozark Mountains, surrounded by wetlands, hills, BBQ, and Baptists. I went to college in rural MO (Warrensburg), so I thought I knew what I was in for. Boy was I wrong.
On Friday night, I headed over to MIX, the local bear and leather bar. En route, I asked my Lyft driver an endless series of questions, mostly because I wanted to listen to his charming Southern accent. He was happy, kind, and courteous — so much so that he was hesitant to drop me off in a dark parking lot. But I'm no stranger to gay bars: I know that the harder they are to spot, the more fun they are likely to be.
I asked a man who stumbled by if I was in the right place, and he pointed me around a corner to an unmarked door. Perfect! Inside, it seemed pretty standard: small-town bar, not empty, not crowded, cheap drinks and friendly people. An air of familiarity suffused the place. Everyone seemed to know everyone, men and women, young and old. Before long I found myself in the middle of a lesbian spanking battle and became a casualty of war. I liked this bar ― a place of comfort, a place where people let their hair down.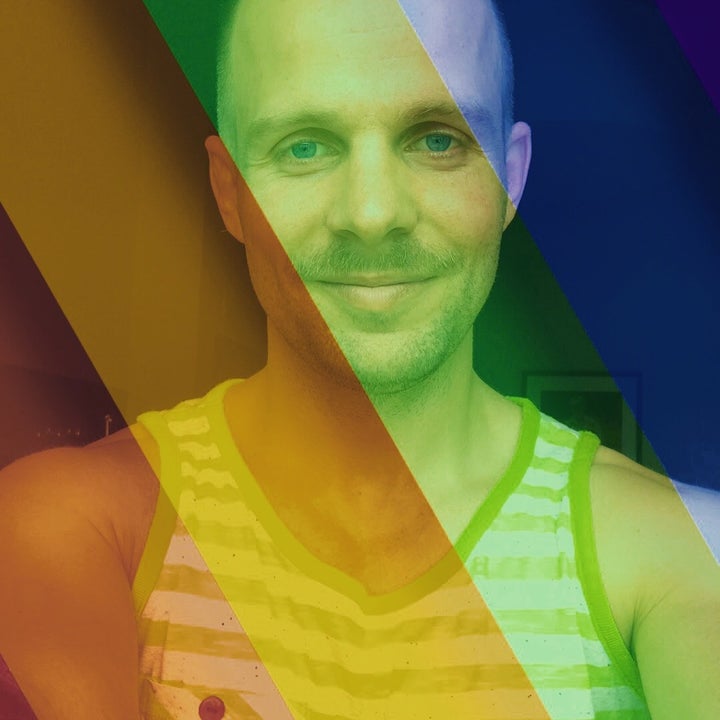 I walked away from the spank battle to grab a drink as gospel music started playing overhead. Now when I say gospel music, I mean loud, rambunctious, feet stomping, hands clapping, voices to the sky, ass-kicking gospel music. (Already Been To The Water by Vickie Winans. I'll wait while you cue it up.) I turned around and found myself face-to-face with Tania Carrington, the queen of gospel in Springfield's drag scene. She ran up and down the bar, dancing like Tina Turner on hot coals, giving the small crowd more energy than any one room could possibly handle.
Had this show been in West Hollywood, it would have brought the house down. It would be in every tastemaker's Snapchat Story and fancy gays would be emptying their wallets! But in Springfield, MO, these folks were used to it. Not to say they didn't appreciate it. The mostly Caucasian clientele clapped out of time, drank stiff drinks, hooted and laughed aloud. Tania threw her wig, did a backflip and landed in the splits.
OK, maybe I made up the backflip and the splits, but what she did was no less impressive. She turned a small town gay bar into something big city gays would be envious of. I was envious of it. I wanted more.
As the applause died down I heard the familiar sound of Macklemore's Dance Off. I was intrigued. What could possibly top Tania? What came next was something I would never have expected: Phoenixx stuck a leg out, then set it down slowly and assuredly. Her shoe was sparkling, floating, gliding. Then she emerged -- but she was a he, a drag king who looked almost exactly like Justin Bieber. Strutting, singing, and confidently dancing out from back stage. Wait, not just dancing... roller skate dancing!
Phoenixx is one of my new favorite people. No exaggerating. Smooth and effortless, dynamic and cool, Phoenixx is fun and charismatic, and at 24 years old he is hands down the best drag king performers I have ever seen.
Last call came too soon. I grabbed a Lyft to the exquisite and equally unexpected Hotel Vandivort, boasting a room with a 25-foot ceiling, and settled in for the night.
The following evening, Pride closed the night with a collection of 17 kings and queens from the community. The festival square was shoulder to shoulder, standing room only, soaking in every moment. These were the men and women they had grown to love, the leaders and cornerstones of their community. In between numbers they spoke of togetherness, love, and acceptance. They weren't just talking the talk, they were walking the walk, living honestly and authentically.
And they've been doing it for a long time. Before I left, I bought Someone's in the Kitchen with Ruby Diamond (Miss Gay Springfield America 2017), a collection of recipes from Springfield's most notable queens from as far back as 1976! From cream cheese corn, to strawberry pie, to church wine, these are surely delicacies I've been missing out on my whole life.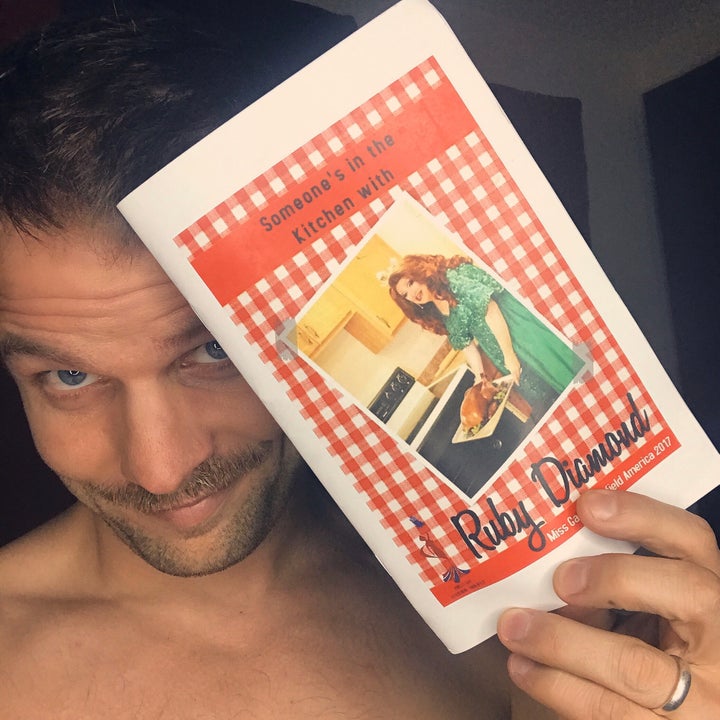 After the festival I did something I've never done before. I went to my third drag show in 24 hours, this time at Touché. I had to see Phoenixx one last time and was curious what else this small town had in store. I was not disappointed. Drag queens, drag kings, women in drag as women, and men in drag as men. I've never seen such drag diversity in one place.
I wanted to post YouTube videos and links for all these performers but I couldn't find any. In a post Drag Race world, where queens are increasingly rich and famous, those in Springfield are doing it just for the love of it.
But that's the thing about Springfield. It marches to the beat of its own drum.
My first night there I met a lesbian couple who were getting married the following evening at a local Southern Baptist church. I know, -- it didn't make much sense to me either. Eventually they explained that the church had no idea they were to be hosting their first lesbian wedding. They were showing up unannounced and exchanging their nuptials guerrilla style. And that's Springfield in a nutshell: it does what it wants, how it wants, when it wants. It is the honey badger of cities, cute, quirky, and scrappy.
In just 48 hours, I fell in love with Springfield. It's not big, or fancy, but it defies all expectations. I've never celebrated Pride so hard, and I've never been more proud of my tribe. I'm eternally grateful to this small town for teaching me how to be gay again.
Popular in the Community