(Things that happened: In an effort to find a cure for "burn out," I decided to chuck the conventional and embark a three-week long road trip, one that hopefully would be a combination of reflection, self-[re]discovery and new beginnings. First stop: Esalen Institute in Big Sur, California.)

At last, a place full of people who, when I say, "Gee, I like your 'energy,'" they don't stare back at me and think I'm talking about Pacific Gas & Electric.
But it's challenging to conjure up the right words to truly describe this place or the overall state of being I seem to be experiencing -- without sounding positively too woo-woo of course. (But come to think of it, maybe it's time to embrace "woo-woo.") Here's the thing: how do you come to terms with the fact that You you have been being may not be the You you actually want to be?
I've been thinking about that quite a bit. In fact, I feel as if I am in a cocoon waiting to give birth some upgraded version of myself. I suppose Esalen is a good midwife for such things. In just one day, The Esalen Institute for me, is like a little bit of Eden by way of the Shire from "The Hobbit" with bold, handsome touches of ancient Greece tossed in for good measure.
And, even that cannot sum up what Esalen truly is.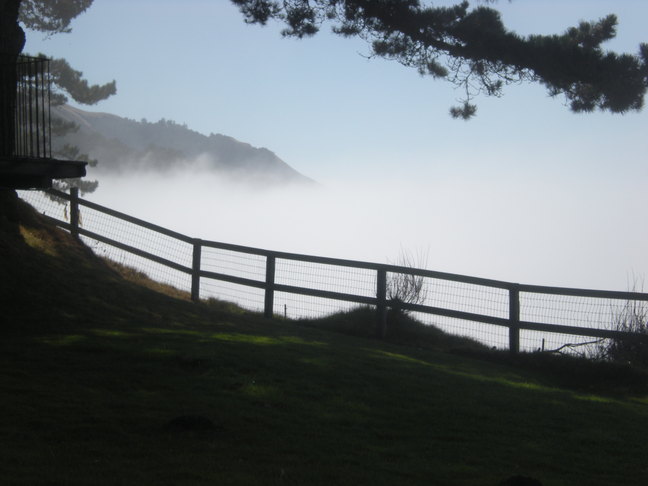 I come to realize that there are a great many people attending workshops here. On my first evening, in fact, after a magnificent massage by massage therapist Corey, I meet two "workshoppers" in the mineral baths -- Deborah and Oliver. (Ollie for short.) Deborah is a student in Oakland; Ollie a sports broadcaster in London.
It's nearly midnight as we soak in the warm, soothing water, but none of us seem tired. It's hard to be. The dramatic view overlooking the ocean is dynamite and the stars--Jupiter is shining wonderfully bright--are delicious eye candy. Meanwhile, the waves ... they just crash into the shore below. This is the new "therapy" -- just being.
"Cushnir," I muse. "The name is very familiar to me."
"He's the author of The One Thing Holding You Back," Ollie tells me.
Nice: "What is the one thing holding you back?" I silently wonder.
I seem to enjoy asking myself questions as if somebody else was asking it to me. Somehow, I pay more attention. I'm not sure why. Maybe there's an "officialness" to it. Instead of saying: "What the hell am I doing taking three weeks off and going on a road trip?" ... somehow, "Greg, what the hell are you doing taking three weeks off to go on a road trip?" really grabs me.
The following morning I wake up and head to the meditation hut located near a rushing creek and waterfall, which playfully spills into the ocean. I take a seat on one of the many padded pillows in the circular room--actually, I count to 11 from the right and sit on the 11th pillow. (I have this thing for the number 11.) I spend a good 20 minutes (I think) here ... quieting my mind ... before heading back to the main grounds and main hall, where workshop attendees, Esalen staff and interns, and any number of visiting scholars, gather for the morning meal. It's here that I soon find myself lost in one of the best pieces of baked bread I've ever consumed--a dark dark rye (darker than dark rye) that is filled with nuts and other goodies, and made without wheat.
I welcome back the carbs into my life with ease and quickly saunter off to find a wooden chair near the pool overlooking the ocean. I open up my journal and begin to write--and write and write. Eventually I come up for air. Two hours have passed. Two hours! Time ... I don't really need to pay attention to it here. Thus far, things just unravel the way they need to.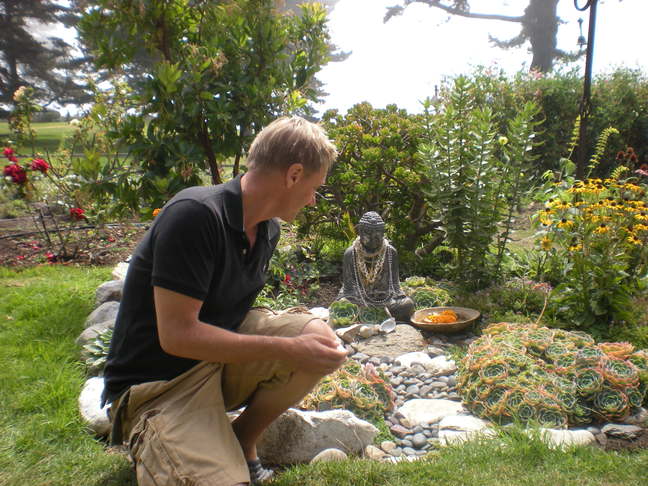 Later in the afternoon, I meet a man who is traveling for an entire year. Like me, he's taking a road trip. We're sitting in the Esalen Gardens, near a "vortex" marker that symbolizes a significantly charged and geographically important energy spot on the grounds. The traveler asks me what I am doing at Esalen.
Greg, what are you doing at Esalen? I ask myself.
"I'm getting out of my own way," I finally respond.
The traveler grins. "I see."
"But mostly, I am emptying my brain and taking stock of what the last decade, in particular, has meant to me."
"Ah, so you're integrating things."
"Not a bad one at that," he chuckles.
"Yeah," I sigh deeply. "I guess not."
My eyes wander toward the unlimited, uninhibited blue ocean universe just beyond the gardens. I can't recall how long I remain here ... just staring ...
... into all sorts of nothing and everything.
(Next time: More about Esalen co-founder Michael Murphy, a stellar global dance celebration and getting a massage during a live didgeridoo meditation in the Esalen baths.)