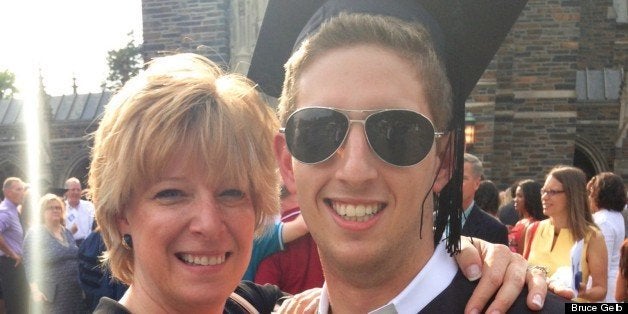 Not quite four years ago, I dropped my son off at a stately southern campus, gave him a hug and shed a few tears for change that felt like loss. Then I described it all in an essay titled "How To Send Your Son Off To College." Of everything I have written in a decades long career, it is the piece that's meant the most.
This is the bookend to that essay. Evan graduated last weekend, and we reversed our steps and welcomed him home, though only temporarily. He's up in his childhood bedroom as I write this, a place that already feels too small, and I am at the keyboard thinking, once again, about how parenting means letting go.
How To Bring Your Son Home From College
1. Several weeks before graduation, begin to fret. About what you will wear to the dinners and ceremonies. About whether it will rain or sizzle. About how you are going to get your own spry but decidedly slower mother around a very large campus. About tickets, and reservations, and directions and schedules.
2. Realize you are really fretting about something else entirely. You used to think that the bright line between his past and future was the one between high school and college, but now you see it is the one between college and life. Or, maybe what you see is that each life event from now on will feel like THE life event, because that's what life events are -- reminders that nothing is ever as it used to be.
3. Arrive on campus, and walk as if with ghosts. See the unsure freshman he was shadowed within the confident near-graduate he has become. Glimpse the awkward boy who arrived knowing no one, in this young man who gracefully inhabits a circle of friends he has built on his own.
4. Notice that you might have changed a little, too. Four years ago you led -- you wrote back then about busying yourself with the making of his bed and the filling of his closets. Now, you follow. He's got the logistics down, and no, he doesn't need your help packing, or your wake up call to get to the diploma ceremony on time. You bite your tongue rather than reminding him to wear sunscreen.
5. See that you fretted for nothing when graduation day dawns clear and glorious. Listen to commencement speaker Melinda Gates talk about staying connected in an age where we are driven further apart. Don't listen to your mother when she tries to hand you a tube of sunscreen in the outdoor stadium.
Understand that the tools Gates describes are the ones that have allowed you a four-year long conversation with your child, since his generation texts rather than talks, and that this will be the way you stay connected for always. Understand, in the same moment, that your mother is the only one of four grandparents who lived to see a grandchild graduate. Miss your father. Vow to call your mother more often. Still don't use the sunblock.
6. Spend a whirlwind afternoon taking photos and giving toasts. As your mother leaves for the airport see her look at you wistfully and say: "I wish I could see you at YOUR grandchild's graduation when you'll know how much this means." Promise that you'll think of her on that day.
7. Head back to shower and change in your hotel room. Face the fact that you are sunburned. Decide never to mention that to Mom.
8. Have a quiet dinner with just the four of you, your husband and two sons. It is your first time alone as a family in a long time, and, in a way, one of your last. The point of this family, any family, is to be their foundation for as long as they need one, then allow them to scatter and take root on their own. Until now, home was always the house they grew up in -- the place they return on school vacations and summer breaks. Soon Evan will move across the country and create a home of his own.
9. Drop him back at his frat house and head for the airport. He will follow, by car, in a few days. Say good-bye with a hug that means "I'm proud," and "I'm sad" and "I'm thrilled" and "Drive safely" -- and, mostly, "I hope I get to see you at YOUR child's graduation, when you'll know how much this means."
10. Then watch him walk away.