Given that Disney Theatrical has – over the past two years – launched four international productions of its hit Broadway musical, "Aladdin" (With the Japanese version bowing in Tokyo in May of 2015, the German version debuting in Hamburg back in December of 2015, the London version opening in the West End in June of 2016, and the Australia version of this Tony Award-winner opening in Sydney back in August of 2016) … It's not exactly as though this division of The Walt Disney Company has been standing idly by, waiting in the wings.
But given everything that Disney Theatrical now has in the works for 2017 / already has underway for the coming year, it's clear that this part of the Mouse House is getting ready to spread its wings. Make Broadway-style entertainment available to people who may have never before experienced a Disney stage show.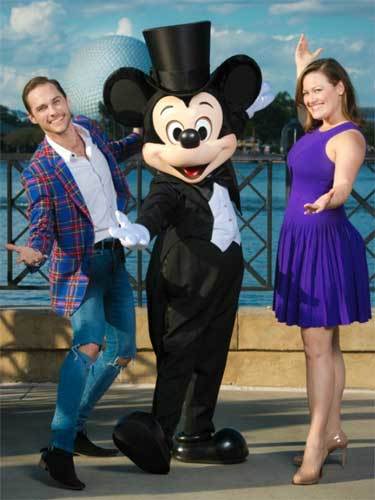 Take – for example – what's going on down at the Walt Disney World Resort over Presidents' Day Weekend. As the inaugural edition of Epcot's International Festival of the Arts gets ready to wrap up its 6-week run, Guests are already standing in line outside of the America Gardens Theatre. Eager to claim a seat at one of the three "Disney on Broadway" performances that will be presented there today, tomorrow and Monday.
Back when this concert series first kicked off in mid-January, Disney Theatrical brought out the big guns: Ashley Brown (i.e., the award-winning actress who originated the title role in the Broadway production of "Mary Poppins") and Josh Strickland (i.e., the "American Idol" finalist who wound up playing the title role in Disney's "Tarzan: The Broadway Musical"). And to close out Epcot's first-ever "Disney on Broadway" concert series, Mickey brought in Kissy Simmons & Alton Fitzgerald White. Who have been members of the cast of the Broadway production of Disney's "The Lion King" for more than a decade now.
Meanwhile – in selected cinemas around the world tonight – musical theater fans will have the opportunity to "Seize the Day." That's because Fathom Events – in association with Disney Theatrical Productions – will be presenting the live film version of that hit musical, "Newsies."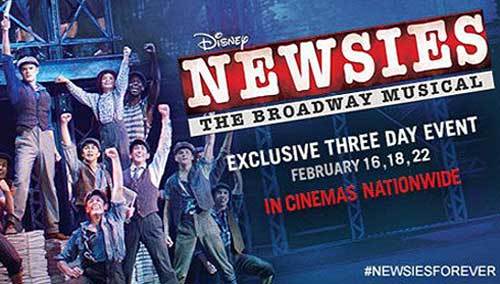 Recorded before a live audience last September in LA's Pantages Theatre, "Disney's Newsies: The Broadway Musical" is a fascinating blend of film & live theater. By persuading key members of the original Broadway cast – among them Tony nominee Jeremy Jordan, Kara Lindsay and Andrew Keenan-Bolger – to reprise their roles for this limited engagement cinematic event, moviegoers can get a sense of what it was like to be seated inside of NYC's Nederlander Theatre when this show first opened on Broadway back in March of 2012.
But at the same time, because director Brett Sullivan – after he captured Disney's "Newsies" in 4K in front of 2500 people – then spent an additional four days at the Pantages shooting individual scenes from the show (So that Brett and his longtime collaborator Clayton Jacobsen would then be able to shoot close-ups of the performers. Not to mention grab camera angles that would have been impossible to capture live) … The end result is a cinematic presentation that skillfully combines the energy & emotional urgency of a live stage show with the craft & shifting perspective of a well-executed motion picture.
And since Mouse House managers felt that they really needed to get the word out about "Disney's Newsies: The Broadway Musical" (which will be presenting in cinemas worldwide tonight & February 22nd ) … Well, that's they decide to launch the Official Disney on Broadway Podcast on iTunes this past week.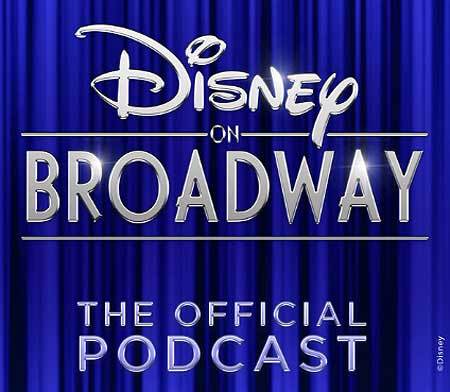 Hosted by Patrick Hinds (i.e., the founder of Theater Podcast Productions and the creator, producer, and host of the podcasts Broadway Backstory & Theater People), this six-episode-long pilot series will feature interviews with many of the folks who helped create your favorite Disney stage productions.
Episode one (as you might expect) discusses the development of the stage version of Disney's "Newsies" and how this show was never supposed to wind up on Broadway. Never mind being filmed for posterity. And future episodes will touch on things like Disney's "Freaky Friday" (i.e., the musical comedy that's based on Mary Rodgers' celebrated novel & two hit Disney films which just extended its run at the La Jolla Playhouse through March 19th) as well as the launch of the North American tour of Disney's "Aladdin" (which begins on April 11th with a 12-week long engagement at Chicago's Cadillac Palace Theatre).
And given that "Frozen," that new stage musical which is based on Walt Disney Animation Studios' Academy Award-winning film, begins its Pre-Broadway engagement at Denver's Buell Theatre on August 17th AND that a newly configured production of "The Lion King" (which will be put together by Julie Taymor & this show's Tony-winning design team and take advantage of advances in stage technologies that have been made since this show first bowed on Broadway back in November of 1997) … It's not like Hinds & Co. will run out of material for the Official Disney on Broadway Podcast anytime soon.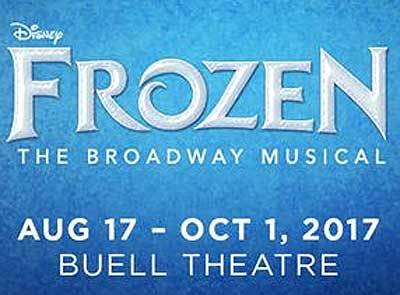 Here's hoping that – between Epcot's "Disney on Broadway" concert series, the limited engagement of "Disney's Newsies: The Broadway Musical" in cinemas worldwide, as well as last week's launch of the Official Disney on Broadway Podcast – the Mouse is able to get the word out about the many unique live stage productions that it's presenting / about to begin present around the globe.
Mind you, as a follow-up to her "Lion King" triumph, Julie Taymor worked with Disney Theatrical Productions in the early 2000s to try and adapt the animated version of "Pinocchio" to the stage. In an October 2001 interview with the Telegraph, Taymor described her vision for this proposed musical: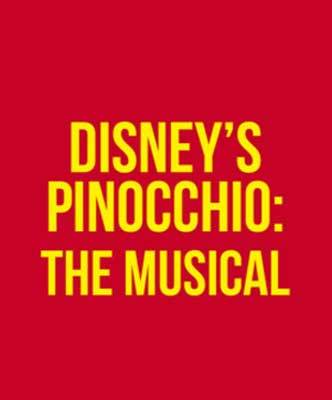 "(Pinocchio) won't look anything like The Lion King," she says. "I'm looking for a whacked-out, commedia dell'arte style, funky, hand-made, nasty-edged theatre, with a rambunctious, wild, edgy quality."
So why didn't Julie's version of "Pinocchio" (which was supposed to draw most of its inspiration from Carlo Collodi's original story from 1880 rather than Disney's 1940 animated film) go forward? Perhaps that's a story that Patrick Hinds can explore as part of some future episode of the Official Disney on Broadway podcast.
Related
Popular in the Community