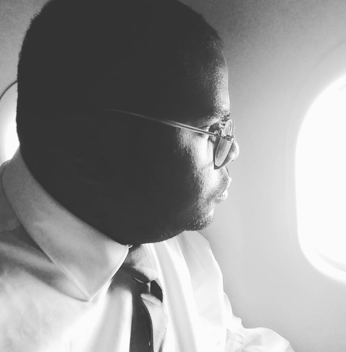 I saw the movie DETROIT at a private screening hosted by Reverend Al Sharpton in New York at the Tribeca Film Center last week. I must say, I thoroughly enjoyed its clear depiction of what that time period in Detroit looked like. I've seen pictures, read books, watched documentaries, but nothing I've ever seen gave me a clearer depiction of why our city seems to be riddled with blight and divestment. Now, more than ever, I realize that as I look at Detroit and its more than 80 percent African American population today, whether at the church I pastor or the community I reside in, the rebellion's stench of smoldering businesses, decimated neighborhoods, and that Detroit resiliency that speaks through a t-shirt slogan: Detroit vs. Everybody, were all born from the 1967 rebellion.
The movie was tough. And when I say tough, I mean that it hit pretty hard. The booms of the gun shots, the slap of the billy clubs, and the use of the language made you feel like you were standing there in the corner hoping that one of the officers didn't call you out. For this exchange of great theatrics and acting, some I believe have wrongly criticized the movie because of their own inability to come to terms with the reasons why the movie had to be made. Too many, I believe, would like to bask in the glory of the shadow of Dan Gilbert's downtown building revitalization and talk about the Detroit "come back" while turning their heads from the nastiness of poverty and inequities that existed then and now. Many have a hard time coming to terms with the reality that the movie only gave a snapshot of what policing, housing, and the environment was like for blacks that led to the rebellion. It hit hard and snubbed those who want to believe that "the riot," as they call it, was based off of some overly sensitive black folks who decided to tear up their own neighborhoods. Meanwhile, neglecting the fact that the film's producer, a white woman, depicted the truth about why this happened. What more can you ask for? When we ask whites to confront racism in its purest, rawest, and vulgar form-- this movie did just that. For years I have heard whites and suburbanites talk about the rebellion as if it was some masochist movement that blacks inflicted upon themselves and nobody really knows why they were so violent. Well, let me be the one to say it if no one else does--thank you, Kathryn Bigelow for addressing racism head on and bringing the memories of that rebellion to life.
Now, as I watched the movie, I saw striking parallels to 2017 and they most certainly set off alarms in my head when I begin to think about Detroit life. I'm not talking about the cool downtown/midtown hipsters Detroit, but the real Detroit dwellers. That don't give a damn about your sensitive nature to violence.
The movie talks about the poverty-laced communities of that time. Well, a Brooking Report released in 2016 speaks to the high numbers of poverty that Detroiters are faced with today, with more than 60 percent of Detroit children in poverty, and by some other accounts, up to 80 percent. If you don't believe that violence is an outgrowth of poverty, just go anywhere in the world, and where you see poverty, you see violence. Some inflicted on others and some violence inflicted on themselves and their own communities.
I am a third generation Detroiter. My Great Grand Parents came from Desoto County, Mississippi. Now the story is pretty consistent with most blacks who live in the Midwest, and Northeast. Virginia, Georgia, Florida and Carolina Blacks moved up to DC, Philly, Newark, and New York. Blacks from Alabama, Mississippi, Tennessee and Arkansas moved to Chicago, Detroit, Milwaukee, and Cleveland. Jobs were a great part of the migration. This led to most industrialists in the North employing folks for far better wages than the ridiculous price of share cropping. The South at the time of the great migration was maladapted to the abolishment of Jim Crow Laws and strange fruit hung from trees by the thousands. This of course drove many blacks from the South. But this journey, although not as tumultuous as the underground railroad, should not be understated simply because many who left the south didn't just want to leave but had to leave. Many left with warrants from local sheriffs for something as small as what caused an Emmitt Till's death. It wasn't "let's hop in the Uhaul and move to the north." It was more like "grab what you got, we leaving now". Like many in Detroit, this type of departure is the story of how I became a Detroiter. Understanding that story, would help you understand why someone would live in a house with one or two houses on the block and won't leave no matter how bad some developer wants their home. Or no matter how much the city says that they cannot adequately provide public services to the area because there isn't enough population density. More than likely, generations have paid for and lived in that house, and let's just be frank, some blacks have made up in their mind that they ain't running no more. So the attitude that you found in many who were apart of this rebellion and live in today's Detroit is a resiliency and toughness that intensely says "Hell No, We Won't Go."
The National Tone: Black Lives Matter
Michael Brown, Philando Castile, Eric Garner, and the list goes on and on. These names are those that if I go to any young person in the city and ask who they are, they can tell you which city and what happened. They also can also tell you that they did not get justice and they aren't CNN, MSNBC, or FOX NEWS junkies. After the movie "Get Out" released there was a song that became a hit called "Stay Woke". It moved from a song to a hash tag #staywoke. This term #staywoke says very clearly, be conscious. and not just be conscious but also be ready to act. This brings to mind a place in the movie when Congressman John Conyers was trying quell the crowd and one of the kids said "we need Stokely Carmicheal to come to Detroit". Young people during the Detroit Rebellion were keenly aware of why they were protesting, looting and aggressing police and all of those reasons were not just about Detroit. In fact, Malcolm X, just a few years before '67, gave "The Message to the Grassroots" speech as he was departing from the "white devil" philosophy that he held under the Honorable Elijah Muhammed. In this speech that was given at the church that I pastor currently, he did not mince words or shift on his philosophy of revolution which is wrapped in the words "By Any Means Necessary". Sort of like how we have Black Lives Matter that has been non-violent, but has not minded interrupting the status quo and destabilizing the landscape in politics and culture.
Racial turmoil in the city of Detroit had been brewing, especially since the federal highway act of 1956 ran an expressway thru Black Bottom, killing a self-sufficient black community. However, by the time Mayor Jerome Cavanaugh came on the scene, the tolerance for police brutality, poverty conditions and racism had come to a boiling point. This was somewhat known throughout the community, but in traditional fashion, somehow the message continued to get muted. It has been said that when the mayor at that time, Mayor Cavanaugh, asked for advisement from the black leaders by whom he was surrounded, they usually sang a song that did more to quail the fears that something could or would happen than to sound the alarm. I say 'traditional fashion' because since the beginning of the black existence in this country, there have always been blacks that have sought to position themselves in a high place with white leadership by acting as if they have everything under control.
The Message is in the Movie
Overall, I would agree with others that there is so much to tell about what happened in that time period. However like most art forms, you have a limited canvas or time frame to tell the whole story, but the brevity should not discount the message. It's like an album you have to listen to over and over again to appreciate, or a piece of art that you have sit and stare at for a while. Nevertheless it has a message—it can happen again. So #staywoke or if you are sleeping, you better catch what I believe to be one of the most important themes in the movie and #wakeup.
REAL LIFE. REAL NEWS. REAL VOICES.
Help us tell more of the stories that matter from voices that too often remain unheard.