"Who's going to play you in the movie?" From hidden in a teenage diary with a key, 92-year-old Florence was revealed in a book. She arrived in New York City last week from her winter home in Pompano Beach, Florida to kick off The Red Leather Diary book tour. We appeared at the Barnes & Noble on 82nd Street and Broadway, just around the corner from where the diary was found, and at the Westport Library, in Florence's hometown during the warmer months. (We're still deciding what to wear this Friday on The Today Show at 10 am.)
Florence hadn't been back to her city for five years because of her husband's deteriorating health. On Broadway, it would be billed--"Florence's Return to New York!"
At the end of each reading, we were inevitably asked the question.
"Meryl Streep," answered a glamorous Florence, staring off for a moment in her violet tinted black-framed Gucci glasses.
"Scarlett Johansson for young Florence or for me," I said.
From the moment I stepped out of my building, 98 Riverside Drive when I was 22, and encountered titanic treasure--the dumpster filled with old steamer trunks plastered with vintage travel stickers, just a polishing away from their descendents at Louis Vuitton, it was like finding a message in a bottle.
Unhesitatingly, I climbed up, and into what felt like my own movie.
I still have a hard time believing this story is real--it's my life! When keeping a diary, you have to make your life the story.
At Elaine's, the famous Upper East Side restaurant, which just celebrated its 45th anniversary, a group of New York Times editors took me out to dinner to celebrate The Red Leather Diary's publication. After one too many whiskeys, I overheard my boyfriend, Tom, a writer, talking to a radio personality. "The Red Leather Diary is The Ben-Hur of our generation." "Where did you get that?" I laughed, shaking my head as our cab sped us through Manhattan towards home.
When I found the diary, I was immediately transfixed by the writings of the young woman, who breathlessly chronicled her teenage years during the 1930s. Passionate, cosmopolitan, cultured, risk-taking, tempted equally by both men and women, Florence seemed to leap from the page--and to elicit connections to my own life as a 20-something single woman in New York.
Maybe Claire Danes will play me, Julia Stiles or Lauren Ambrose...
Florence's life was rich in theater and art, salons, an obsession with a famous avant-garde actress, Eva Le Gallienne, and lovers, writers and poets, including an Italian count Florence met when she sailed to Europe in 1936. Filippo Canaletti Gaudenti da Sirola--I love rolling all of his names off my tongue. Filippo, a poet and pilot, who composed love verses to Florence, published in his book, Il poeta e l'amore.
"Filippo was hot," I told the sold out Westport Library audience, a sea of blond and gray. In one photo Florence shared with me, Filippo looks like Antonio Banderas, wearing a belt of bullets and carrying a rifle while leading a shrouded horse down the shores of the Adriatic Sea.
"He was gorgeous, a movie star," Florence sighed the next night at Barnes & Noble. Enveloped in a black cape like her favorite star, Garbo, Florence turned to me, eyeing my boyfriend in his tweed coat in the front row. "He's very good looking."
I told Florence that Tom reminded me of Nat, her husband of 67 years, one of Florence's many admirers from her diary, who she met when she was 13 at his parents Catskills hotel. Ninety-six-year-old Nat died last spring, a heartbreak for Florence.
But to each ending there's a beginning, for me and for Florence, a whole new chapter of her life at 92.
On Saturday, the red carpet was rolled out for Florence at the book launch at 401 Projects, a photography gallery founded by photographer Mark Seliger with lighting designer Brent Langton, named for its address, 401 West Street, on the Hudson.
The sun was about to set on one of the first mild spring nights as Florence arrived in a car with her two daughters. The car reservation specified: *** VIP EXECUTIVE PLEASE HANDLE WITH CARE *** PLEASE DISPLAY SIGN-"FLORENCE HOWITT."
At the party, Florence was on cloud nine. The room was bubbling over like the champagne. Over 200 people came to celebrate and view the exhibition of The Red Leather Diary's photos, on display through April, recreating Florence's glamorous 1930s New York.
Florence walked slowly around the room, staring into the pictures of her youth, pointing to her younger self. In one picture, 16-year-old Florence poses in a satin gown designed by her mother, a couture dressmaker with a shop on Madison Avenue.
Before the party, Michael Angelo, a makeup artist and photographer, did my makeup and hair at his Wonderland Beauty Parlor in the Meatpacking District. WONDERLAND flashed in bright pink neon lights.
Finding the diary, I felt like Alice falling down a rabbit hole. Michael Angelo turned me into a '30s starlet. He took a photo of Florence and me in red lipstick for a project photographing iconic women, Susan Sarandon, Daryl Hannah and others, to raise money for Somaly Mam, to stop young children and woman being sold into sex slavery. The portraits will be displayed in New York and in Italy on a cathedral ceiling. People asked if I found my costume, a hand-dyed lace trench coat, among the steamer trunks piled high in the middle of the gallery.
"You look like Florence..." people said.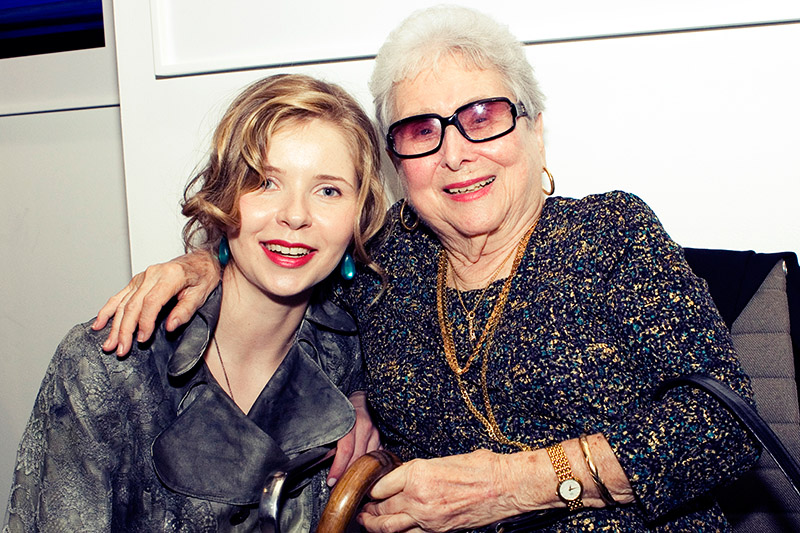 Lily Koppel, Florence Wolfson, at The Red Leather Diary book launch
The private investigator who helped track Florence down, like a pulp-fiction detective out of the pages of a '30s potboiler was there. "My wife wouldn't let me wear my houndstooth hat," said Charles Eric Gordon. I introduced him to the crowd. He pulled a magnifying glass out of his inside lapel.
As a 19-year-old graduate student at Columbia, Florence hosted a salon in her parents' apartment, whose members included the poets Delmore Schwartz and John Berryman. At the party, Florence was hosting again.
Periel Aschenbrand, the gallery's director, author of The Only Bush I Trust is My Own and founder of Body as Billboard, told Florence that she couldn't wait to see the movie. "I hope I live that long!" said Florence.
The original, crumbling red leather diary was displayed in a Lucite box. A significant social document, which Erica Jong suggested, after she read the book, be acquired by the Rare Book & Manuscript Library at Columbia University, where her feminist papers are housed.
In her speech, Florence thanked me for getting her out of "the ghetto of old age," with her daughters and granddaughters looking on. The presence of the steamer trunks made everyone feel they had entered into the magical story, which they had. We signed books. Florence helped finish my sentences and I inscribed,
"Once upon a time..."
For more information on Lily Koppel and her book, The Red Leather Diary, please visit her website: RedLeatherDiary.com.