It is the annual celebration of movies and, in 2014, it was more spectacular than ever. While personal business took me away from a usable computer and out of Las Vegas right after it ended, the memories are as sharp as ever and it is an event worth writing about.
"It" is CinemaCon, the annual convention of the National Association of Theatre Owners (NATO) at Caesars Palace in Las Vegas. In reality, it is not "national" but, rather, international, drawing attendees from North and South America, Asia, Europe and Australia. This year it was held March 24 through March 27 at Caesars Palace in Las Vegas.
The program is rich and varied -- ranging from the impact on theater-owners of the Affordable Care Act to studio presentations featuring movie stars, directors and studio officials along with dinners, panel discussions and, also, a huge trade show with all the things that make the moviegoing experience fun -- new, comfy seats, new food choices, among them. And, of course, let's not forget the movies themselves.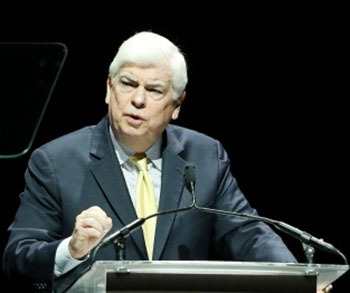 The convention always begins with a retrospective of the year just past. Christopher Dodd (left), Chairman-CEO of the Motion Picture Association of America (MPAA), the major studio trade association. The MPAA members, Walt Disney Studios, Sony Pictures Entertainment, Paramount Pictures, 20th Century Fox, Universal Studios and Warner Bros., each get a couple of hours to preview their upcoming seasons. In 2013, thanks to China becoming a major player in international film distribution, the first international market to cross the $3 billion line in box office revenue. In all, the revenue was up 4.6 percent to $25 billion over 2012, a nice jump but not as large as the six percent from 2011 to 2012.
In his remarks, National Association of Theater Owners John Fithian said Hollywood did a better of offering a more diverse slate of films thus far this year. He also said there were more family films, noting that four of the top-grossing films in 2013 were animated movies, compared to two in 2012. He did say there's still work to be done in programming release dates.
"Last year I talked about the need to distribute movies in all twelve months," Fithian said. "And in some respects, that has begun to happen. Warner Bros., for example, gave us the award winning spectacle Gravity in October, and Sony gave us another successful family title in September."
"Yet we could still use a bit more calendar diversity. We had virtually nothing for families in the first quarter of 2013, which resulted in a 12 percent drop in that period. And then we had too many family movies packed into summer time, with some cannibalization. Fortunately, that has changed in 2014 as four family movies this first quarter have helped drive seven percent growth year over year."
While ceaselessly promoting the moviegoing experience, Fithian confessed he didn't watch 12 Years A Slave on the big screen but, rather, waited to see it at home. He said, ..."it was the only movie of the nine nominated for best picture that I didn't watch on the big screen. It's not that I didn't consider the movie worthy of watching. Quite the contrary. 12 Years a Slave constitutes one of the most important movies of our generation. It's simply that, for me, the movie was too unequivocally intense to watch in a cinema, so I waited and watched it home."
In all, listening to the speeches and attending the studio presentations, it became crystal clear that the movie biz is thriving and, talking to those attending CinemaCon, that the people in this end of the business love their work.
Because it is covered extensively by press, CinemaCon often hosts the boldest of the bold-face names in film. This year, The Hollywood Reporter's chief film critic Todd McCarthy talked to director Christopher Nolan about his newest film Interstellar and about his firm commitment to shooting on film, rather than digitally. In fact, when it's released in November, Interstellar will be released in both formats.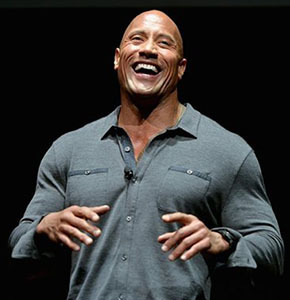 Celebrities and movie previews are always a big part of CinemaCon and 2014 was no different. Dwayne Johnson (right) talked about his upcoming Paramount release, Hercules. Talking to the crowd about the movie, Johnson said, "The goal was to fully disappear into the character. Hair. Makeup. A prosthetic penis. [Paramount Vice Chairman] Rob Moore insisted."
Mark Wahlberg came to CinemaCon to tout Transformers: Age of Extinction, the next film in the Michael Bay series. John Hamm was there to introduce his "based on a true story" Disney baseball movie Million Dollar Arm. Universal offered Angelina Jolie (below left) and clips from Unbroken, based on the best-seller of the same title by Laura Hillenbrand (Seabiscuit). The story of World War II hero Louis Zamperini, Jolie directed the movie and is clearly enthusiastic about it. Unbroken will be released Christmas Day. Also shown was the first footage from Fifty Shades of Grey. It seemed rather tame compared to the books. Neighbors, in which Seth Rogan and Rose Byrne have the misfortune to live next door to a frat house where Zac Efron and his brothers reside, was shown, too. Chris Pratt (Breakthrough Performer of the Year); Seth Rogan and Evan Goldberg (Comedy Filmmakers of the Year); Adam Sandler and Drew Barrymore (Male and Female Stars of the Year).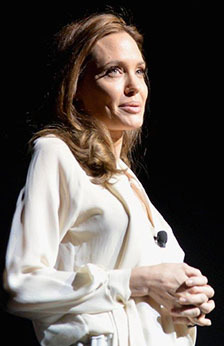 Clint Eastwood introduced his newest directorial product, the musical Jersey Boys. (For trailer, see below.).
Each year CinemaCon ends with the presentation of the Big Screen Achievement Awards. Winners in 2014 were: director Ivan Reitman (Lifetime Achievement); Female Shailene Woodley and Chadwick Boseman (Female and Male Star of Tomorrow); Andy Serkis (Vanguard Award for his pioneering work in motion capture); Jack Reynor and Nicola Peltz (both in the new Transformers movie honored as Rising Stars of 2014; Leslie Mann (Comedy Star of the Year) and Kevin Costner (Icon of the Year).
So, there were lots of celebrities, sneak peeks and the opportunity to meet people from around the world. One of the highlights of the week was the Will Rogers Pioneer of the Year Award presented posthumously to Tom Sherak, who died in January, 2014. He was a former president of the Academy of Motion Picture Arts and Sciences and was actively involved in filmmaking. His widow Madeleine accepted the award. The event was moving, certainly, but it was by no means solemn. It was lovely and filled with love.
CinemaCon 2015 will take place April 20-23 at Caesars Palace in Las Vegas.
Teaser trailer for Angelina Jolie's Unbroken:
Photos: By Getty Images Courtesy of CinemaCon
Calling all HuffPost superfans!
Sign up for membership to become a founding member and help shape HuffPost's next chapter