 The Moving Architects is a Chicago-based dance company that has been around since 2007. This month, they are presenting Wordling at the Fasseas White Box Theater in Chicago. An evening of global dance works, the performance will consist of work by Artistic Director Erin Carlisle Norton and new works by guest artists Noa Zuk of Israel and Joanie Audet of Quebec.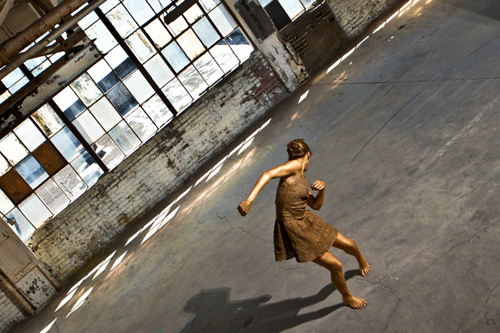 Wordling, Photo by Nick Francher
We sent some questions to Ms. Audet about her piece in Wordling and she gave us an inside look at her process and her work with the company. Here's what she shared:
Tell us a bit about your background as a choreographer.
The work I am presenting in Wordling is based on the first work I ever choreographed that was presented in 2011 as part of my training at The School of Toronto Dance Theatre. Through a course called "Choreographic Workshop", the assignment was that each third year student was to create a 5 to 10 minute piece mentored by Julia Sasso, while the second year students self-produced the show.
My first class, I was terrified by the idea and at our first showing I had decided that it was not going to happen, I would not do the work. However, after I talked with friends and teachers who tried to get me to change my mind, I stopped refusing and began to create inch by inch. It was two weeks before opening and I booked all the studio space available -- every second I had would go into the piece until the last presentation.
What was your process like as you created this new dance for Wordling?
For this version of the work, I created the solos separately in Montréal and Toronto, which made it difficult but interesting to me at the same time. The method that we used was to create small phrases and then play. It allowed us to form memories in the studio and to use the material as part of our history bank during a run. We gave names to movement sequences and called them in different orders. We aimed for nearly impossible tasks to achieve using our imagination coloured with a good sense of humour.
What music did you select for this piece and how did you choose it?
There is no music. I am talking on stage throughout the piece and that connection is very important. I am a strong believer that movement can exist without music although they can complement each other beautifully. Rhythm is a big question for me -- I love to see movement infused with clear rhythm without music. I didn't necessarily use this idea in this piece but I look for it when I watch other performances.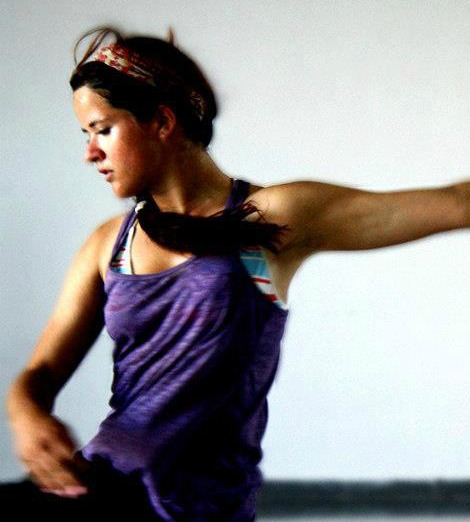 Choreographer Joanie Audet, Photo by Jeremy D. Carlisle
How would you describe the choreography in this piece?
The work is two different solos for two contrasting bodies.
There is a pre-set movement vocabulary to anchor the piece and its arc. My role as the choreographer has been to create this vocabulary, but I am also involved in every performance. I direct the dancers with my voice amplified by a microphone orchestrating the intensity and the spacing and informing changes.
Choreography is a practice that wants to challenge both mind and body. There is no fixed final result; each time we perform it has the potential to be completely singular.
We will be putting both solos together for the first time during the dress rehearsal. The work is inspired by instant performances and adapting to one's ever-changing environment.
What was it like to work with The Moving Architects?
I met Erin Carlisle Norton in Morocco last September, we were both teaching and performing at Festival Action Danse 5. She is clear-minded and well focused.
Having similar interests, we got to know each other very quickly just by the nature of things. The fact that we spent time in the studio and on stage makes bonding happen with no question. In a similar way, so did travelling together. It was a very unique experience.
What is your favorite thing about choreography?
Wordling takes place Saturday, March 9th at 8pm and Sunday, March 10that 7pm. Tickets may be purchased in advance at TheMovingArchitects.org
Related
Popular in the Community