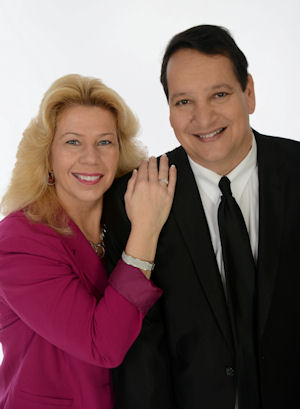 Photo Courtesy of Anderson Group PR
One would think with the amount of people there are in this country with firearms that self defense classes had become passé.
It has actually gotten a bit more interesting - probably because it is being taught by a couple that you just can't help but adore.
"It's only about getting away, there's no punching, kicking, or fighting." Charley Vega of Simple self Defense for Women said.
Charley and Tracy Vega are - well, are not only adorable as earlier indicated, but are also committed to giving women and children a way to safely break away from potentially violent situations without having to resort to firearms or other forms of violence.
The couple told the story of what motivated them to start teaching self defense.
"It really started several years ago. We're always seeing these bad things happen on TV." Charley said. "I was telling Tracy that I've been teaching thousands of men, women, and children and there are things that you can teach women and children that can help them get away. Every time I see something on TV, I can't help but think that if only they had known, then they could've gotten away."
"So, Tracy says to me 'Well, Charlie if we're going to help men, women, and children on a national level then you have to understand a few things about women - they don't want to go to smelly gyms, they don't want to be thrown around, they don't have time to go to class after class because they're too busy with family. So, each class has to be a one-time event.'"
"He forgot one thing. Women don't want to take off their shoes in public." Tracy added.
Tracy and Charley are traveling the country providing valuable instruction to women in a program that is based on what women want. They have put together a workshop and an instructional DVD, both of which have been enormously successful. The couple has a television show on PBS in addition to being featured in a variety of publications, radio shows and various television shows talking to the country about what they do best - teach self defense.
"The program is for women, but a lot of the times women aren't available because they are working or have to tend to their families. There are so many kids that are being targeted and victimized, we figured why not let them be a part of this." Tracey said. "What we're teaching them is the one we want to focus on most which is called the 'Come Along and Grab.' This is designed for mothers who have their children with them, and we've found that it's the easiest thing for them to get out of."
For specific tips and tools from Tracy and Charley on everything from online dating safety to safety tips when travelling, be sure to check out their website here.
Related
Popular in the Community