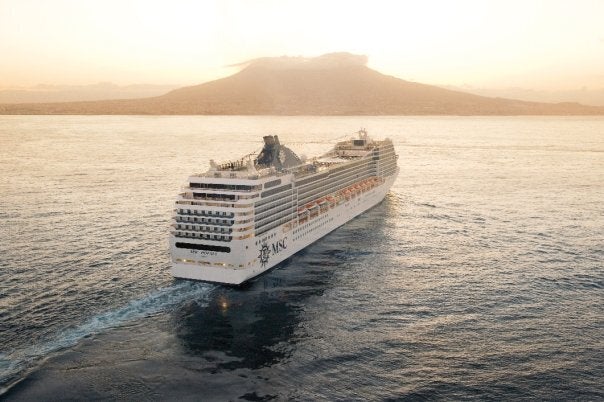 The MSC Poesia is a popular floating resort. The waters are crowded with sea-worthy vessels, so to make planning easier, we've done all the prep work for a cruise vacation. As part of a Huffington Post Travel series on cruise ships, here is a tip sheet offering all the key information one could ever need to know about the MSC Poesia.
Destination
The MSC Poesia offers seven- to 14-night cruises to autumn vistas along the New England and Canadian shorelines from New York City or Quebec; three to 10-night cruises to the Caribbean from Fort Lauderdale, Florida and it also embarks either from Genoa, Italy, or Kiel, Germany, for seven to 11-night European cruises.
EcoShip
Described by Cruise Industry News as an "ecoship," the MSC Poesia is "equipped with state-of-the-art technology which not only adheres to strict legislation but significantly reduces any negative impact on the environment while safeguarding guest comfort." With a capacity for 2,550 guests, the MSC Poesia offers luxury amenities in a decidedly European milieu.
Special Features
The MSC Poesia includes two pools, a casino, poker and game rooms and a Stone Age-themed play area for children. The extensive wellness and fitness facilities include the cruise line's signature
with Balinese massages and beauty treatments. For pictures, check out
.
Accommodations
on the MSC Poesia range from interior staterooms at 151 square feet to balcony suites at 269 square feet. Interior, oceanview and balcony staterooms include wardrobes, bathrooms with shower, telephone, Internet connection (for a fee), minibar and hair dryer. Balcony suites also include a tub in the bathroom.
Cost
Prices for a cruise on the MSC Poesia are based on double occupancy per room; deals often include children 11 and under for free when traveling with two adults in a stateroom. Caribbean cruises range from $249 for an interior stateroom for a four-night cruise to $1,799 for a luxury balcony suite for a 10-night voyage. A seven-night New England/Canadian cruise starts at $619, and a seven-night cruise through northern Europe begins at $1,149.
Excursions
MSC Poesia excursions vary from educational to adventurous. However, among 50
member reviews from November 2010 to June 2011, no glowing reports were made. One reviewer did write: "Lots of great excursions that you can book last minute. Always has a rep from the boat on the tour."
Dining Experience
According to
, there are five main restaurants aboard the MSC Poesia: two for main dining, one for buffets, a sushi bar and a specialty restaurant. The food is primarily Italian-European, and room service with a limited selection is a available 24 hours a day.
Maiden Voyage
The MSC Poesia was christened in April 2008, the ninth cruise vessel in the MSC fleet, according to
.
explains that MSC Cruises was founded in 1994 by Gianluigi Aponte, owner of the second-largest container company in the world, Mediterranean Shipping Co. The cruise line now boasts 11 ships, with another vessel scheduled to join the fleet in the summer of 2012.
In The News
describes a drug bust on the MSC Poesia in January 2011 in which a raid targeted vacationers on the
. The Jam Fest theme cruise, which featured pop band performances and workshops, was produced by
and hosted by the MSC Poesia, according to
. The Jam Fest cruise will celebrate its 10th anniversary in 2012, but passengers are cautioned by
to "clean out" their luggage before boarding.
WATCH
This Travel Weekly video provides an in-depth look at the MSC Poesia.
What's your favorite cruise memory?
Popular in the Community