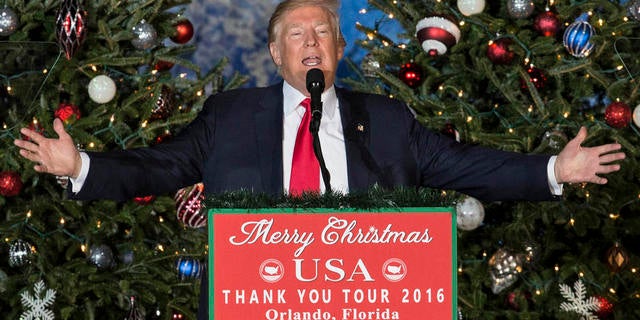 Yesterday I came across an article in the Palm Beach Post that mentioned Donald Trump had complained about a previous story by the Post's transportation reporter, Kristina Webb. Webb covered Trump's December 16 rally in Orlando where she observed "hundreds of cheering supporters." Speaking in Mobile, AL the next day, Trump disputed Webb's crowd estimate, and claimed the attendance in Orlando was actually closer to 25,000.
Webb is one of three Post staffers (including Joe Capozzi and Gregory Cox) who co-wrote the article that mentions her earlier reporting had been publicly called into question by the president-elect. In response to that discrepancy, the trio of reporters offered only this factoid: "The rally was held at the fair's Orlando Amphitheater, an outdoor venue with a seating capacity of 10,000 people, according to the fair's website."
Obviously, the three journalists tasked with addressing the mini-brouhaha between Trump and Webb, were implying that Trump had exaggerated the number of attendees. They made no attempt to clarify the actual attendance, and they neither defended nor retracted Webb's claim that only hundreds of people had shown up. Numerous other media organizations – including the Orlando Sentinel, Daily Mail, USA Today and Orlando Weekly – said there were about 11,000 attendees.
I asked Webb via email why she claimed only hundreds were at Trump's Orlando rally, and she cheerfully replied: "Thank you for reaching out. Although the number could have been a couple or even several thousand, no official count had been released by the time I had to file my story, and I had to make an estimate. The capacity of the venue was 10,000, and the several times I surveyed the crowd, the venue was not at capacity. My estimate is not related to any political position, either of myself or of the paper. It's merely an estimate. And saying hundreds should in no way diminish President-elect Trump's accomplishments, or the very large crowd he drew to the venue Friday night. Please reach out to me if you have further questions. I'm always happy to engage with readers and respond to their questions and concerns about my work. Have a great weekend and a merry Christmas."
I don't know if it made her happy, but I then reached out and engaged Webb again. In addition to providing her with links to various articles that say 11,000 people were at the event, I wrote: "Thank you for responding. I didn't suggest your estimate was politically-motivated. It's just that it was so obvious thousands of people attended, and you are the only person who claimed only hundreds were there. So I'm baffled by the huge discrepancy between your estimate and reality. If you believe the official capacity of the venue is 10,000, the venue, to your eyes, would have been less than 10% full if the audience was only in the hundreds. Why do you think it appeared to you that the venue was less than 10% full?"
So far, Webb has not replied, happily or otherwise.
I also emailed Capozzi, and asked him why he thinks his colleague had lowballed it so drastically. He quickly answered: "Because she was there. You're assuming Trump is correct? He says 25,000 attended but the venue where he spoke has a capacity of 10,000."
My reply: "Actually, I'm not even thinking about Trump, let alone assuming what he said is correct. I'm thinking about only what Kristina reported. I saw video footage of the rally, and it looks like thousands of people attended as per usual. If attendance had really been in only the hundreds, it would have been widely reported. Apparently, you nonetheless believe Kristina 'because she was there.' Or are you saying that because Trump's claim is false, it's also okay for Kristina to lie?"
CAPOZZI: "I didn't see the video. I didn't read other accounts of the rally that included a crowd estimate. I reacted to your assumption that our reporter got it wrong. I gave you the venue capacity to point out that perhaps Trump exaggerated. Enjoy your weekend."
ME [with links to reports of 11,000 attendees]: "You co-wrote an article with Kristina that referred to the discrepancy. Why are you focused on only Trump's accuracy but not your colleague's? Whatever you do, don't injure yourself rushing to inform yourself about an issue you publicly addressed. Proud of yourself, Joe?"
CAPOZZI: "Thanks for sharing those links. Tells me Trump got it wrong, too. Happy holidays."
ME: "Proud of yourself, Joe?"
REAL LIFE. REAL NEWS. REAL VOICES.
Help us tell more of the stories that matter from voices that too often remain unheard.
This post was published on the now-closed HuffPost Contributor platform. Contributors control their own work and posted freely to our site. If you need to flag this entry as abusive,
send us an email
.