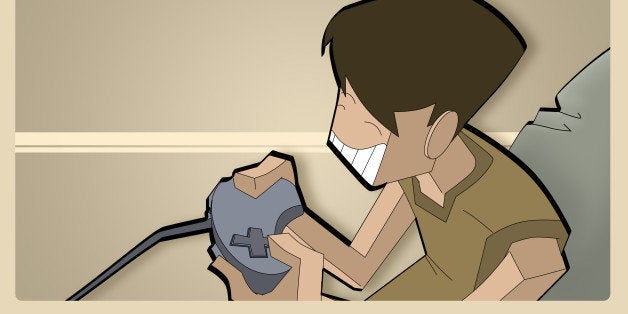 Gradually, society seems to be adjusting to the idea that video games are here to stay and that they did not usher in the societal apocalypse as augured by some scholars, politicians and activists in the early 2000s. But we still have some residual issues seeping from the video game moral panic. One of these is the cluttered mess of a thing being called "Internet Gaming Disorder."
Introduced as a potential category for further study (i.e. it's not an official diagnosis yet) by the American Psychiatric Association (APA) in 2013, Internet Gaming Disorder (IGD) corresponds to what people often call "video game addiction." The premise of IGD is that, for some users, playing video games can become problematic to the point that they interfere with basic life functioning. Taken to its moral panic extreme, we see some clinicians and scholars claim that video games are as addictive as heroin. Such claims are patently absurd, but they thrive in a vacuum of good, sensible data and high-quality research.
The problem for IGD is that scholars who study it disagree on even basic things such as what to call it. Almost nobody called it Internet Gaming Disorder until the APA did... why "internet gaming"... is gaming offline ok, or obsessive internet use ok so long as games aren't involved? But scholars don't agree on what symptoms constitute IGD, how to measure it (there are literally dozens of very different surveys in existence to measure IGD), whether it's a unique syndrome or symptomatic of other underlying problems such as depression or ADHD, how prevalent it is, or the degree to which our focus on this issue constitutes a real concern or is merely an offshoot of the larger video game panic. Unfortunately, although many studies have been done on IGD, many of them quite good, the overall picture is so contradictory the end result is, in technical terms, a hot mess.
Perhaps the biggest problem is that, early on, many scholars made a critical error in assuming that the symptoms for substance abuse disorders could just be ported over and used for IGD. Remove "heroin" from the symptom and stick in "video games." This seems to have removed the necessity of doing actual, careful epidemiological research on real people with real problems. And once this choice was made, the field seems to have gone further and further down the rabbit hole. Dr. Daniel Kardefelt-Winther of Sweden's Karolinska Institutet recently discussed the problems with this decision in a paper in the journal Addiction Research and Theory. The result is a set of diagnostic criteria that lack validity and clinical utility.

Consider, for example the criteria involving using games to escape a negative mood. In a survey it might be put this way: "I use X in order to make myself feel better when I am depressed or anxious." Sure, if X = heroin, this is a bad thing, right? However, we all use hobbies to improve our mood. So if X = golf, or crocheting or gardening, or, indeed, video games, it's less clear this is a relevant symptom.
The criterion involving a loss of interest in other hobbies is similarly problematic. We all regularly exchange one hobby for another as we go through life. Again, if you stop crocheting in order to use methamphetamine, sure, very, very bad. To stop crocheting to play more video games? Less bad, maybe even good. Thinking about gaming when not gaming is another good example of a bad diagnostic criteria. Many people who are deeply into their hobbies... golf, SCUBA, extreme sports, etc., do exactly this. Why is it bad when it's video games?
The problem with criteria such as these is obvious... they pathologize normal behavior, drive prevalence estimates spuriously high and render the disorder into something of limited clinical value. Despite this (or perhaps because spuriously high prevalence estimates attract a lot of attention), the field has been remarkably reluctant to let go of such dubious criteria and focus exclusively on important ones like, you know, not going to work or school because you're gaming. Studies that focus on the degree to which games actually interfere with other life responsibilities suggest that IGD is relatively rare, perhaps 1-3% of gamers, but scholars and studies using the more dubious criteria often quote absurdly high figures in the 8-10% range. These get scary headlines but have little basis in good science.
Although it's probably the case that a small number of gamers may see problems develop from their gaming behaviors, it's not clear that this is something that arises uniquely from video games, or is the product of an underlying disorder. For instance, in a recent study I conducted with child psychiatrist Atilla Ceranoglu at Massachusetts General Hospital, we found that ADHD symptoms predicted later video game addition, but not vice versa. In other words, mental health problems tend to predate IGD. Some scholars might reasonably counter that, even if this is so, problematic gaming can make preexisting mental health symptoms worse. Fair enough, but that is the case for a lot of problem behaviors arising from mental health issues, and nothing unique to gaming. For instance many people with depression may experience fatigue, then stay in bed much longer than they intended too. Staying in bed for long hours, in turn, may make them feel even more depressed. But we wouldn't say they have "Bed Addiction."
There is, in fact, a complete lack of evidence to suggest there's anything unique about video games warranting their own diagnostic category. It's well known that many behaviors: sex, food, work, exercise, religion, etc., can become problematic when indulged in excess. Why video games and why now? I could see the rationale for a general "behavioral addiction" category, but in the absence of good evidence, it seems most probable the APA is indulging the moral panic over video games. Too bad they're late to that party, though, as that panic appears finally to be waning.
Related