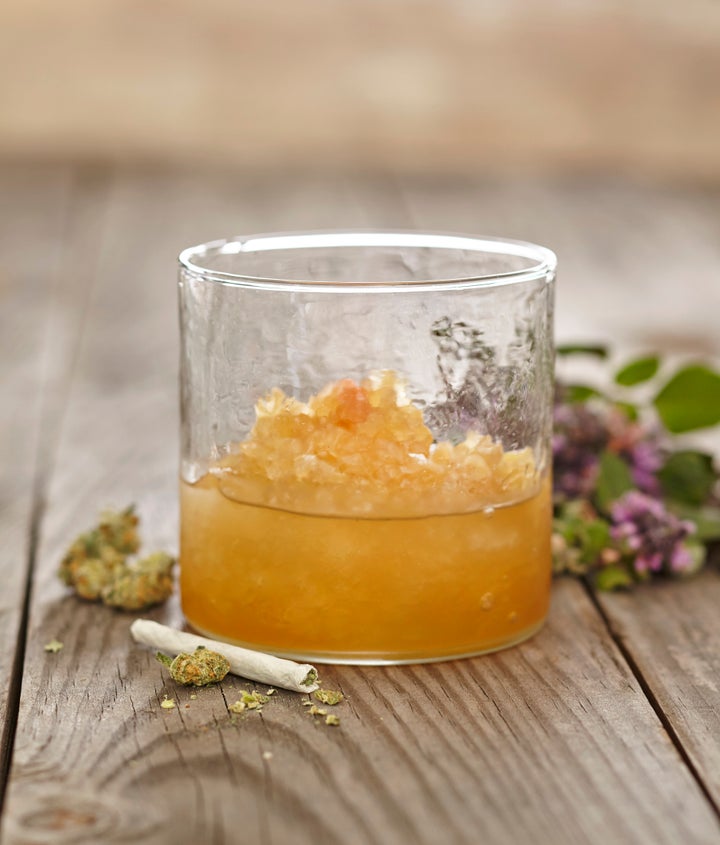 Back in the day before we were all born, Mezz Mezzrow was playing jazz clarinet in the normally segregated jazz clubs around the United States. He wasn't well known, and his history may have escaped all but the most die-hard Jazz aficionados if it wasn't for one rather large fact.
He was Louis Armstrong's weed dealer.
In order to properly pay homage to this figure in the Jazz age, who played with Sidney Bechet, (one of my favorite Jazz musicians) I created a cocktail that is featured in my 4th book, Cannabis Cocktails.
I'm a huge fan of Manhattan-style cocktails; they make great aperitifs. This one is named after Milton "Mezz" Mezzrow, a jazz musician who lived in Harlem in the 1920s. And, as Mezz himself would have known, the term for a well-rolled cannabis cigarette was a "mezzrole"—so I just had to commemorate both man and medicine in this elegant cocktail. It combines cannabis-infused sweet vermouth, handmade cocktail cherries, and quality bourbon into a small, but well-formed, libation that's deeply healing. When you're infusing your vermouth, consider choosing a Sativa-Indica hybrid strain called Cherry Pie. It's redolent of sweet and sour cherries, and it complements the toasty, oaky flavors inherent in the liquors. As for making crushed ice, it's best to place the ice in a Lewis bag—a heavy canvas bag that's made for the job—before whacking it with a wooden mallet or rolling pin.
• 4-6 Greenish Cocktail Cherries (we infused Barrell Bourbon with a quantity of Cannabis in an infusion, then soaked Rainier Cherries in the thc infused liquor for a month- hence Greenish Cocktail Cherries)
• 1/2 ounce (15 ml) cannabis-infused vermouth, such as Uncouth Vermouth's Seasonal Wildflower Blend
• 1 ounce (30 ml) bourbon whiskey
Muddle the Greenish Cocktail Cherries with a wooden muddler or the handle of a wooden spoon, then top with the vermouth. Continue to muddle for 30 seconds to combine the flavors. Cover with the crushed ice. Top with the bourbon, then dot with aromatic bitters. Don't have two: one should be more than enough. And never more than one per hour!
Related
Popular in the Community