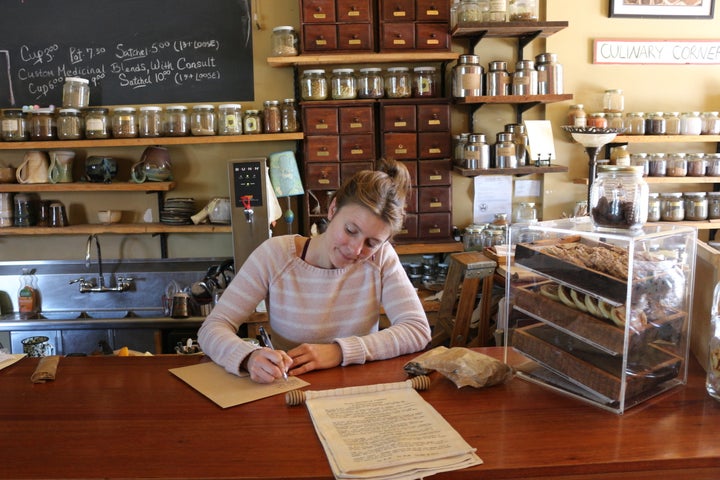 Portland, Maine is a place of hide-outs in plain view. One such hidden treasure is the Homegrown Herb and Tea shop on Munjoy Hill. Located in an old apothecary shop north of Franklin Arterial, the demarcation line that divides Portland into the chic and touristy Old Port on the left and the trendy grunge of Munjoy Hill on the right, this little tea shop, complete with meditation corners and shelves stacked to the ceiling with glass jars filled with herbal teas and wooden medicine drawers packed with herbs, has the feel of one of those magical spaces out of a Harry Potter novel. Until you enter and engage with Sarah, the brewmaster of healing teas and owner of the shop, you would hardly know that stepping through that blue door meant entering another world.
Women populate this space. That is, women who are in tune with themselves. This is not to say that men are not welcome in the shop—they are. But the tea shop is a women's space in the sense of the thousands of years' old traditions of women healing themselves and their families with home remedies, teas, self affirmations, and the warmth that glows from female intimacies.
I first discovered the Homegrown Herb and Tea shop and met Sarah this winter when I became curious about this eclectic apothecary shop up on the hill. Many deep conversations later, I asked Sarah if I could write about her work, about her talent with alchemy, about her intentions to heal those who come to her seeking answers. Sarah agreed.
There is no other way to do this than to just be in the shop and to soak it all in, just like our body soaks up the curative properties of tea. Today, as I enter Sarah's tea shop, several women have already taken up positions at the tea bar.
A woman named Tatiana says, "Sarah called me and said, 'You sound awful, come over and have some tea. So I did. How she knew that I was coming down with a flu, I don't know.'"
"All my customers end up being my friends," Sarah says.
Sarah has the uncanny ability to just look at a person and get a sense of who they are and what their body and their spirit needs. She had me pegged as a vata in the Ayurvedic tradition within five minutes of chatting with me. She told me that as a vata I have a lot of energy, need to be rooted to a sacred space, but am capable of picking up and taking off to another part of the world on a moment's notice. That's me. She brewed the appropriate tea for me, a tea that embraces who I am and gives me the energy I need. She works this magic on anyone who comes through her door.
"I'm kinda like a nutcracker," Sarah says. "I'm an instigator. I like to crack open the elephant in the room. I can't stand small talk. Because of that I force people to open up and share. Health is a closet topic. So much about healing is being open. That's why people are drawn to Western medicine. It's because they can hide. The doctors hardly have time for them and don't want to know anything personal. People don't have to look inside. There are spiritual reasons why an illness takes hold. When people get sick they will run in circles looking for something to point at as the cause, but they will not look inwards and face themselves and do the healing."
Sarah is a strawberry blond and I wonder if that has anything to do with her special insights? She is spunky, wears her hair in a practical style, off her face in a messy bun, dresses simply in jeans and a practical sweater. She focuses on her spirit connection with others and with her plants and teas.
"I help people heal," Sarah continues. "It has to do with understanding herbs and the art and craft of making tea. My shop is a place where people can come and talk about their illness. We get to craft something, like a tea, with the intention of healing. The intention is what heals you."
As we are talking a woman opens the door and steps inside. Sarah pauses our conversation to ask her what she would like.
"I need something to get rid of these hot flashes. I need a tea for menopause," the woman says.
Sarah gets to work, measuring mixtures from several different glass jars, finding the right balance. Then she pours the tea into a wax bag and hands it to the woman. "That's what I call a menopause cooler," she says.
Meanwhile, I sip the tea Sarah has placed in front of me. I have a long day ahead of me. I am flying to Ireland this evening. I asked for a tea that would give me the energy to do everything I need to get done before my trip. I haven't slept. Life has been that crazy. I sip the tea and its delicious.
"Herbs really talk to people," Sarah says. "I can make a nasty medicinal concoction, but if the person can't drink it because it tastes so awful, what good is it? A healing tea must taste good to a person. I know I've hit the mark when I see a customer enjoying the medicinal tea that I have created for them."
"What about the Ayurvedic teas?" I ask.
"In Ayurvedic medicine taste has healing power," Sarah says. "That the tea is delicious is part of the therapy. I first started mixing tea to heal myself. I knew herbs were helpful, but I wasn't going to drink it if it tastes bad. Taste is how herbs speak to us. I started researching the herbs. I found that when a person needs a certain herb for healing, the herb will actually taste good to them. It does make sense that a certain herb is right for a certain person."
Right now it is the wood season according to Chinese medicine. It is a time for cleansing the body and the soul in preparation for the activity and busyness of summer. Sarah's tea shop offers a cleansing and restorative blend for the season, consisting of sarsaparilla, milk thistle, nettle, oat straw, astragalus root, lemon balm, hibiscus, and orange. Among many springtime selections, there is a tea Sarah calls the Equinox Blessing. This blend is made from tulsi, rose petals, sage, lavender, sandalwood, and mace. Sarah describes it as a "spiritual and centering cup to welcome the season." A custom medicinal blend together with a consultation costs $10. A cup of tea from the menu is $3. You can bring bagfuls of tea home with you.
"Do the herbs talk to you?" I ask.
"Yes, but I had to learn how to listen," Sarah says.
She tells me a story. When she first opened her shop ten years ago she also purchased a new home. The yard was filled with dandelions. Like most of us, Sarah had been taught that dandelions are weeds and must be uprooted. She went to battle with her dandelions, struggling to uproot them all during the spring and summer. Then, when she started creating blends for the tea shop and ordering the herbs she needed, she found that many of her recipes called for dandelions. Sarah realized then that all summer long the dandelions in her yard had been trying to tell her something and she had ignored their lesson.
Ten years later Sarah no longer ignores the lessons of plants. Her Munjoy Hill tea shop stands as testimony to that art of listening.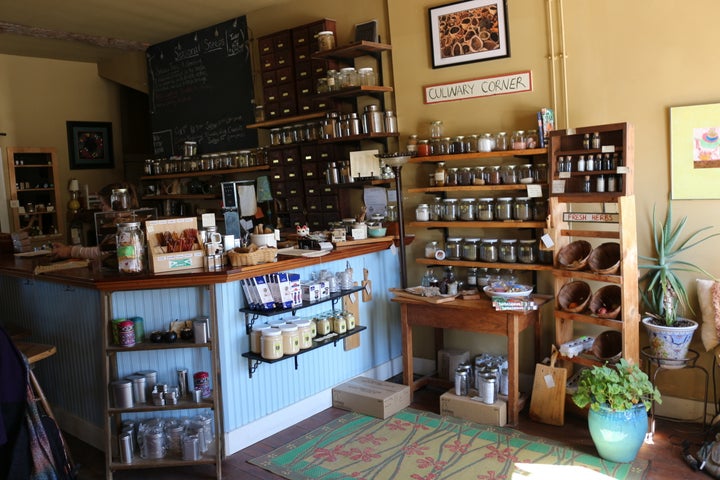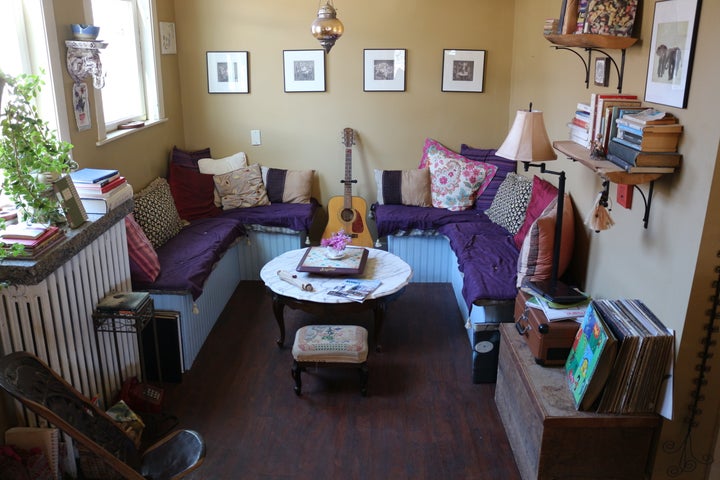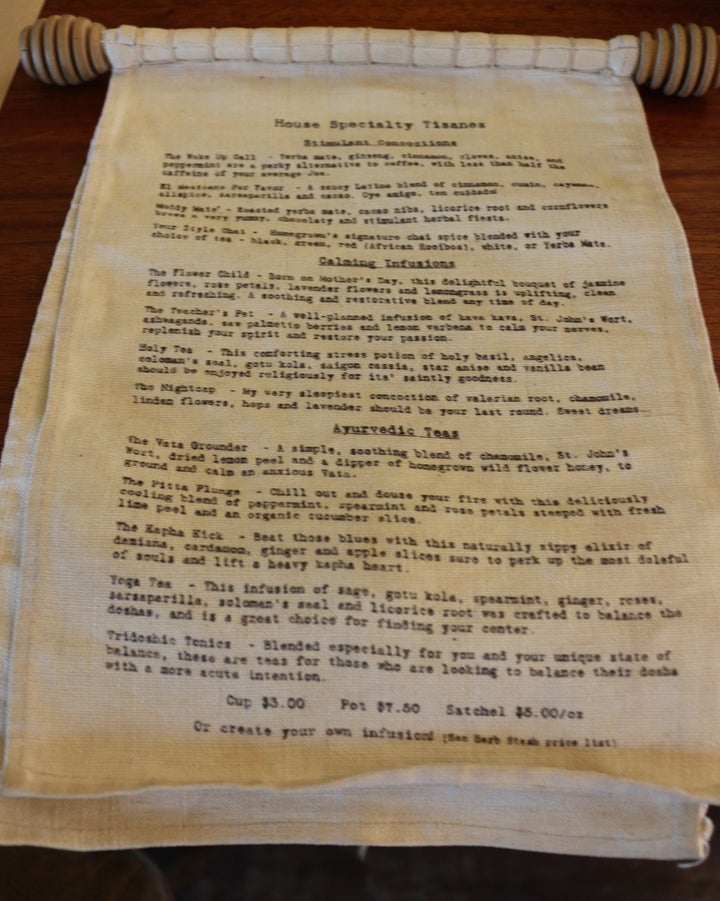 This essay and others are available in THE WAY LIFE SHOULD BE by Laima Vince.
Popular in the Community