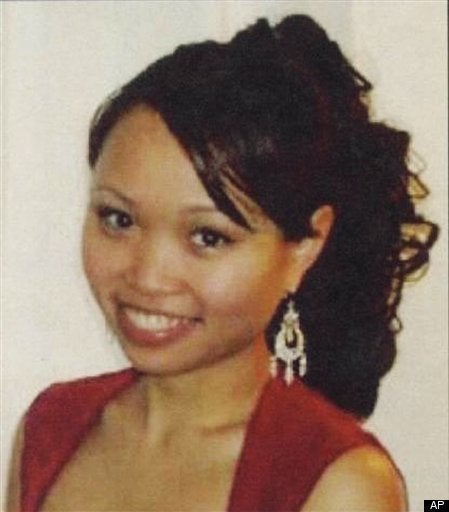 A young Asian woman was killed almost three weeks ago in September, and still no one seems to know who she was. I'm not, of course, talking about Yale graduate student Annie Le.
Her name was Lee, one letter removed from "Le," Felicia Lee, to be exact. Professionally, the Singapore-born, Australia-raised 31 year-old went by Felicia Tang, and in addition to having bit parts in Rush Hour 2 and The Fast and the Furious, she had appeared on Playboy TV and in adult films like Hotel Decadence and Asian Fever. In 2003, she was in an online erotic video with Tila Tequila where they fondled each other in a pool. In some reports, she has been described as a "porn star," but her career in adult entertainment does not appear to have been that extensive. Most recently, it was reported that Lee was working towards getting her real estate license.
She was found in the apartment she shared with her boyfriend, Brian Randone, on September 11 in Monrovia, CA, east of LA, beaten and choked, after Randone had called 911 to report that she wasn't breathing. Randone, who has been described as a "self-styled preacher," a "Christian mime," a "former reality TV contestant" and a "pageant contestant"--having appeared on the 2000 Fox show The Sexiest Bachelor in America--was arrested within hours and charged four days later with killing and "torturing" Lee. The torture charges stemmed from the severity of Lee's injuries, which were described as "gruesome" by the Superior Court Judge who arraigned Randone Tuesday, and from evidence that Lee had suffered dozens of these injuries in the 24 hours before she died.
As much as the details of Lee's life and death, true or inflated, would seem sensational enough (porn, Hollywood, torture, a pretty victim) for widespread media coverage, unlike Annie Le's murder, Lee's has largely failed to capture the public's imagination. In the week following her murder, only a scattering of newspapers and media outlets had actually bothered to report it. The San Gabriel Valley Tribune wrote a story about it on September 15 (Monrovia is in the SGV). The San Jose Mercury News posted one on the 16th. The LA Times Local section penned a blog post on the 17th. The closest thing to a national media outlet to report on Lee's death in that first week was CBS News' Crimesider blog, described as "The True Crime Destination from the Producers of 48 Hours Mystery," which published a story on September 18 entitled "The Preacher and the Porn Star, the Tragic Story of Felicia Tang Lee (Photos)." Within that same timeframe, several Chinese-language newspapers also picked up the story.
To understand why Felicia Lee's murder has had less media "value" than Annie Le's, I re-read Joan Didion's "Sentimental Journeys," from her 1992 collection Ask Henry, in which she examined the way the media covers crime vis-a-vis the Central Park Jogger case. In the essay, Didion writes that the "preferred tabloid (crime) victim" is someone who's "presented as fate's random choice," "attended an expensive school" and/or "been employed in a glamour industry." Annie Le--high school valedictorian, Yale graduate student, fiancee of her college sweetheart--certainly fit that bill. Felicia Lee--topless model, adult film actress, girlfriend to the man who allegedly murdered her, whom she met around the Las Vegas MGM Grand swimming pool in April--did not.
To that point, it was a full two weeks after Lee's murder, on September 25, before the Associated Press finally got around to reporting it. By that time, about 600 articles could be found online about her death. Contrast that with the tens of thousands of stories about Annie Le, whose body was found two days after Lee's.
Shortly thereafter, the blogosphere got around to reporting it, too. But only to an extent. The blog posts that have emerged haven't focused on Lee so much as they have on her boyfriend and alleged killer, Randone. The fact that he was on a reality TV show--albeit 9 years ago--has given the story legs. The fact that another reality TV contestant, Ryan Jenkins, killed his lover recently, has made the story run. And since two murders with perceived similar circumstances--however tenuous--were committed within a month of one another, the story's suddenly become "news," in the way that Didion described it, in that it now offers "however erroneously, a story, a lesson, a high concept."
"So, the lesson here: America's popular culture, not the four horsemen, will spark the apocalypse. Also, if you meet someone who's been on a reality star, run, because they will kill you."
Let's re-phrase. So, the lesson here: the story of Felicia Lee's murder isn't about Felicia Lee at all. It doesn't matter if she was a "porn star" or a "a human being, a daughter, a sister, a friend to many who continue to love and honor her," as the Lee family described her in a statement to the LA Times. (My god, to have to remind the world that your murdered loved one was a "human being.") She isn't, as it turns out, the story, the lesson, or the high concept. What an odd thing it is, to have to be cut out of your own narrative, in order for it to be told.
Popular in the Community