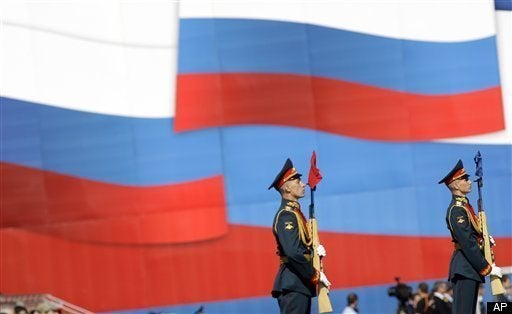 According to reports, late on Monday night the 37-year-old Russian lawyer Sergei Magnitsky suffered a fatal rupture of the abdominal membrane causing heart failure and death. He was being held in pre-trial detention in Moscow for almost a year, where he was subjected harsh conditions and refused proper medical treatment; allegedly pressured to give false testimony in exchange for improved conditions.
How the assassin's bullets which took Markelov's life are parallel to the denial of medical care to Magnitsky may be a topic for debate, but both cases have involved systematic processes common to a legal environment which lacks rule of law. The powerful flaunt the law, manufacture false verdicts against opponents and competitors, and embed the profits of their graft into the odious politics which make it possible. As a result, impunity rules the day. When state thefts as large as Yukos and Hermitage are possible, we have a situation in which there are so many officials in on the take that there are practically no incentives to reform, no matter how many well intentioned speeches President Dmitry Medvedev may give.
Magnitsky had committed no crime other than blowing the whistle on a massive tax fraud scheme perpetrated by parties related to the Russian government. As a lawyer at the law firm Firestone Duncan, Magnistky served as counsel to the American investor William Browder and the Hermitage Capital Management group -- formerly the largest foreign investor in the country.
Though once recognized as the success story of foreign investment in Russia, Hermitage has become another victim of the nightmare of corruption, state theft, and legal nihilism familiar to observers of the country. It all began when police and officials from the Interior Ministry raided their offices, forged documents to steal away the ownership of subsidiary companies, followed by a $232 million tax rebate -- stolen not from the foreigners but from the Russian taxpayers themselves.
Magnitsky was later arrested as part of a brutal campaign of retaliation after Hermitage went public, filing various complaints and suits. Unlike many, he showed tremendous courage in giving key witness testimony to the authorities identifying individuals within the police who had perpetrated the Hermitage theft. However instead of acting on all the evidence of real crimes, the prosecutors turned around and accused the accusers of the very corruption they seek to cover up.
The most heartbreaking document I have read since his death is the 40-page filing which Magnitsky had sent to Chief Prosecutor Yuri Chaika to denounce the abysmal conditions and specifically plead for medicine and treatment to save his life. Reading like a cry from the grave, the document includes the following:
"Since approximately June 2009, while I was staying in Matrosskayua Tishina, my health has deteriorated. Medical examination carried out at the end of June - beginning of July 2009 revealed gallbladder stones and pancreatitis and calculous cholecystitis were diagnosed. (...)

On August 24, 2009 the pain became so acute that I was not even able to lie down. Then my cellmate started to knock on the door demanding for me to be taken to a doctor. This was approximately at 16:00. The warder promised to ask a doctor to come but he didn't appear despite the recurrent demands of my cellmate. I was only taken to a doctor 5 hours later.

In informed the doctor about my illness and complained that during my confinement in BP I had never been examined by a doctor. The doctor was very displeased; while browsing through my medical record she kept saying: "What medical examination, what medical treatment are you talking about? It is written here that you have already been given medical care. Do you think we are going to treat you every month?"
Magnitsky's complaint goes on to detail a litany of other injustices and cruelties, including denial of the right, guaranteed under Russian law, to meet with his wife and his mother. It is apparent that he suffered cruel and unusual punishment under many standards by the Russian government, and that he was singled out for this abusive treatment above and beyond the rest of the pre-detention center's population for his involvement in the Hermitage affair.
It has become something of a journalistic cliché to take these shocking Kafkaesque legal sagas in Russia and call them "a litmus test" for the country to demonstrate its rule of law and potential for judicial independence. But we do ourselves a disservice if we continue to be surprised but a movie we have seen over and over again. The process of medical blackmail against Magnitsky is identical to what they did to Alexanyan. The ominous warning signal of what happens to whistleblowers serves the same purpose as what Anna Politkovskaya's murder did for freedom of press.
Let the tragic death of Magnitsky not stand as another litmus test for rule of law, but rather a reverse test which measures our commitment to human rights. How many more dead Russians will it take before the world stands up and takes notice? Given the fluid willingness of so many presidents (Obama included) to seek accommodation and compromise to extract any improvement in relations with Russia, it is unlikely that this death will impact anyone's deal. Next week if the media reports on the next business stolen by the government, the next activist shot, or the next journalist thrown in jail, will we pretend to be surprised again?
Russia long ago failed its litmus test for rule of law, but the international community must not fail its own.
Support HuffPost
The Stakes Have Never Been Higher
Related
Popular in the Community