Prior to July of this year no one had ever heard of a sleepy little conservative Republican town in Southern California called Murrieta, where at least some of its 70 percent white citizens are part of what Mayor Alan Long described as "a very compassionate and caring community" in an open letter to Barack Obama, though I haven't seen them on CNN.
Whatever Murrieta was before July 2014, it no longer is. It was tweeted out of obscurity when flag wielding, fear baiting, anti-immigration protestors spewing vitriolic hate speech, some brandishing firearms, blocked busloads of migrant children who had been rerouted from overcrowded Texas immigration detention centers. What City Manager Rick Dudley characterized as "a black eye" is actually an indelible stain.
Murrieta's distinction as the safest city in Riverside County was forever eclipsed when counter, pro-migrant demonstrators were arrested on July 4th, officially rebranding Murrieta as a flash point of white hate.
Seemingly intent on promoting the town's new bad reputation, Riverside County District Attorney Paul Zellerbach filed felony lynching charges against the five pro-migrant demonstrators two weeks ago.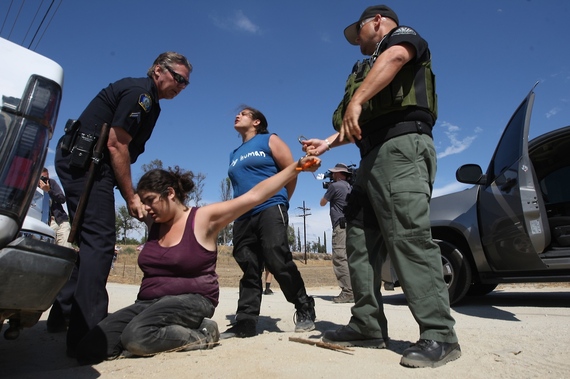 By Jessica Rey (Photo courtesy of peoplesdefense.tumblr.com)
Among the concerns surrounding the July 4th arrests is the demographic make up of those taken into custody by police. Arrestee Pouyan Bokaei noted that, "Three of the [pro-migrant] demonstrators arrested are people of color and one of them was visibly gender nonconforming."
Riverside County DA's Senior Public Information Specialist, John Hall says one additional case was filed separately related to the July 4th standoff; a man charged with one misdemeanor count of Penal Code section 148 (a) (1), resisting, delaying or obstructing a peace officer. It's not clear which side of the issue, if any, this person was on.
Beyond that, Zellerbach's office has not filed charges against any of the anti-immigration protestors resulting from the July 4th events including a woman who was politely escorted away by police after assaulting live streamer PM Beers, who released a video of the altercation.
Gerald Singleton is one of four attorneys representing the five pro-migrant demonstrators arrested on July 4th: "One of the things we're going to do when we file our motion to dismiss based selective prosecution is to say that they are singling out these demonstrators based on their political views and not going after any of the people who are anti-immigration, even though their much more vocal and have engaged a much wider campaign of breaking the laws," says Singleton, "The video very clearly shows that these charges have no merit." Singleton says he's hoping that once the DA's office takes a look at the video they'll realize that they made a mistake and drop the charges.
Like any felony charge, lynching carries serious consequences. LA attorney John Raphling weighs in on the evolution of lynching: "Misusing a term to market and sell legislation that greatly expands police power is a typical strategy. It is another tool that police use to break up protests and stifle people's movements," says Raphling.
Lynching traditionally means a group of people usurping government powers to take custody of a prisoner. "The term dates back to the Revolutionary War," Raphling says, "but became more prominent in the Jim Crow south as a means by which whites in power enforced racial hierarchies by terror and denial of legal rights."
The California legislature passed anti-Lynching laws, Penal Code sections 405a and 405b, in 1933, at a time of rising dissatisfaction with the government and rising vigilantism. "The legislature used the term 'lynching' to describe the crime," Raphling says.
A departure from the terms traditional use, the statutory definition was made extremely broad: The taking by means of a riot of any person from the lawful custody of any peace officer [PC section 405a.] "It is a felony. "[The term] Riot is also defined extremely broadly, "Any use of force or violence, disturbing the public peace, or any threat to use force or violence... by two or more persons acting together, and without authority of law, is a riot [PC section 404]," says Raphling.
Lynching is among the standing charges filed against each of the five pro-migrant demonstrators arrested on July 4th. The problem is the video Singleton referenced shows the arrestees walking away from the scene prior to their arrest. There's no riot and no arrest in progress so it doesn't meet the criteria for the charge, begging the question; why is the DA pressing felony charges on five pro-immigration demonstrators while none of the anti-immigration protesters were arrested, detained or otherwise dissuaded?
One possibility is that this reflects business as usual in the Riverside DA's office, but in a post-Occupy world where live streamers and other citizen journalists capture and broadcast an unedited record of events, and networked organizers influence the narrative on social media, business is anything but usual.
The Murrieta Five are striking back with a vengeance; an online petition has hundreds of signers and phone-in campaign demanding that the DA drop the charges was launched two weeks ago.
Calling all HuffPost superfans!
Sign up for membership to become a founding member and help shape HuffPost's next chapter