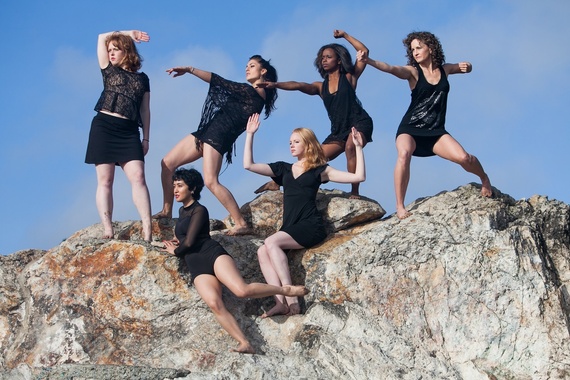 It's been a great season for music in dance on the Left Coast, from Zoë Keating's haunting cello in ODC Dance's boulders and bones, to Ratmansky's Shostakovich Trilogy at San Francisco Ballet, Mark Morris' Handel extravaganza, Liam Scarlett's meditation on Philip Glass, Samuel Carl Adams' ghostly soundscape for Robert Dekkers' cares you know not, Amy Seiwert's tribute to Cesaria Evora, and Emil de Cou's bracing delivery of Stravinsky's Rite of Spring for Molissa Fenley at Pacific Northwest Ballet. Nothing, however, rivals the towering score designed by Julie Wolf for the Sarah Bush Dance Project's Rocked by Women, which exploded this past weekend at Dance Mission Theater in San Francisco.
An artfully curated compilation of some of the most powerful songs by female singer-songwriters, rockers and rappers, galvanizes this 70-minute work that spins the personal into the political with a (mostly) deft touch. Spliced into the score is poetry by Judy Grahn and commentary by Judy Dlugacz, founder of the iconic Olivia Records, on creating a women's movement through the culture of music. In lieu of a backdrop, some of the dance sequences take place in front of, or behind, a screen onto which is projected intriguing film footage from the Michigan Womyn's Music Festival, including a terrific Taiko drumming sequence, and from Club Q, the legendary lesbian dance party that rocked San Francisco in the late 80's and early 90's. Weaving it all together are fragments of sound brilliantly engineered by Wolf.

Against this blazing soundscape, choreographer and artistic director Sarah Bush chronicles the milestones in her life in an effervescent movement argot that borrows freely from various contemporary schools of dance including contact improv, Graham and Horton techniques, jazz and hip hop. She and her company of five powerful women take on the roles of young children, teenagers, mothers, lovers, dancers at a club, and Greek chorus. You don't have to be a child of the 70's, or a lesbian, or a feminist, or female, to share the moments of puzzlement, frustration, and joy, the heady rush of the adolescent crush, the pangs of passion, jealousy, and outrage. The genius of this piece lies in its depiction of a journey that will be familiar to some, foreign to others, but that draws us all in with the seductiveness of the music, the vivacity of the dancers, and the austere and nimble staging, which bears the imprint of collaborator and theatre director Becca Wolff.
While the choreography does not always soar as high as the score, there are many touching and thrilling moments. "Hearing the Gossip," to a buzzing, machine-gun-like score, takes us back to the time of telephone handsets with coiled cords. A brilliant parody of "The Telephone Hour" in Bye Bye Birdie -- the musical satire on American society's obsession with Elvis Presley, set in 1958 -- "Gossip" has the ensemble all tangled up in phone cords, spinning gossip like a spider's web. When Bianca Mendoza drops her handset, the teenage mob turns their collective back on her -- unfriends her, in today's parlance.
Two innocent young girls armed with a boombox, on a mission to make a mixtape, get a glimpse of the wild side as Melissa Etheridge bares her fiercely Chrome-Plated Heart ("And the only way I know where the train will go/ Is when I'm sleeping on the tracks.") With the simplest yet most evocative of movements, Bush conveys a swirl of tender emotions.
Ann Wilson of Heart wails "What about love?" as we witness a grotesquerie of the dating ritual at a disco club. Dancers hilariously disguised as teenage boys -- their backs costumed in jackets and ties, baseball caps and dark glasses -- grope their unfortunate female dates.
Mesmerized by Tracy Chapman's "Fast Car" ("You got a fast car/ I want a ticket to anywhere/ Maybe we make a deal/ Maybe together we can get somewhere") the adolescent Mendoza tentatively explores her romantic feelings for a pal, Natalie Aceves, who reciprocates, then backs off under peer pressure. In despair, Mendoza gets behind the wheel and wrecks an imaginary car.
The very funny "Record store" transports us to a pick-up joint, in which Sarah Bush browses the LP's and evaluates potential romantic liaisons with women who each embody a different song. She steers clear of Natalie Aceves' aggressive rocker chick (Joan Jett in "Cherry Bomb"), Krystal Bates' hip hop dynamo (Queen Latifah in "Evil that men do"), Bianca Mendoza's punk "Rebel Girl" (Bikini Kill) and Joanna Gartner's cynic who claims to "want somebody who has a tortured soul/ some of the time/... who will either put out for me/ or put me out of misery" (Ani DiFranco in "Asking too much").
But she falls hard for Juliann Witt's reefer-smoking house dancer (Missy Elliott in "4 My People"). It seems inevitable that their love-making would be fueled by Melissa Ferrick's steamy "Drive": "I'll give it to you slowly/ ...Whatever you want/ But you're going to have to ask me" -- and that's just the beginning.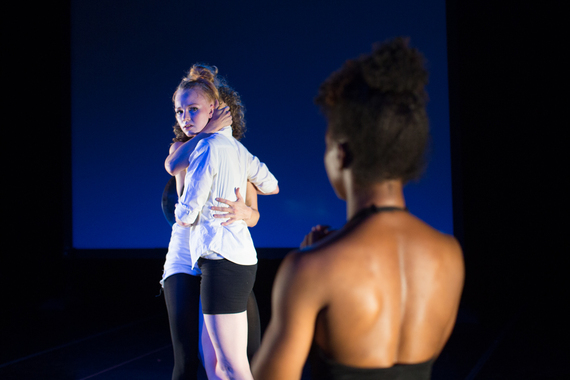 But the course of true love never did run smooth, and Bush is as adept at choreographing heartbreak as she is at erotic communion. At Club Q, to the strains of Missy Elliott ("The Rain": "beep beep/ who's got the keys to the jeep"), Juliann Witt has a fling with Krystal Bates. Bush catches her in the act of betrayal, and is stricken, to the accompaniment of Meshell Ndegeocello's "Fool of me." The ensemble form a Greek chorus, amplifying her pain and humiliation, and, instead of throwing furniture or china, Bush slams LP's to the ground -- smashing the music that framed an intimate relationship. Repeated over and over again with a stirring martial arts flair, the record-smashing turns into ritual, culminating in a magnificent encounter between Bush and Natalie Aceves, who shove and grapple and slam their bodies against each other with a ferocity unmatched in dance, except perhaps in Spartacus, that old Soviet warhorse about a reckless, tormented gladiator.
Bush steers clear of cliché when choreographing desire and pain, but hits a few potholes on the road to liberation. A segment on the bullshit that cosmetics companies feed us, and the masks we wear to paper over our insecurities, lacks bite. Bush also takes a hackneyed shot at ballet as a symbol of the oppression of the female spirit. Once freed from their confining ballet poses, her dancers ecstatically embrace twisty, weighted movements and flex their feet when they jump -- this felt very Judson-era, been-there-done-that. Bush might want to pick up a recent sociological treatise on ballet, like Jennifer Fisher's illuminating Nutcracker Nation for a 21st century feminist perspective on the art form.
Least effective of all was the final pensive incantation of the names of female recording artists by the dancers as they walked slowly in circles around the stage, carrying white LP's in their hands. It felt like a rather promiscuous list -- in contrast to the supremacy of the handful of artists represented in the score. Included in the shout-out were some performers who have probably set the women's movement back a few decades with their lyrics and their escapades on and off stage. (Interestingly, one name that I didn't hear was Yoko Ono. Is it possible that Bush has not yet forgiven her for breaking up the Beatles?)
These are small flaws in the fabric of this monumental work, which would reverberate just as powerfully in an opera house as it did in the intimate Dance Mission Theater.
The feel-good closing a cappella reprise of "Mountain Song," with the dancers in fine voice, stamping and clapping and egging the audience on, reflects the generosity of spirit that pervades the entire piece. Club Q may be no more, but Sarah Bush knows how to throw a good party and create a space where everyone feels like they belong, if only for one night, and where the music tells the story of our lives, not just hers.
Photos courtesy Sarah Bush Dance Project:
1. Photo by Desdemona Burgin
2. Photo by Molly DeCoudreaux
REAL LIFE. REAL NEWS. REAL VOICES.
Help us tell more of the stories that matter from voices that too often remain unheard.