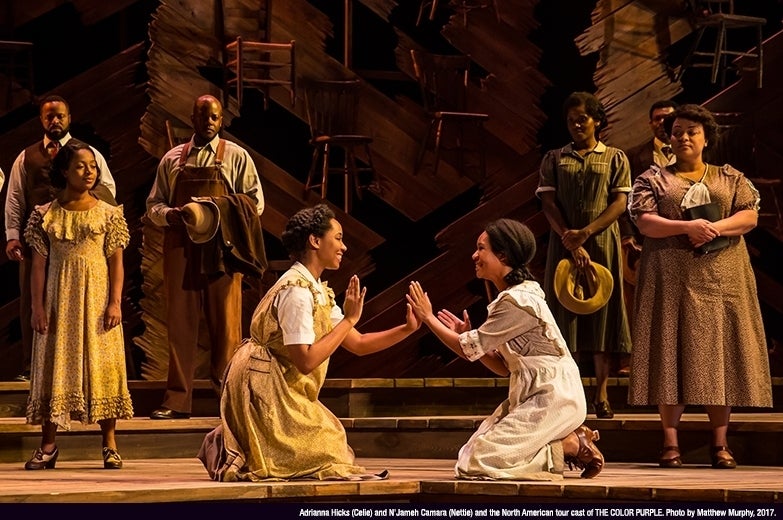 The Alice Walker novel The Color Purple was published in 1982 and would soon garner the author a Pulitzer Prize for Fiction and the National Book Award for Fiction in 1983 for this incredible work. In 1985, a film adaption of the same name directed by Steven Spielberg and starring Whoopi Goldberg, Danny Glover, and Oprah Winfrey would hit theaters to rave reviews. Since then, The Color Purple has been an iconic tale of African-American women living in the south in 1930s amidst of class and racial tensions.
The original Broadway musical adaption started in 2005 and would continue over the years with various U.S. tours and productions across the globe. The Color Purple is on a current U.S. national tour with this production directed by Tony Award winner John Doyle along with composer/lyricist Allee Willis. This production of The Color Purple won the 2017 Grammy Award for Best Musical Theatre Album.
Recently, I was able to chat with cast member Adrianna Hicks, who plays Celie in the touring production, about how she landed the role and how this story still connects with this current generation.
How did the opportunity come up to be a part of The Color Purple?
It started all the way back when I auditioned for it on Broadway. I had one week of auditions. It was actually two days and an initial callback and I ended up getting in the Broadway production as a swing covering seven of the nine girls in the show. One of those roles was Celie. For the tour, they just offered me the role for the actual national tour.
Being on Broadway as a swing, what did you learn at that time that would prepare you for going on the touring company?
So many things, to just breathe (laughs). That was probably the main thing that I learned was to just to take my time and enjoy the process because it is hard work what we do in musical theater on stage everyday. I just learned to take my time and enjoy the process, honor the process, and really be true to the honesty of the piece in whatever role or position that I was playing. That's definitely helped me to prepare for Celie now as I fully step into her shoes.
You play Celie. What did you do to prepare for this role?
I amped up my training. Just all the common things that any performer does. It's very much like an athlete. Making sure I sleep well. Eating right. Warming up my voice all the time. Preparing for this role, initially I just approached it as every day comes and allow myself to go through the rollercoaster so I can present an authentic performance every single time. Not trying to put on anything but just to really be truthful and genuine to what is presented to me. Throughout the process, I've been learning every single day there and there's been failures, but there's also been great successes. That's my journey.
Is there anything about this role as Celie that resembles your own self?
Absolutely. With anyone, that's the thing about this show, it's awesome because it can relate to so many people whether you're male or female, doesn't matter black or white, because Celie goes through the common insecurities of what people goes through as they are growing up in life and finding themselves, and they are learning they are enough. I definitely relate to her in that way of just knowing that I am beautiful blossoming into this wonderful woman and learning that I'm okay. Everything is okay. I've taken a lot from her.
How does the musical translate from the book or film?
Its really great actually. Our director, John Doyle, did a marvelous job of stripping down the show from its previous production, which was absolutely amazing. With the revival, we literally have one set and maybe two costumes, and nothing but chairs, barely any props. I think with this new approach to this show, it's definitely gone to the core and the essence of what Alice Walker's novel The Color Purple initially wanted to create. It really just gets to the core of the story and is able to present the actual essence of the show, the essence of what her novel was trying to present.
What is it about The Color Purple and specifically this adaptation of the musical that taps into the society of today?
It touches on so many tender topics as well because Celie is not given the best cards at the beginning of her life with going through so many different forms of abuse. It definitely touches on today as far as women's rights, racial tensions. Even with the political systems, it's great because it's a show that is so timeless, it's able to relay a message to all these different arenas and all these different systems, and to relate a clear clean message that everyone can take from it. I definitely feel it's relevant for today as much as it was back then when even though we are telling a story from the past, but it's so timeless for right now.
Why do you think The Color Purple is so timeless?
It deals with every single thing that each and every individual goes through. Every time I've seen the show whenever I was on Broadway, watching the audience's responses and it's also a spiritual journey as well that so many people go through. It doesn't matter what creed, what religion, what race you are, what sex you are, it doesn't matter because it touches on every single thing that the human race goes through, whether it's insecurities, or not feeling that you're good enough, or trying to feel power in the sense of yourself and knowing that God is inside of you and He's all around. It has a spiritual connection as well as a mental one. We are able to relate to it in that way.
The Color Purple is currently on its U.S. national tour and will hit The Fisher Theatre in Detroit for a limited run from November 7th through November 12th. For more information and to purchase tickets, visit broadwayindetroit.com or colorpurple.com.
Calling all HuffPost superfans!
Sign up for membership to become a founding member and help shape HuffPost's next chapter
This post was published on the now-closed HuffPost Contributor platform. Contributors control their own work and posted freely to our site. If you need to flag this entry as abusive,
send us an email
.