"Our kids' lives are transformed," said Roy Niederhoffer, Chairman of the Harmony Program's Board. "They not only learn an incredible skill which enriches their lives, they also learn the value of hard work and persistence. Music education seems to improve young minds as well -- research shows that kids who receive intensive music lessons do better on cognitive tasks like spatial reasoning, math and reading."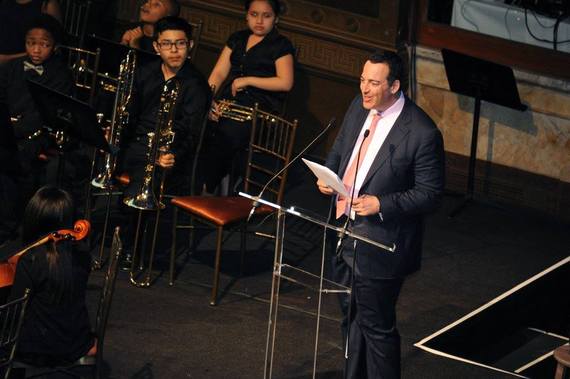 Roy Niederhoffer, Chairman of the Harmony Program's Board
The Harmony Program started as a pilot program in the New York City Mayor's Office in 2003. It incorporated the following year as a non-profit organization. By 2008, it was re-launched with the present model, highlighting intensive instruction, ensemble performance and teacher training.
The program provides free musical instruments and daily music lessons to its 200-plus students in New York City and Long Island. Equivalent private instruction would probably cost more than $10,000 per student per year.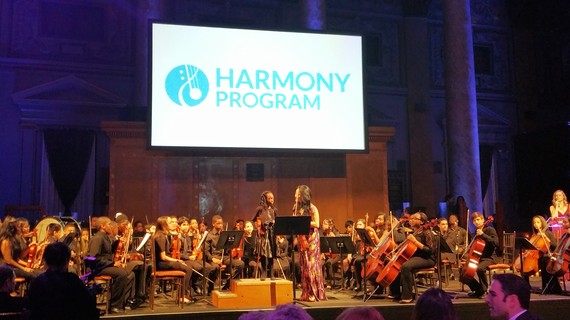 The Harmony Program students with founder Anne Fitzgibbon
On April 2, 2015, during the Harmony Program's annual gala, the organization raised over $325,000, including more than $100,000 raised at the live auction by the Heritage Auction House's Kathleen Guzman. It was a beautiful evening, with a packed house at Capitale in lower Manhattan. Hosted by John Merrow of the PBS NewsHour, the gala featured performances by musicians of the New York Philharmonic including Haeyoung Ham, violinist, and Anthony McGill, principal clarinet. Together with musicians of the New York Philharmonic, 50 Harmony Program students made music and entertained the guests to their delight.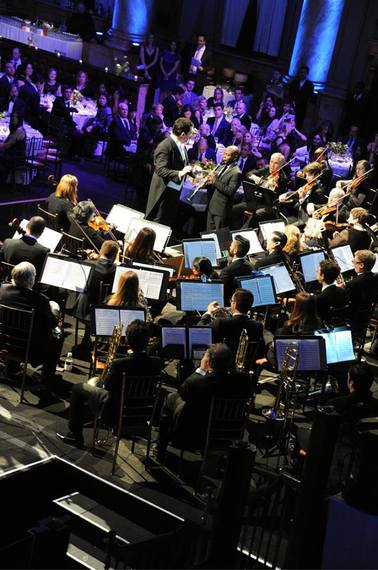 Solo clarinet performance with the New York Philharmonic

The Harmony Program 2015 Spring Gala honored the New York Philharmonic for its partnership. Through the Philharmonic Academy, Jr., Philharmonic musicians help train Harmony's students as well as coach an "All Star" ensemble of their most promising young musicians. Just this past January 31st, more than 100 students in the program from Brooklyn, Harlem, Washington Heights, and Long Island gathered at the United Palace Theater to receive instruction from these world-class musicians as part of the annual Harmony Program and New York Philharmonic Master Class.
Students in the Harmony Program hail from 36 different public schools, 5 charter schools, and 2 parochial schools, and are chosen based on their level of interest and commitment to practice, and not on talent. Children in the third to fifth grade, between the ages of 8 and 11, are targeted in the recruitment process.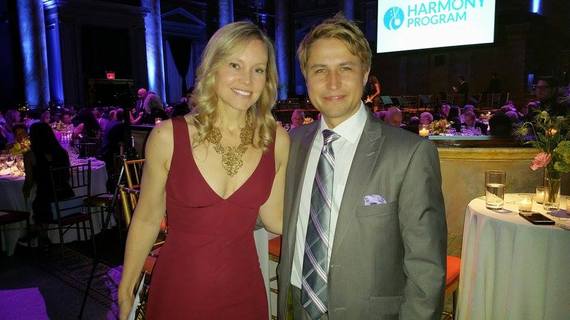 Founder of Harmony Program Anne Fitzgibbon and me

Anne Fitzgibbon, Harmony Program Founder and Executive Director, studied Venezuela's national youth orchestra system called "El Sistema" on a year-long Fulbright Fellowship and adapted tenets of the model to the unique needs of New York communities. The Harmony Program's approach can be plugged into any school and change the lives of the students it serves. By training talented local musicians as its teachers, the Harmony Program also helps prepare a new generation of music teachers.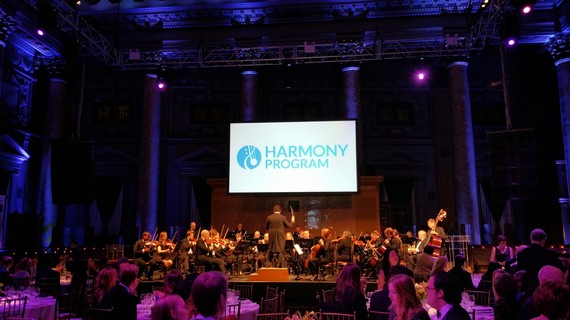 Park Avenue Chamber Symphony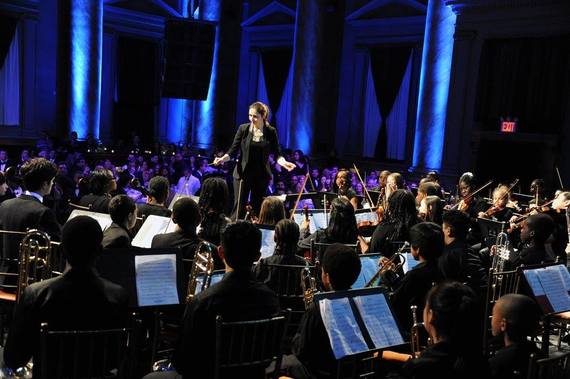 Solo clarinet performance with the Park Avenue Chamber Symphony
The intensive, high quality, daily instrumental music lessons and ensemble practice that the children in the Harmony Program receive is far more effective than, say, a cursory exposure to the arts. Each child enrolled in the program receives up to 400 hours of music instruction each year. Daily attendance rates at student lessons after school averages 85 percent. Ninety five (95) percent of participating parents surveyed last year rated the program as 'very good' or 'excellent.' Among the teachers trained to guide Harmony students from beginner to orchestra member, 98 percent rated their experience as 'very good' or 'excellent.'
The Harmony Program gala was a beautiful, well-attended evening that showcased the students' achievements and the passion for music among the parents, children and patrons of the arts in attendance was unmistakable.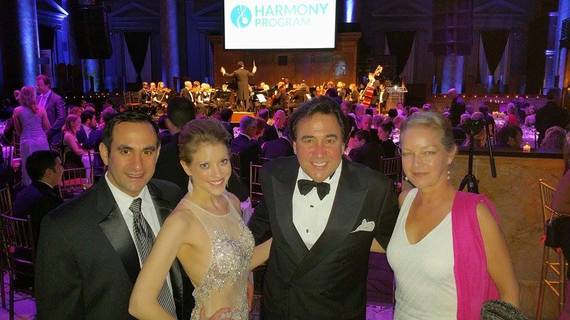 Michael Lynde, Pamela Stein, Michael Capasso and Dietlinde Turban Maazel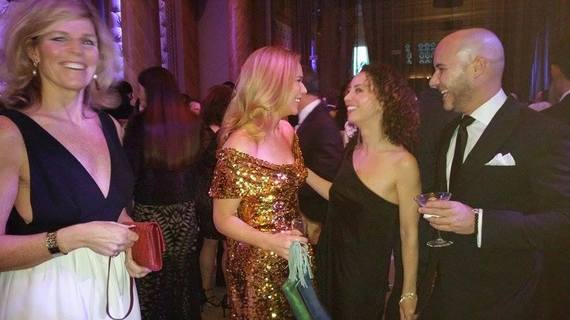 Alexandra Von Winterfeldt, Erin Gibbs, Allegra Cohen and David Monk
Aside from Roy, I saw Erin Gibbs, Chief Equity Chief Investment Officer of Standard and Poor's Investment Advisory Services; Michael Capasso, NYCO Renaissance General Director; David Monk, Vice President of Goldman, Sachs & Co.; Alexandra Von Winterfeldt, Director of Digital Music, Sony Music; Times Impact Publications Group Publisher Ian Shapolsky; Dietlinde Turban Maazel, Executive & Artistic Director of Castleton Festival; Molly Hammerberg, attorney; Pamela Stein, Michael Lynde, Allegra Cohen and Jack Weiner.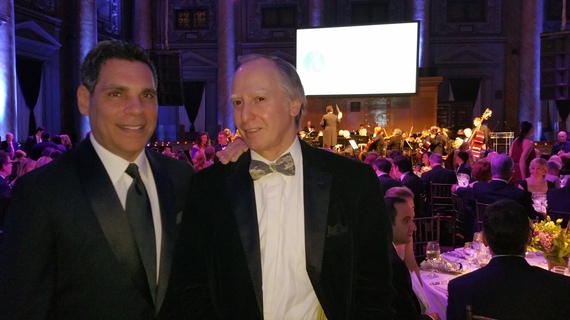 Jack Weiner and Times Impact Publications Group Publisher Ian Shapolsky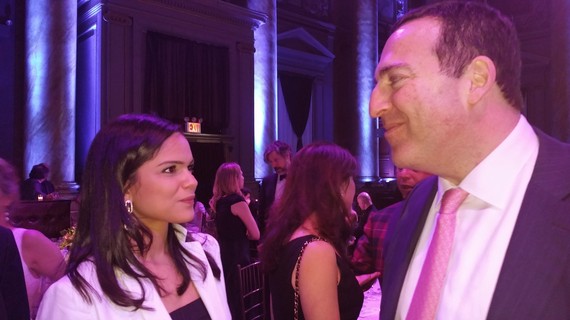 Roy Niederhoffer and soprano Larisa Martinez
Many students of the Harmony Program have joined competitive orchestras and attend public schools for the performing arts, including the InterSchool Orchestras of New York and the LaGuardia High School of Music & Art and Performing Arts. The late Maestro Placido Domingo conducted an orchestra of Harmony Program students in 2012. Joshua Bell, the Grammy-winning violinist, performed together with Harmony Program students in 2014, and on the gala night, they took their seats side-by-side with their fellow musicians of the Philharmonic.
Music soothes, calms, and brings joy to life. As a child, I enjoyed my studies in music in Sweden. As a teen, I learned to dance salsa and tango and appreciated the accompanying music. I listen to music every day, for it removes the noise and bustle of city life that continually bombards our senses.
I don't know what I would do without my daily dose of music. I can understand a child's passion to master a musical instrument and, once introduced to it, to create music. The Harmony Program does not only train new artists, but molds the character of our children.
Photos courtesy of Yuan Kong, CUNY
Calling all HuffPost superfans!
Sign up for membership to become a founding member and help shape HuffPost's next chapter