Is the first immigrant FLOTUS in 200 years a Roman Catholic? We'll know more when she lands in Vatican City.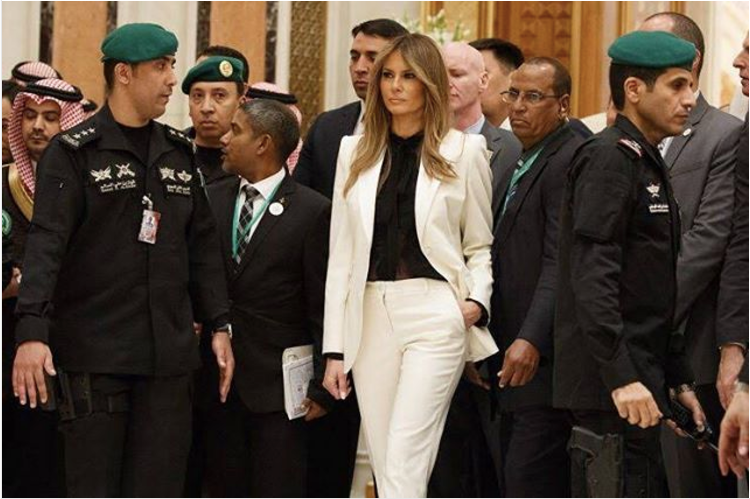 Washington, D.C. — There was a buzz at Mass last Sunday afternoon at Holy Trinity Church in Georgetown, DC. Only a day had gone by since Air Force One landed in Riyadh, Saudi Arabia. On board were Melania Trump and several other people including her husband, the embattled President of the United States. They attended a summit about killing ISIS and POTUS gave a speech I didn't hate, I guess.
But Melania … is she Catholic?
At church last Sunday, we knew Mike Pence is Catholic. Several people who claimed to know the Vice President for years could vouch for that much.
Plus he'd just given the commencement address at the University of Notre Dame, my alma mater. Many students walked out in orderly protest because Mike Pence lacks Pope Francis's compassion for immigrants and gays, according to many Catholics.
Notre Dame is in northwest Indiana, the state where Pence served as Governor and Senator before joining the Make America Great Again ticket with Melania's husband, who is definitely not Catholic.
As gossiping Catholics at church last Sunday afternoon, we were all happy to claim Melania as Roman Catholic … but no one could confirm if she was indeed one of us. As Americans, we know she's an immigrant ... and we all agreed that makes her more worldly than her husband, for the most part, who looks older after every day in the Oval Office.
Melania, on the other hand, looked timeless and modern in Saudi Arabia.
Arriving on the tarmac in Jerusalem yesterday, FLOTUS was timeless, modern, and fierce...and everyone loved it.
Today is the final stop on Air Force One's trip to the religious capitols of the Mediterranean. Melania and her husband will visit Vatican City -- home of the Pope in Rome, Heavenly Father to the Catholic faith of 1.2 billion worshipers around the world.
While many are asking whether Melania will wear a mantilla, my questions have less to do with fashion and more to do with the mysterious Catholicism of Melania Trump.
The Internet seems to agree that she was raised Catholic by a Communist father in a bad situation in the USSR — specifically Slovenia, a Catholic-majority country where the faith has been plummeting in recent years. Beyond that we don't know much beyond Beltway whispers and tabloid rumors.
We'll know more today in Vatican City. Will Melania go to Mass? If she does, will she know the Mass? And yes, will she wear a mantilla?
Will she take the eucharist? Technically since she was not married in the Catholic Church, she should forgo the bread Catholics believe is the body of Jesus Christ. She can get a blessing and this Catholic would be fine with her receiving the Eucharist.
What will Melania and Pope Francis discuss if they meet behind closed doors? Francis has said he seeks an open-discussion to find common ground with Melania's husband. Perhaps the key to the visit — or even the whole trip to the three major Abrahamic capitols to make "the ultimate deal — hinges not on The Donald's time with The Pope, but with what Melania and Francis can work out.
We'll know more by this Sunday's Mass.
CORRECTION: Turns out Mike Pence is evangelical, not Catholic. My bad.
Calling all HuffPost superfans!
Sign up for membership to become a founding member and help shape HuffPost's next chapter
This post was published on the now-closed HuffPost Contributor platform. Contributors control their own work and posted freely to our site. If you need to flag this entry as abusive,
send us an email
.