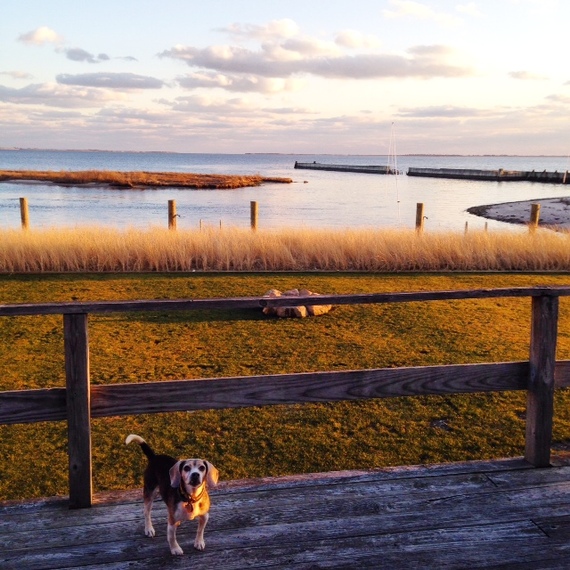 "Pets are the unrivaled masters of giving back. The pleasure they take in giving themselves to us is perhaps their greatest lesson. Like our animals, we are wired to connect, to reach out, to love. But unlike them, with us other things get in the way - jealousy, insecurity, irritation, anger. Pets help us constantly come back to what makes us human. They're a furry version of our best selves." - Arianna Huffington, THRIVE
As I sit here with four dogs and a fire, I ponder the last year's events and find it hard to fathom how much in my life has changed in a year. As a certified (and proud) crazy dog lady, I couldn't be happier to have completed the journey towards publishing Mrs. Sizzle.
Looking back on it, all seems to have started the day I marched into a puppy store and left with two of the warmest dogs I have ever known - which all my followers know as Edie and Clair. Fast forward, and Richard Phibbs, renowned photographer, came to visit me at Glamour magazine to discuss all things fashion, of course, and I couldn't help but fall head over heels with his dog photos.
Mrs. Sizzle was born out of my burning desire to raise awareness for adoption, rather than purchasing a dog at a puppy store. This mission is a need to help out as many dogs as possible who find themselves in a shelter each year. It's been a fun, challenging, at times heartbreaking but, most of all, rewarding experience for me. However, nothing prepared me for the mysterious houseguest that has come to visit my three other dogs and I this Christmas.
Hudson, an 8 year old mini Beagle, belongs to my incredible neighbors downstairs who brought him home from North Shore Animal League last summer, after being rescued from a puppy mill in Oklahoma. In all honesty, it was with both open arms and trepidation, that I brought Hudson along with us to our house in Long Island for the holiday break.
From what I'd previously seen of Hudson, I knew that he was a scared dog, refusing to trust anyone or anything. As his parents describe him, "There are behaviors reminding us of his caged past. He can escape from any sort of enclosure; we began with a three foot pen and watched on video as Hudson climbed it. The people at North Shore remember him as an escape artist. At first, walking in the park, he hugged the fence.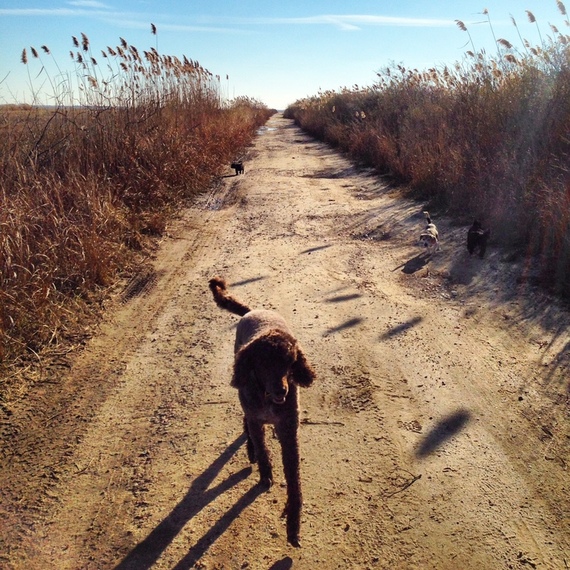 It took about two months before Hudson made a sound; now he howls with excitement when we come home. He loves the smells of New York City and all the food dropped on the street. In addition to a really articulate sense of smell, he will recall for hours where a piece of food has been dropped. As you know he has the most enthusiastic tail."
Plopped in my truck for the journey out east, Hudson was panting louder than a Great Dane and shivering more than a straggler caught in a blizzard. However, it wasn't until we arrived that the true journey began. All of my dogs are leash-less when wandering around the little hood of Brookhaven that we live in, but Hudson's parents had scared me sufficiently into keeping the leash on him. "You know he is a Beagle, and he will hunt a scent to his detriment," they warned.
We arrived at the house, aka safe zone because of the fenced-in yard, and the reward was immediate: tail wagging, and part of a pack, Hudson was integrating! I truly believe that this beach trip has changed him forever. Watching this little guy run free on a beach has been my greatest pleasure and has made me realize that all of my hard work is paying off, even in the smallest of ways.
Hudson still cowers a bit, but each day something new and fun happens: he has gotten his beagle bark, he jumps up on the bed, he barks if ever left behind, and he snuggles and plays with Edie. It's been my favorite Christmas present to have this little guy along with us on this vacation. This is what I love: their indomitable spirits to soar and, of course, their warm furs snuggled up close.
REAL LIFE. REAL NEWS. REAL VOICES.
Help us tell more of the stories that matter from voices that too often remain unheard.