Dear Section 113, Row 17, Seat 22:
Forgive me for not getting your name yesterday. I really should have because I wanted to pray for you by name. My husband's company gets several sets of tickets to Milwaukee Brewers games every year that come available for the employee's use via a lottery system and we just happen to get four free tickets to see the Brew Crew play the Washington Nationals on Sunday, August 4th.
The weather was absolutely perfect for a day at Miller Park, but my anxiety level was still high because -- let's face it -- I was bringing THE CHILDREN. Not just the big kids, not just one of them, but all three boys. Together. At the same time.
Isaiah was jacked up for his trip to the ballpark and his behavior reflected that. Every 30 seconds came pleas for cotton candy, sunflower seeds, popcorn, ice cream, balloon animals, face paint, and other such nonsense. Micah behaved like, well... Micah and Thomas didn't have a seat so he was basically crawling all over the place for the entirety of the game.
To put it bluntly, I was grateful for my cold beer. All three of them.
But you were not annoyed by the number of times you were jabbed in the back as Thomas crawled like a monkey from seat to seat. Instead, you turned around and frequently engaged in conversation with my children, proclaiming that Thomas would be stealing his big brothers' girlfriends in about 15 years so I had better be ready.
You couldn't have been older than 24 or 25 and you were clearly at the ballpark yesterday to spend some time with the lovely young woman you had your arm around. Still, you made it a point to chat with Isaiah and encourage him to try to catch a foul ball and even took it upon yourself to race him down to the Brewers dugout three times in the middle of innings in the hope of getting a game ball tossed his way. You promised my son, "We will get you a ball, kiddo." (For the record, Daddy also brought Isaiah down there and struck out as well.)
In the ninth inning, the Brewers were actually up by a couple runs (miracle of miracles!) and were three outs away from a victory. You told Isaiah to be ready, that as soon as that third out was achieved, you would bring him down to that dugout and wait for a ball. This was the time. This time, for sure, a game ball would be his.
But luck was not on his side, it would seem. In the crowd of fans all competing for attention, you two came up short. You walked Isaiah back up to our seats, giving him a reassuring pat on the back, but the disappointment on his face was evident.
That's when you knelt down and gave him a Milwaukee Brewers baseball. His eyes lit up, he took it from you slowly and you told him, "Hey, I promised you a ball."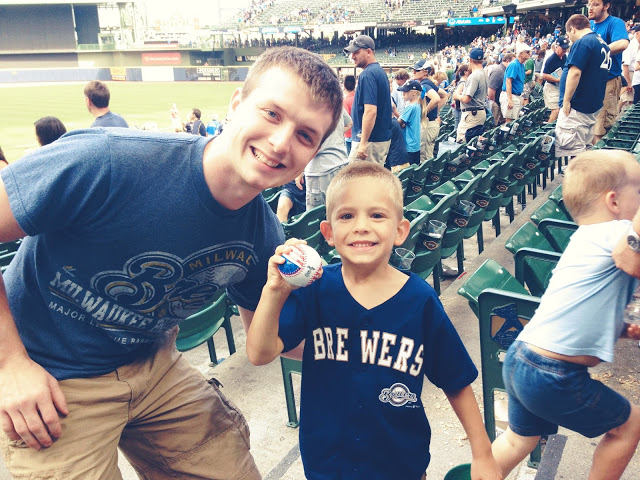 I'm not sure when you got that ball. Maybe it was a side thought on a run up to the concession stands for a beer or soft pretzel. Perhaps you left your seat and went to the stores specifically to get Isaiah a ball. All I know is that you still tried like crazy to get him a game ball, knowing that you had a secret backup plan in place to make my son, a complete stranger to you, feel like a million bucks.
Thank you for what you did for my son at Miller Park on a beautiful Sunday afternoon. As we were preparing to leave the stadium, I reached out my hand to offer my sincere thanks for your act of kindness. To my surprise, you pulled me in for a hug.
As we shuffled out of the stadium, Isaiah wouldn't stop talking about his very own Brewers baseball and how it was one of his "special treasures." It can be so easy to forget sometimes how small acts of kindness can have such a huge impact on our fellow humans. Holding open a door, offering a seat on a bus or subway, paying for a stranger's coffee. All teeny little choices that can become a bright spot in an otherwise difficult day.
But you did more than that, sir. You made my boy feel like a rockstar. You didn't have to. You chose to. And I am sincerely grateful to you for it. When my wiped-out children were tucked into bed last night, I took a few minutes to thank God for you. I asked that He bless you and draw near to you wherever you were. I prayed that the Lord would encourage you and honor your kindness by bringing joy to your heart.
But I would still love to find out your name so I can send you a proper thank you note. :)
Sincerely,
The Grateful Mother in Row 18
UPDATE: Due to the power of social media, it took a matter of hours before I was told the name of the kind stranger who gave my son the souvenir baseball at Miller Park. As soon as I could, I sent him a message on Facebook to properly thank him for his act of kindness and also to apologize for the sudden overwhelming and unexpected media frenzy over the story! He was extremely gracious and said that my post was very touching. I offered to treat him to lunch or a gift card somewhere, but he declined and told me I could give it to someone who needs it more than he does. We now know our Mystery Man is a 22-year-old college student named Chad who is studying to become a teacher. Both he and my family have been invited by the Brewers back to Miller Park to take in another baseball game and we hope we can find a common day when we all can return.
Here are a few more photos from our day out at Miller Park. It was technically Isaiah's second Brewers game, but he was only 9 months old the last time we took him. It was the first time being there for Micah and Thomas.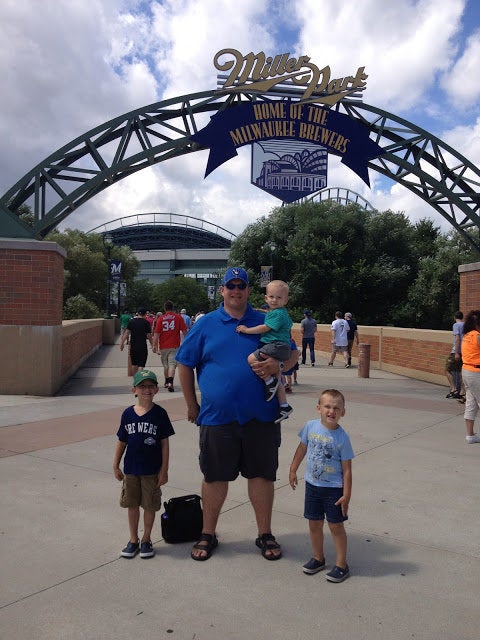 Our Day at Miller Park
Related