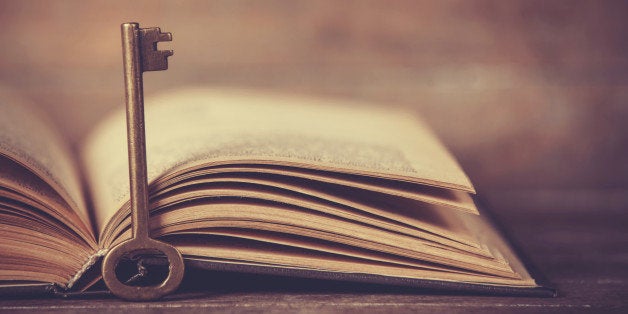 Like most twelve-year-old kids, the name of my junior high school was nothing more than a bunch of letters cemented to the red brick façade at the front entrance. Only once during my three years in junior high school years did anyone ever question the name Rosenwald. A parent decided to petition the school board to change the name to some famous person I've long since forgotten. That idea was quickly rejected.
I entered the halls of Rosenwald Junior High School in Panama City, Florida, for the first time as a 7th grader, late summer 1970. Our family was new to the area, and the South, having just arrived three weeks prior. My dad was assigned to nearby Tyndall Air Force Base.
The years prior to our arrival, my new school had actually been an all black high school of the segregated South. The year 1970 would mark the beginning of a new chapter in the life of Rosenwald. My classmates and me participated in one of the greatest social experiments in American history, "forced busing" in the name of school desegregation.
Court mandated school desegregation had been a long time coming following the 1954 Brown vs. Board of education decision that struck down all that separate but equal nonsense. Now we were the guinea pigs in what was supposed to be the final push to eradicate segregated schools all around the country, especially in Dixie.
Fast forward thirty-one years after I left junior high school, I decided to write a memoir of my childhood entitled 7-10 Split: My Journey As America's Whitest Black. As part of the research, I decided to investigate the name Rosenwald, it sounded so regal.
I Googled Rosenwald and hit pay dirt immediately. Julius Rosenwald was born in 1862 and raised in Springfield, Illinois, just a few blocks from President Abraham Lincoln's home, while Lincoln served as president.
Rosenwald would go on to become part-owner, president and eventually Chairman of the Board for Sears, Roebuck & Company. But that still didn't explain how Rosenwald's name found itself on the front of my junior high school, so I read further.
Rosenwald was a Jewish American, who believed in philanthropy in keeping with his faith. After befriending Booker T. Washington, Rosenwald endowed Tuskegee Institute in 1912, so that Washington could focus on running the university. But this still didn't explain how the Rosenwald name found itself attached to my school. I read on.
In 1917, Rosenwald established the Rosenwald Fund. One of the fund's primary missions was to build black schools in the South. Those schools became known collectively as Rosenwald Schools. In total, the Rosenwald Fund provided financing for over 5,000 schools, shops and teacher's homes. My particular school opened its doors in 1937, five years after Rosenwald's death.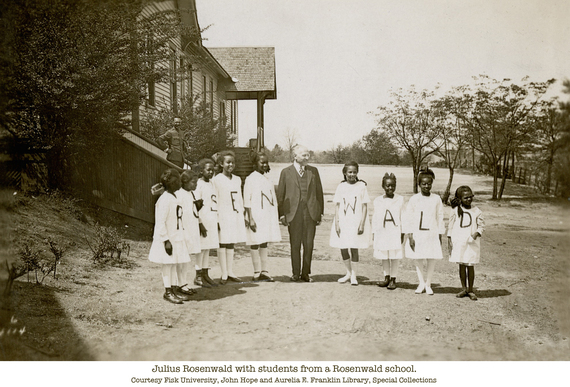 The Rosenwald Fund donated over $70 million to public schools, colleges and universities, museums, Jewish charities and black institutions. That was a hefty sum in the early part of the 20th Century.
Among the more famous Rosenwald alum are; poet-author Maya Angelou, Pulitzer Prize winning columnist for the Washington Post, Eugene Robinson, who many of you might recognize as a contributor on MSNBC, Civil Rights icon, Rep. John Lewis of Georgia and relatives of many a great leader in Civil Rights, such as the late Julian Bond, former chairman of the NAACP.
The Rosenwald Fund also awarded fellowships to poet Langston Hughes, photographer Gordon Parks, and writers such as James Baldwin, Nora Neale Hurston and Ralph Ellison.
I was fascinated with Rosenwald's story, and thought seriously about contacting the family as early as 2004 to see if someone thought to make a movie about Rosenwald. Much to my surprise and pleasure, while attending the National Association of Black Journalist convention earlier this year in Minneapolis, I stumbled across students handing out cards promoting the film Rosenwald, by director Aviva Kempner.
For the life of me, I couldn't figure out how I never heard of a man, who might arguably have done more good for black Americans than anyone in history. Well, as my research discovered, Rosenwald did little to draw attention to self, preferring to work quietly behind the scenes, even at Sears, Roebuck & Company, a behemoth of American enterprise that he helped found, fund and run.
Well Mr. Rosenwald, you can hide no more. A legion of black students and future leaders owes you a debt of gratitude we can never repay.
Popular in the Community