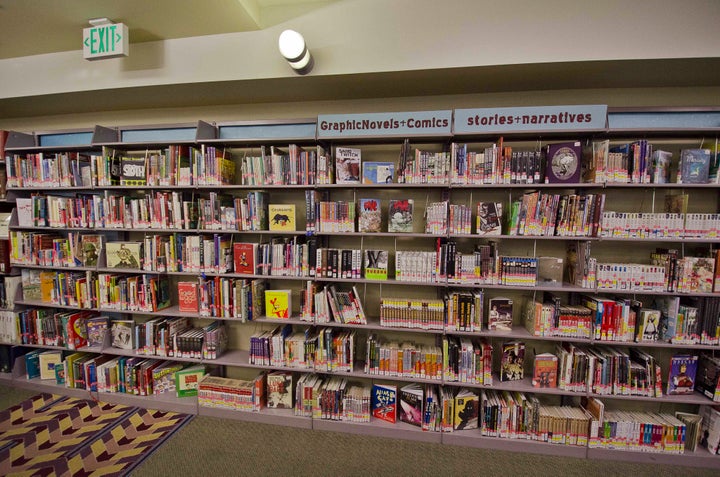 Holiday shopping season is just around the corner, and e-books and e-book readers will be high on many people's wish lists. But public libraries don't share in the joy, and the people who use libraries will look in vain for e-books that aren't available from any library. They are missing, and here's why.
Think of the world of e-books like this: Imagine if every car that was purchased had to be a new car -- no more lots for used, pardon me, previously owned, cars. Or if every article of clothing had to be purchased new -- no more fancy consignment shops or second-hand stores from charities like Goodwill. On top of that, consider if every "purchase" of a car was really a lease, subject to terms and conditions from the dealer or car manufacturer.
That's the way it is with e-books. Has anyone seen a "used" e-book? No. Not a one. Because they don't exist. Every e-book purchased is a new e-book. The reason for that is that book publishers have come to control the market for e-books in a way that other industries envy. Yes, the Justice Dept. may throw a flag about pricing and yes, publishers may lose a court case here and there. But the clear fact is that publishers have succeeded in a way that no other industry has.
You own your own printed books and after you buy them, you can do what you wish with them under the "first-sale doctrine." In contrast, consumers don't own e-books. We lease them, according to terms and conditions set by the publishers and/or distributors. That's why when you've finished with an e-book, you can't donate it to your local library or some sort of electronic used e-bookstore. That's the way it is likely to be for the foreseeable future. The industry has some arguments against the resale of e-books; The copies are pristine, just the same as a new one. That's true, but it's still not a valid reason why you can't sell my used (previously owned) e-books. I can go to any used bookstore and find books in great condition, particularly hardbacks. And even if paperback pages or covers might be dog-eared or worn, the fact is the content is still intact, and that's what counts.
That degree of control is exactly why the publishing industry should make peace with public libraries. Publishers should do more to help the public institution that exists to provide access to their products. Instead, they treat libraries at most as an enemy, certainly as a necessary evil by denying access to e-books for some books, jacking up the price on others. At the same time, demand is rising among library patrons for e-books, and libraries are spending more on e-books even in times of tight budgets. It's not a healthy situation.
In the print world, libraries are able to buy books at slightly lower than retail price. According to information compiled by the Douglas County (Colo.) Libraries, the "50 Shades of Grey" trilogy costs libraries about 50 cents less per book than consumers pay. The e-book world is very different. Consumers pay $9.99 for the electronic version. Libraries have to pay $47.85. The whole trilogy in e-book form is $29.99 for consumers, but $89.97 for libraries. That's not even the most egregious example. A reissue of David Mitchell's "Cloud Atlas" to tie in with the movie costs consumers $11.99l Libraries pay $45. And libraries can still loan only one copy to one customer.
Hachette, Tom Wolfe's publisher, just doubled the price on its books published earlier than April 2010. Earlier this year, Random House tripled the cost of some of its e-books and requires libraries to buy new copies once a book has been checked out 26 times. Penguin will make e-books available six months after a printed books is published, and only for a year. To make matters worse for libraries, some publishers won't even sell their e-books. The latest report shows that of USA Today's best seller list, none of the top five books, and only six out of the 25 on the list, are available to libraries, according to Douglas County's latest report. A Facebook page from the State Library of Kansas also shows what's not available from the biggest six publishers.
(Even when libraries do get access to e-books, the interfaces to check them out and read them can be difficult to maneuver even for the most dedicated readers. A group of libraries under the banner, Readers First, is trying to remedy that problem by working with e-book distributors. To date, 192 systems with 170 million readers have signed up, ranging from the New York Public Library to Queens Public Library, to Montgomery County, Md., Public Libraries (where I do some volunteer work, including on this project) to libraries in Los Angeles, Seattle, many smaller libraries and ones in Canada, including from Toronto and Montreal.)
Publishers and libraries have clashed for more than a decade over access to electronic material, first over access to journals, now over e-books. But tensions reached new levels after a spirited argument between Maureen Sullivan, the president of the American Library Association (ALA) and the Association of American Publishers (AAP) which followed the price hikes. In September, she blasted publishers for not selling e-books the libraries, and said: "We must speak out on behalf of today's--and tomorrow's--readers. The library community demands meaningful change and creative solutions that serve libraries and our readers who rightfully expect the same access to e-books as they have to printed books." Librarians want access to materials at reasonable prices. The AAP said in response it was disappointed that the librarians chose to be so critical, said issues around e-books were very complex, and hosted a small meeting with librarians.
But reports from the meeting indicated that the publishers are still trapped in the same world as their content brethren in movies and music. They haven't moved beyond the view that any distribution other than their own is a threat to their business. One publisher representative was quoted as saying she was concerned that library use would undercut their e-book sales, while another wanted to put the burden on libraries for coming up with a business plan to sell e-books to libraries.
It's time for book publishers to recognize two realities. First, libraries aren't going anywhere. As the Pew Center's Internet and American Life Project reported Oct. 23, "More than eight in ten Americans between the ages of 16 and 29 read a book in the past year, and six in ten used their local public library." Libraries are here to stay.
Second, and just as important, libraries are an important sales channel for publishers. Research has consistently shown, as a recent Library Journal survey found, that "In fact, over 50 percent of all library users go on to purchase books by an author they were introduced to in the library." A study earlier this year found much the same thing. Libraries are open to innovations, like "buy" buttons for e-books on their catalogs, which would help publishers.
It's time for book publishers to recognize who their friends and allies are. Libraries should be at the top of the list. By jacking up prices and making life for library readers difficult, book publishers hurt only themselves, not just in the long run, but in the present as well.
Popular in the Community